Gather details and contact information of companies you are interested. Depending on the company, in some cases only by entry to their homepage or inquiry by e-mail can you request information documents and recruitment details, so ample prior survey should be carried out.

Unless specified otherwise, you may have to contact the company.
A phone call does not take time and you can immediately get response from the other party (company), so it is convenient. However, there are cases wherein the person in charge of the company is not available and busy during the recruitment period.
Let us make a call in a courteous manner with respect to the status and position of the person we will be talking to.
Writing Resume and Entry Sheet
Resume
A resume is a tool for appealing yourself first. It then becomes the first step for recruitment for the company.
How to Write a Resume
In Japan, there is a meaning to the way the characters are written, so there is an inclination to prefer handwriting. Forms are available at the purchasing department of the university or in stationary shops.
Write the characters uniformly and in printed block form. Writing the characters by mistake or omitting characters are definitely unacceptable. After making the first draft, ask your university teacher or university staff to check for errors and awkward expressions.
For your identification (ID) photo, wear a suit and have your picture taken in a photo shop or studio. It is advisable that you print more copies.
For your academic background, writing down your compulsory education at the end is preferred. However, for university, it is advisable that you write down the department, as well. If you went to a vocational school and Japanese language school, be sure to write them down, too.
For people who have had started working, clearly write down the company name, assigned department, and the start and end period of employment accurately. A detailed description of the work is preferable.
Qualifications and certifications, even if they are not relevant to the job, should be noted down in the order you acquired them chronologically. However, it is advisable to limit your qualifications and certifications to the ones acquired and applicable in Japan and skip those that are from and for overseas.
Reason for applying, applicant's remark, and other boxes in the resume also serve as a self-PR so positively indicate your will.
fter completing your resume, put it in a plain envelope. When you submit it, leave it inside the envelope and on the envelope, write down 「履歴書在中」(Resume Inside)in red ink.
During the recruitment activity, at the interview, the company may ask you to submit your resume in some cases, so you should prepare one in advance.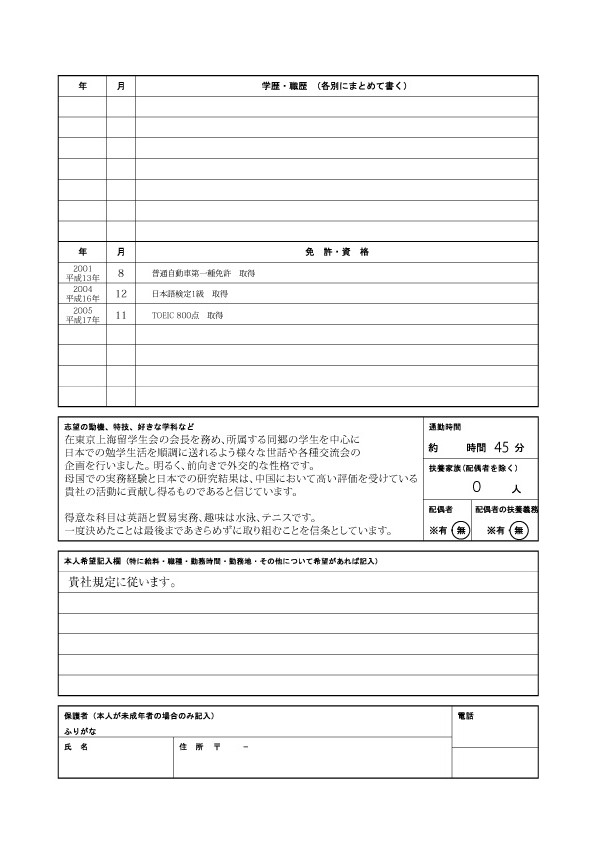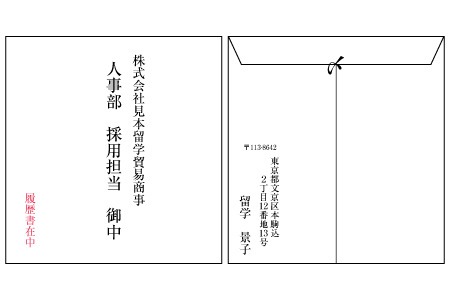 Entry Sheet
An entry sheet is an application form designed exclusively and distinctly by each company. It is a resume and self-introduction form with some written examination-type questions. It had replaced the traditional resumes and has become widely used in the first screening of recruitment.
(1) Entry Sheet Features
If you fail this, you cannot get an interview!
Presently, the entry sheet serves as the first screening for employment for a lot of companies and if you fail this, you will not be able to make it to the company orientation.
In this regard, it is necessary that you keep in mind that this is totally different from the conventional resume.
You can take time to write it at home.
Unlike a thesis examination and other written test, an entry sheet is basically written at home prior to submission. Therefore, you can take time to go over it and if you research about the company, you can definitely write one satisfactorily. In addition, in some cases depending upon the situation, you may be asked to fill in the entry sheet in the company, so think about more or less what you would write and how much time do you need to fill it in.
What Companies Look For in the Entry Sheet
Since the entry sheet is a form specific to the company, the questions involved are mixed and varied in level. However, in the end, what the company is looking for can be summarized in two points.
・your potential for working in the company
・how ready and prepared are you to work in the company.
(2) How to Write an Effective Entry Sheet
First, obtain an entry sheet. You can easily get one since generally, it is free. There are many who download the form from the company homepage so check the website first. If you still do not know how to get an entry sheet, call the human resource department of the company and inquire about the procedure for obtaining one.
Caution When Submitting
Comply strictly with the deadline for submission.
As for career history, the basic principle for writing a resume is the same. Adjust the format suitably and write courteously.
For questions, write your answer accurately for what you heard. For example, if you have been asked about "company", then you answer "business" or something relevant. Confusion with the intent of the question means missing the point. It is important to appeal yourself. For example, emphasize on past concrete experiences many times and increase your persuasiveness in your composition.
The self-introduction and business analysis carried out for writing the entry sheet would be useful also in the interview. In writing the entry sheet, you should have reflective thoughts about your own career perspective and past experiences
The interview also refers to the entry sheet for the interview, thus, writing an entry sheet is likewise a preparation for the interview.
Procedure for Contacting a Company
Making a Call
«Example of an Inquiry Call»
ReceptionHello. This is ***. May I help you?
Q YouHello, Good*** My name is ***and I am a graduate student at *** **** University. Could you kindly transfer me to person-in charge in Human Resource Department, please?
ReceptionCertainly, Could you hold the line, please?
HRD Person-in-ChargeHello. This is Human Resources Department. May I help you?
Q YouHello, Good*** My name is ***and I'm a graduate student at *** University. Sorry to bother you but I just would like to request for your company recruitment materials. I would be completing my studies next spring. Do you have hiring plans next spring?
HRD Person-in-ChargeYes, we do have hiring plans but how did you know about our company?
Q YouWell, I read and learned about your company from the recruitment information magazine of ***, and I become interested.
HRD Person-in-ChargeWhat is your course and major?
Q YouI am taking up Graduate Studies in ***Department and majoring ***
HRD Person-in-ChargeI hope you don't mind but can you tell me where are you from?
Q YouI am from *** and was born*** but I have been studying in Japan for 5 years now, so I can communicate in ***, English, and Japanese, as well.
HRD Person-in-ChargeI see. Okay then. We will send you some company materials and an entry sheet. Could you tell me you mailing address and contact number?
Q YouYes, my address is *** and my contact number is***. In case you cannot reach me to this number, please call the***research room. The number is***.
HRD Person-in-ChargeAlright, thank you. By the way, the submission for the entry sheet is until [month] [day], so please send it before the deadline.
Q YouSo it's until [month] [day], I see. Thank you very much for your time and help.
HRD Person-in-ChargeOkay. Goodbye.
Company Orientation and Seminar
In companies where there is a large scale of rushing job seekers, orientation and seminars are held at the beginning of recruitment activities. Regarding the program schedule, you can, of course, inquire by phone but it is more convenient to search via Internet. After the orientation, in some cases, interviews are conducted, being prepared is absolutely necessary.
Company Visit
When visiting a company, advance preparations are crucial for this significant opportunity that may eventually lead to being selected as final candidate for the job.
Have you completed the documents for submission?
There are a number of documents such as transcripts and other academic records issued by the school so it is necessary to prepare all them days before your visit.
Never Be Late
Make sure there is no mistake with the address and time of appointment in advance and have some time leeway when you visit the company.
Keep in mind your prior knowledge about the company
During an interview or orientation, if you have read the company information magazines and brochures, you will be able understand the questions immediately and your eagerness to be employed will be speculated by the company. Therefore, participate only when you already have prior sufficient knowledge about the company.
OB・OG Visit
Visiting your senior colleague from the school you graduated or from your own country and personally contacting him or her is referred to as OB ・OG (acronym for "old boy" and "old girl") visit. OB/OG visit is an effective way to learn more about realities about the company that are not documented. Being the junior, contacting your senior by mail or by phone is common.
For contacts, if there is a job placement section in your university, you can avail of their assistance. If there is none and if you have no senior colleague in the company you are aiming for employment, you can request the human resource department to introduce you and ask for their help, by all means.
When you call or visit your senior's company, they will take time off from their busy schedule to allot time for you, so do not forget to send a thank-you message after your visit.
Written Examination
The written examination which includes questions about "academics", "current affairs", "business", and other fields is given around the time the primary interview is conducted. To pass the written examination, not only knowledge of basic academics but also awareness of the news and social conditions that you read on newspapers is necessary.
Also, there are companies that conduct aptitude test, short essay or composition writing after the written examination. In the aptitude test wherein there are a lot of questions which are answerable by "yes" or "no" in mark sheet format is common. The trend pattern for the written examination differs and depends upon the company so it is essential to check it out on the Internet and by other means beforehand.
Interview
First, it is important that you are definitely clear about yourself with why do you want to work in Japan and why in that company. And if you are going to be hired, what kind of work would you like to do and how do you perceive yourself in the future.
Since an interview is one-on-one, observing the condition of discussion among the applicants varies in forms.
It can be said that if the interviews are carried out a number of times, the probability of being recruited becomes high. As the number of interviews increases and so is the number of the interviews with directors of the company, thus, the contents of the interview becomes higher in level.
Let's Do Self-Assessment (To appeal yourself)
(1) Try to write short sentences like "I, myself is a 〇〇 person" as many times as you can.
(2) For the sentences in (1), write in order which you think as "I, myself have been showing well"
(3) Among the traits you have written in (1), write in order which do you think are "the character traits that are needed by the company".
(4) Make a composition "About Myself" out of the ranking in (2) and (3)
(5) Write about specific past experiences that support (2) and (3)
(6) Try to be the person-in-charge of Human Resources Department. The first time you read the self-PR with "I am a person with a strong sense of responsibility", written, wouldn't you wonder and ask "why did you say so?" Bringing up your concrete experiences convincing the reader that "this person has a strong sense of responsibility" is advisable.
(7) Write about how you want to live in the future.
(8) Together with (7) write a motivation material relevant to working for the company you are interested into.
(9) Read what you have written again to see if there is anything awkward and try think about the contents again.
You attitude during the interview reflects your character more clearly than any self-PR. Too different impressions for self-PR and interview are not good impressions at all. Without too much thinking of "I want to think well", make use of the advantages you have.