Trang thông tin về du học đại học,cao học tại Nhật JPSS > Tìm nơi du học từ Kyoto Đại học > Kyoto University of Advanced Science > Engineering
Dành cho các bạn đang có dự định du học trường Kyoto University of Advanced Science. JAPAN STUDY SUPPORT là trang thông tin về du học Nhật Bản dành cho du học sinh nước ngoài, được đồng vận hành bởi Hiệp hội Asia Gakusei Bunka và Công ty cổ phần Benesse Corporation. Trang này đăng các thông tin Ngành EngineeringhoặcNgành Economics and Business AdministrationhoặcNgành HumanitieshoặcNgành Môi trường sinh học của Kyoto University of Advanced Science cũng như thông tin chi tiết về từng ngành học, nên nếu bạn đang tìm hiểu thông tin du học liên quan tới Kyoto University of Advanced Science thì hãy sử dụng trang web này.Ngoài ra còn có cả thông tin của khoảng 1.300 trường đại học, cao học, trường đại học ngắn hạn, trường chuyên môn đang tiếp nhận du học sinh.

Kyoto / Tư lập
京都先端科学大学

|

Kyoto University of Advanced Science
Hiện tại chưa cập nhập thông tin bằng ngôn ngữ bạn đã chọn. Hãy xem bằng ngôn ngữ khác.
Xem thông tin bằng tiếng Nhật
Xem thông tin bằng tiếng Anh
Engineering
Kyoto University of Advanced Science has opened applications for September 2021 International Admissions to its Faculty of Engineering Undergraduate Program.

Application Period

Early Entry: October 1 - October 30, 2020

Regular Entry: December 1, 2020 - January 8, 2021

Final Entry: February 8 - March 14, 2021


All applications are to be submitted online.
Applicants are asked to please download the Application Guidelines and read them carefully before submitting their application.

https://www.kuas.ac.jp/en/faculty-of-engineering/undergraduate-ap/u-apply/

We look forward to receiving your application.
Thông tin ngành học
Be a street-smart engineer.
Kyoto University of Advanced Science (KUAS) features an engineering program with close ties to the manufacturing industry, in a country that is globally acclaimed for its engineering ingenuity. This is an all-new, all-English program of engineering.
With a team of internationally distinguished faculty members and active professional engineers, the program will begin accepting students in September 2020. Focusing on the technology that will help shape our future—electric vehicles, drones, robots, AI, machinery, motor-related solutions, power generation systems and much more - we will welcome the next generation of engineers to Kyoto.
To create state-of-the-art technology, it is essential to provide state-of-the-art education. That is why KUAS have created a program with the ultimate goal of providing an education that equips our students with the immediate, real-world skills needed to best function in the modern world of engineering.
Specializing in the fields of mechanical, electrical, and mechatronics technology, we will offer an outside-in approach that considers the current trends of the industry, allowing our students the opportunity to work with real engineers in Kyoto's full-fledged manufacturing industry. Upon graduation, our aim is for our students to have the smoothest transition possible to work at world-renowned companies and institutions, in Japan and beyond.
WHY KUAS?
KUAS provides a unique, state-of-the-art program to train the next generation of global engineers.

1.All-English
KUAS offers a trailblazing engineering program located within Japan but taught entirely in English.

2.Intensive Japanese language courses
KUAS provides all international students with intensive Japanese language courses to broaden their future career paths at no additional cost.

3.A strong, practical program
KUAS offers multidisciplinary engineering courses, team-based projects, and capstone programs that uniquely prepare students for success in real-world industries.

4.Exceptional career opportunities
KUAS provides exceptional career support for students seeking careers both in Japan and internationally by utilizing its strong industry ties and professional advisors.
Capstone Program
KUAS provides capstone projects to engineering students from their 4th to 7th semesters to complete their programs. Students will have opportunities to develop their skills in small teams by tackling real-world engineering problems. They are expected to identify, design, research, and evaluate solutions, as well as undertake a part-time industry placement to deepen their understanding as a solution provider. It is very important for students to know what kinds of social issues they can solve through their studies, and working with industries on a project like this is the ultimate internship experience.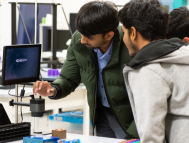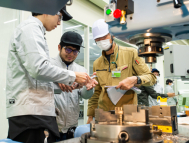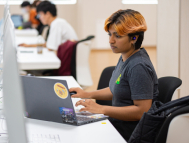 Danh sách các khoa
Deparrtment of Mechanical and Electrical System Engineering
Multidisciplinary study
KUAS' Faculty of Engineering offers a high degree of flexibility in specialization so that students can have exposure to a wide range of knowledge and gain expertise in the various sub-fields necessary for professionally balanced engineers. With this systematic, multidisciplinary program that crosses 13 fields (Design&Production, Mechanics, Robotics, Instrumentation, Control, Materials, Ionics, Electromagnetics, Actuators, Energy, Electronic Devices, Electronic Circuits, Communication), students can acquire collaboration skills, practical problem-solving skills and a global perspective.
Danh sách các trường đã xem gần đây
---


---
Copyright(C) 1999-2020 The Asian Students Cultural Association & Benesse Corporation. All Right Reserved.