JPSS, Informasi universitas dan pasca sarjana di Jepang > Mencari tempat belajar sekolah dari Kyoto Universitas > Kyoto University of Advanced Science > Engineering
Bagi Anda yang ingin melanjutkan studi ke Kyoto University of Advanced Science. JAPAN STUDY SUPPORT merupakan situs informasi studi di Jepang untuk para pelajar/mahasiswa(i) mancanegara yang dikelola bersama oleh The Asian Students Cultural Association (ABK) dan Benesse Corp. Kami menyediakan informasi rinci per fakultas, termasuk Fakultas EngineeringatauFakultas Economics and Business AdministrationatauFakultas HumanitiesatauFakultas Lingkungan bio, Kyoto University of Advanced Science. Bagi yang mencari informasi melanjutkan studi ke Kyoto University of Advanced Science, silakan memanfaatkannya. Selain itu, kami juga menyediakan informasi sekitar 1300 universitas, pascasarjana, universitas yunior, akademi kejuruan yang siap menerima mahasiswa(i) mancanegara.

Kyoto / Sekolah swasta
京都先端科学大学

|

Kyoto University of Advanced Science
Informasi ini tidak tersedia dalam bahasa yang anda pilih.Silakan pilih bahasa lain.
Informasi dalam bahasa Jepang
Informasi dalam bahasa Inggris
Engineering
The KUAS Admissions Office will hold an "Online Faculty Information Session" to introduce KUAS Faculty of Engineering to potential students. Information will also be provided about the entrance exams and April enrollment (for Japanese-language Standard Students).

Date: Saturday, October 23
Time: 11:30 - 12:15

Everyone is welcome to join. Registration is free.
This briefing will use ZOOM, so please prepare a computer or smartphone that supports Zoom calls as well as a stable Wi-Fi connection.

For more details, please visit our website.
https://www.kuas.ac.jp/admissions/about/online (Japanese)
Informasi fakultas
Be a street-smart engineer.
Kyoto University of Advanced Science (KUAS) features an engineering program with close ties to the manufacturing industry, in a country that is globally acclaimed for its engineering ingenuity. This is an all-new, all-English program of engineering.
With a team of internationally distinguished faculty members and active professional engineers, the program started accepting students in September 2020. Focusing on the technology that will help shape our future—electric vehicles, drones, robots, AI, machinery, motor-related solutions, power generation systems and much more - we will welcome the next generation of engineers to Kyoto.
To create state-of-the-art technology, it is essential to provide state-of-the-art education. That is why KUAS have created a program with the ultimate goal of providing an education that equips our students with the immediate, real-world skills needed to best function in the modern world of engineering.
Specializing in the fields of mechanical, electrical, and mechatronics technology, we will offer an outside-in approach that considers the current trends of the industry, allowing our students the opportunity to work with real engineers in Kyoto's full-fledged manufacturing industry. Upon graduation, our aim is for our students to have the smoothest transition possible to work at world-renowned companies and institutions, in Japan and beyond.
WHY KUAS?
KUAS provides a unique, state-of-the-art program to train the next generation of global engineers.

1.All-English
KUAS offers a trailblazing engineering program located within Japan but taught entirely in English.

2.Intensive Japanese language courses
KUAS provides all international students with intensive Japanese language courses to broaden their future career paths at no additional cost.

3.A strong, practical program
KUAS offers multidisciplinary engineering courses, team-based projects,
and capstone programs that uniquely prepare students for success in real-world industries.

4.Exceptional career opportunities
KUAS provides exceptional career support for students seeking careers both in Japan and internationally by utilizing its strong industry ties and professional advisors.
Capstone Program
KUAS provides capstone projects to engineering students from their 4th to 7th semesters to complete their programs. Students will have opportunities to develop their skills in small teams by tackling real-world engineering problems. They are expected to identify, design, research, and evaluate solutions, as well as undertake a part-time industry placement to deepen their understanding as a solution provider. It is very important for students to know what kinds of social issues they can solve through their studies, and working with industries on a project like this is the ultimate internship experience.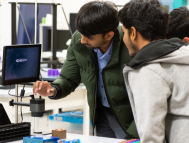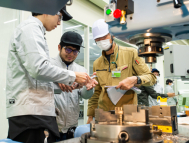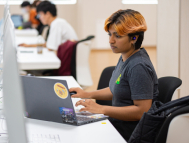 Informasi mahasiswa asing terdaftar (Tahun fiskal)
2022

Daftar jurusan
Deparrtment of Mechanical and Electrical Systems Engineering
Multidisciplinary study
KUAS' Faculty of Engineering offers a high degree of flexibility in specialization so that students can have exposure to a wide range of knowledge and gain expertise in the various sub-fields necessary for professionally balanced engineers. With this systematic, multidisciplinary program that crosses 13 fields (Design&Production, Mechanics, Robotics, Instrumentation, Control, Materials, Ionics, Electromagnetics, Actuators, Energy, Electronic Devices, Electronic Circuits, Communication), students can acquire collaboration skills, practical problem-solving skills and a global perspective.
Daftar sekolah yang terakhir diliat
---


---
Copyright(C) 1999-2022 The Asian Students Cultural Association & Benesse Corporation. All Right Reserved.