JPSS, for information about studying in Japan's universities and graduate schools. > Search Japanese Universities in Tokyo. > Musashino University > Economics
To Foreign Students Considering Studying in Musashino University. JAPAN STUDY SUPPORT is a website jointly operated by The Asian Students Cultural Association and Benesse Corporation. It provides information about studying in Japan.
The website also provides detailed information about Musashino University and its faculties of Global Studies, Business Administration, Data Science, Economics, Literature, Human Sciences, Law, and Engineering. Take full advantage of the site to learn everything you would like to know about Musashino University.
In addition, information for about 1,300 universities, graduate schools, two-year colleges, and vocational schools that accept foreign students is also posted.

Tokyo / Private
武蔵野大学

|

Musashino University
Faculty information
Training personnel who will study economics with a global perspective and contribute to social development.
We cultivate leaders who can contribute to social development with a broad perspective and global sensibility. Students will investigate the background and causes of the issues facing society and the economy from an economics and business administration perspective, and develop the skills to provide resolutions and reforms for those issues.
Musashino University - discover the difference in our Faculty of Economics!
■ Solid classes that teach statistical techniques and foster data analysis ability.
Empirical research from data analysis and econometrics are becoming more and more important in the field of economics.
In the Department of Economics, we offer well-developed classes and seminars that teach the statistical methods that are imperative to such data analysis.

■ Lectures by entrepreneurs on the front line of contemporary business.
Students' understanding of the issues confronting businesses will deepen by experiencing the events taking place on the front line of modern business and applying the knowledge learned through classes.
Lectures have been presented from a wide variety of fields, including: Panasonic, Toyota Foundation, and the Tokyo Stock Exchange, as well as major rail companies, advertising agencies, beverage manufacturers, and construction companies.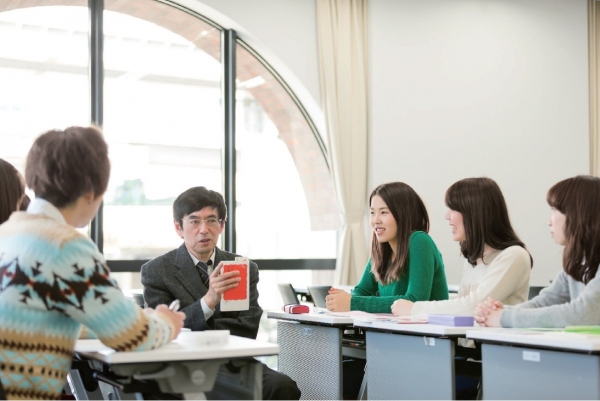 I want students to open their eyes to the wide world and contemplate things deeply. (Dean of the Faculty of Economics, Professor Eiri Saito)
Learn from the personal experiences of entrepreneurs from companies such as Panasonic and the Toyota Foundation.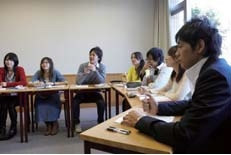 Sharpen your presentation ability through Q&A discussions with fellow students in small-group seminars.

Subjects
Department of Economics
Producing personnel with a global perspective who will contribute to social development.
In the Department of Economics, we have prepared a curriculum that teaches by stages, from introductory and fundamentals to development, application, and cutting-edge research according to recent theories.
Students logically and empirically analyze and attempt to understand various economic phenomena and statistical data occurring in modern society to gain a precise judgment and deep insight in a rapidly globalizing world.
We cultivate our students into leaders with a global perspective who will contribute to social development.

■ Examples of future career prospects
Domestic and international blue-chip firms, banks, financial institutions (brokerage firms, insurance firms, etc.) employees of NPOs and NGOs, consultants, analysts, graduate study.
Recent viewing history of schools
---




How much did you pay for the initial cost to study in Japan?
---
Copyright(C) 1999-2020 The Asian Students Cultural Association & Benesse Corporation. All Right Reserved.