Trang thông tin về du học đại học,cao học tại Nhật JPSS > Tìm nơi du học từ Tokyo Đại học > Trường Đại học Musashino > Human Sciences
Dành cho các bạn đang có dự định du học trường Trường Đại học Musashino. JAPAN STUDY SUPPORT là trang thông tin về du học Nhật Bản dành cho du học sinh nước ngoài, được đồng vận hành bởi Hiệp hội Asia Gakusei Bunka và Công ty cổ phần Benesse Corporation. Trang này đăng các thông tin Ngành Doanh nhânhoặcNgành Ngành Toàn cầu hoặcNgành EngineeringhoặcNgành Data SciencehoặcNgành văn chươnghoặcNgành kinh tếhoặcNgành Business AdministrationhoặcNgành Pháp luậthoặcNgành Human Sciences của Trường Đại học Musashino cũng như thông tin chi tiết về từng ngành học, nên nếu bạn đang tìm hiểu thông tin du học liên quan tới Trường Đại học Musashino thì hãy sử dụng trang web này.Ngoài ra còn có cả thông tin của khoảng 1.300 trường đại học, cao học, trường đại học ngắn hạn, trường chuyên môn đang tiếp nhận du học sinh.

Tokyo / Tư lập
Trường Đại học Musashino

|

武蔵野大学

|

Musashino University
Hiện tại chưa cập nhập thông tin bằng ngôn ngữ bạn đã chọn. Hãy xem bằng ngôn ngữ khác.
Xem thông tin bằng tiếng Nhật
Xem thông tin bằng tiếng Anh
Human Sciences
【Musashino University for International Students】

Department of Global Business (Undergraduate)
Over the course of four years, you learn about marketing, economics, finance, and other business topics, entirely in English at the Ariake campus.
You will enjoy your study with international students from across the world and Japanese students.

● Brochure
https://www.d-pam.com/musashino-u/217711/index.html#target/page_no=1

● Web Open Campus 2021 as reference
You can refer to the various contents through the video in English.
Ex) ・Mock lecture of Department of Global Business
'Multinational Enterprises and their strategies', 'Globalization Imperative'
・University Description
・Campus Tour for International Students
・International Student interview
https://www.musashino-u.ac.jp/admission/faculty/event/weboc/

<Contact for inquiries>
Musashino University Admissions Office
Email: nyushi@musashino-u.ac.jp
Website: https://www.musashino-u.ac.jp/

Hỗ trợ đời sống sinh hoạt sinh viên
Peace of Mind to Concentrate on Your Studies!
The thorough support provided by the International Department gives students the peace of mind to concentrate on their studies. The Department, which also has English and Chinese speaking staff, provides an environment in which students can freely come in to talk about a problem or concern regarding their student life or daily life in Japan.

■ Support with Student Life
• Scholarship applications
• Residence status renewals
• Accommodation assistance – help finding an apartment or room at the international dormitory.

■ Support with Daily Life in Japan
The university offers a variety of exchange activities with local residents to help strengthen students' understanding of the local manners and cultural rules needed to live in Japan.

■ Japanese Language Support
• Japanese Language Counseling: Students can receive support from a Japanese Language Learning Counselor to help with their language studies.
• Registered Student Supporters: International students and Japanese students can register as a supporter to teach each other about their own language and culture.

■ International Exchange Support Within Japan
Students can further their understanding of the Japanese culture through exchange events with Japanese students and with other international students.
Internships within Japan are available. Job Hunting Support
There is a support system for students wanting to find employment in Japan after graduation. Career Support Offices on both campuses offers students guidance and support with the unique Japanese job hunting schedule, career education, and obtaining various qualifications. Students are free to come in and browse the job posting information and read the various books and magazines related to job-hunting in Japan. Career advisors are also on hand daily (appointment required) to offer individual career counseling.
International Students' Association – Promoting International Exchange
The International Students' Association is made up of international students currently enrolled at Musashino University. The Association organizes international exchange events every month, such as barbeques, sports events and chawakai (informal gatherings to have tea and talk).
2 University Dormitories & Help with finding an apartment
■Student Dormitories
Musashino University has 2 student dormitories, the Kodaira Dormitory (currently only for students of the Faculty of Entrepreneurship only), which is located near the Musashino Campus, and the Kasai International Dormitory (86 rooms), located near the Ariake Campus. Both dormitories provide students with the environment they need to lead a meaningful student life.
In particular, the Kasai International Dormitory provides a very global environment, with Japanese students living and studying alongside international students, providing residents with the opportunity to form a wide range of personal relationships and become more culturally aware. There is a set dormitory fee for international students.

■ Help with finding an apartment
Students can get help finding an apartment within commuting range of the campus they are attending – either the Musashino Campus or Ariake Campus. Students using this service will receive a discount on the agent fee.
Musashino University Scholarships
Musashino University offers its own original scholarship system as well as scholarships to students who pass a specified examination. Students can also apply for Japanese government scholarships or funding from other private companies.
Part-time Job Introduction Service
Students can access an online part-time job information site specifically for Musashino University students. In addition, the international department sometimes has part-time job information for international students on their information board.
The Kasai International Dormitory, which opened in April of 2015, is a global environment in which Japanese students study and live with international students from around the world. The Dormitory is located a convenient 20 minute bus-ride from a famous theme park.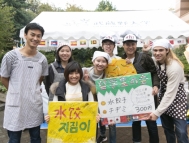 The university has a foreign students' network that organizes events such as the university festival, promoting cultural exchange between Japanese and international students.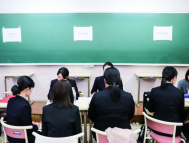 If you need help come to the international department! There is a Japanese language and study counselor on hand to help international students with writing Japanese essays and reports.
Danh sách các trường đã xem gần đây




Bạn đã học tiếng Nhật như thế nào ?
---
Copyright(C) 1999-2022 The Asian Students Cultural Association & Benesse Corporation. All Right Reserved.