JPSS, Informasi universitas dan pasca sarjana di Jepang > Mencari tempat belajar sekolah dari Tokyo Universitas > Universitas Musashino > Human Sciences
Bagi Anda yang ingin melanjutkan studi ke Universitas Musashino. JAPAN STUDY SUPPORT merupakan situs informasi studi di Jepang untuk para pelajar/mahasiswa(i) mancanegara yang dikelola bersama oleh The Asian Students Cultural Association (ABK) dan Benesse Corp. Kami menyediakan informasi rinci per fakultas, termasuk Fakultas Fakultas GlobalatauFakultas EconomicsatauFakultas LiteratureatauFakultas Human SciencesatauFakultas LawatauFakultas Engineering, Universitas Musashino. Bagi yang mencari informasi melanjutkan studi ke Universitas Musashino, silakan memanfaatkannya. Selain itu, kami juga menyediakan informasi sekitar 1300 universitas, pascasarjana, universitas yunior, akademi kejuruan yang siap menerima mahasiswa(i) mancanegara.

Tokyo / Sekolah swasta
Universitas Musashino

|

武蔵野大学

|

Musashino University
Informasi ini tidak tersedia dalam bahasa yang anda pilih.Silakan pilih bahasa lain.
Informasi dalam bahasa Jepang
Informasi dalam bahasa Inggris

Dukungan untuk kehidupan mahasiswa
Apartments and 2 Student Dormitories – for a smooth student life –
The university offers internationals students support so that they are able to adjust to life in Japan smoothly.

 2 Student Dormitories
The university has two student dormitories – the Kodaira Men's Dormitory (75 rooms) located near the Musashino Campus, and the Kasai International Dormitory (86 rooms) located near the Ariake Campus. Both dormitories have their own special features and offer an environment conducive to leading a smooth student life.
The Kasai International Dormitory offers a very international atmosphere in which international students can live and learn alongside Japanese students, creating new connections and a wide circle of friends. This dormitory also offers a special international-student dormitory fee.

 Apartments
The university can introduce students to a large number of apartments within commuting distance from the Musashino and Ariake campuses. Students also receive a reduction on real estate agent fees.
Musashino University's Original Scholarship System
Musashino University has a number of scholarship options including stipends and non-repayable scholarships, as well as a scholarship that provides financial assistance to students who pass a specified qualification. Students can also apply for the scholarships offered by the Japanese government and various other private financial groups.
Part-time Job Support
Students have access to a part-time job information site specifically for Musashino University students. The International Office, which offers support to all international students studying at the university, also posts job information on their notice boards from time to time.
The International Students' Association – fostering international exchange
The International Students' Association is a group of international students currently studying at Musashino University. The association holds international exchange events every month, such as barbeques, sports competitions and social get togethers to drink tea and catch up. The association also has regular meet ups and exchange events with the Japanese students' association – the Global Headquarters Club.
Internships within Japan & Job-hunting Support
There is support in place to help students learn what they need to know in order to job-hunt in Japan.
Both campuses have a career and job-hunting room, offering various support related to job-hunting, career education and acquiring special qualifications. Students are free to browse the job postings and job-hunting related books and magazines in these rooms and can even make an appointment to have an individual counseling session with a career advisor. Through this support you will be able to learn the necessary job-hunting schedules and related information for carrying out your job hunt in Japan.
The Kasai International Dormitory that opened in April 2015. Students from all over Japan and the globe live and study together. Just a 15-minute bus ride from a famous theme park!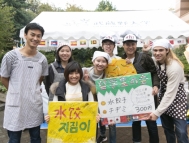 A BBQ held in a central park in May. Over 200 people attended and a great time was had by all.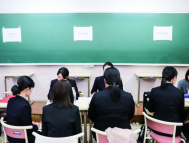 Students wearing kimonos and being taught the traditional Japanese art of tea ceremony.
Daftar sekolah yang terakhir diliat




For what kinds of purpose did you choose the school and the faculty of now?
---
Copyright(C) 1999-2017 The Asian Students Cultural Association & Benesse Corporation. All Right Reserved.