JPSS, for information about studying in Japan's universities and graduate schools. > Search Japanese Universities in Tokyo. > Soka University > International Liberal Arts
To Foreign Students Considering Studying in Soka University. JAPAN STUDY SUPPORT is a website jointly operated by The Asian Students Cultural Association and Benesse Corporation. It provides information about studying in Japan.
The website also provides detailed information about Soka University and its faculties of Economics, Business Administration, Law, Letters, Education, Science and Engineering, and International Liberal Arts. Take full advantage of the site to learn everything you would like to know about Soka University.
In addition, information for about 1,300 universities, graduate schools, two-year colleges, and vocational schools that accept foreign students is also posted.

Tokyo / Private
創価大学

|

Soka University

Faculty information
Early Study Abroad Program over a One Year Period
At the Faculty of International Liberal Arts, a one-year study abroad program is compulsory from the second semester in the first year. Accordingly, students will further deepen their sense of global awareness, by acquiring Academic English language skills, the ability to understand different cultures and communication skills. All lectures will be conducted in English over the four-year period.
All Classes are Conducted in English
By conducting all required courses of the faculty in English, students can acquire a high level of English language proficiency, enabling them to "negotiate in a global capacity." Through an education that instills globalization, interdisciplinary and practical skills, the faculty will foster individuals capable of making the world their own stage.
Experience Interdisciplinary Approach toward Social Issues
Team Teaching seminars conducted by two to three professors in small groups examine issues from multiple discipline perspectives. Students also hone their ability to communicate in English and develop multicultural presentation skills.
Experiencing Individual and Small Group Guidance
Professors in the Faculty of International Liberal Arts will provide academic advising individually and in small groups. This individualized attention and personal engagement of students is conducive to the development of human resources and/or human potential. Individuals will excel in making sound decisions and have an influence in considering the interests of others and the challenges of future generations.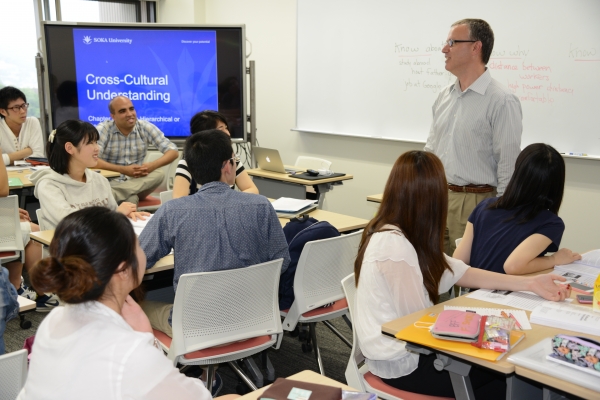 Recent viewing history of schools
---


---
Copyright(C) 1999-2017 The Asian Students Cultural Association & Benesse Corporation. All Right Reserved.