JPSS, for information about studying in Japan's universities and graduate schools. > Search Japanese Universities in Saitama. > Surugadai University > Psychology
To Foreign Students Considering Studying in Surugadai University. JAPAN STUDY SUPPORT is a website jointly operated by The Asian Students Cultural Association and Benesse Corporation. It provides information about studying in Japan.
The website also provides detailed information about Surugadai University and its faculties of Law, Economics and Management, Media and Information Resources, Contemporary Cultures, and Psychology. Take full advantage of the site to learn everything you would like to know about Surugadai University.
In addition, information for about 1,300 universities, graduate schools, two-year colleges, and vocational schools that accept foreign students is also posted.

Saitama / Private
駿河台大学

|

Surugadai University
Facility guide
Media Center – a multimedia network hub
The Media Center functions as a library, information center and museum all in one, and with facilities such as a film studio, computer areas and an FM studio, it really is Surugadai University's multimedia hub. Come here to check out all the latest information!
Training Center – a well equipped sports gym
With a multitude of training machines and other equipment, students can take advantage of this facility in between classes. You can also consult with on-site trainers to make a personalized training schedule to suit your specific needs.
University Hall – a variety of restaurants and menus
Surugadai University offers a variety of student cafeterias and places for students to eat. Each floor offers a different menu and students can also buy obento lunch boxes at the convenience store also located in the University Hall. Food trucks also come to campus on occasion, offering an even bigger menu to choose from.
The Media Center, with its library, computer room and studios etc.
The Training Center, with the latest in training machines and equipment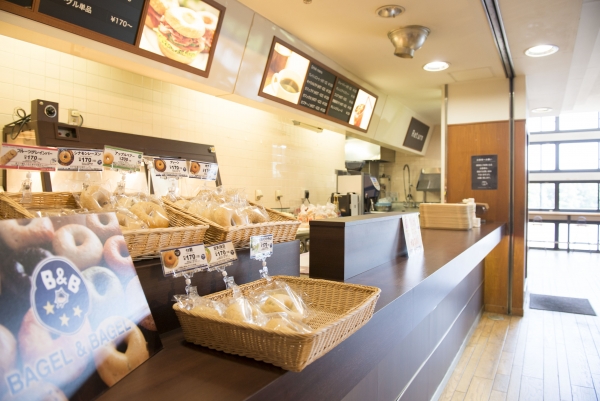 The Bagel Shop on the 2nd floor of University Hall, a building that also houses student cafeterias, a convenience store and a bookshop.
Recent viewing history of schools
---


---
Copyright(C) 1999-2017 The Asian Students Cultural Association & Benesse Corporation. All Right Reserved.