Trang thông tin về du học đại học,cao học tại Nhật JPSS > Tìm nơi du học từ Tokyo Đại học > Trường Đại học Musashino > Data Science
Dành cho các bạn đang có dự định du học trường Trường Đại học Musashino. JAPAN STUDY SUPPORT là trang thông tin về du học Nhật Bản dành cho du học sinh nước ngoài, được đồng vận hành bởi Hiệp hội Asia Gakusei Bunka và Công ty cổ phần Benesse Corporation. Trang này đăng các thông tin Ngành Doanh nhânhoặcNgành Ngành Toàn cầu hoặcNgành EngineeringhoặcNgành Data SciencehoặcNgành văn chươnghoặcNgành kinh tếhoặcNgành Business AdministrationhoặcNgành Pháp luậthoặcNgành Human Sciences của Trường Đại học Musashino cũng như thông tin chi tiết về từng ngành học, nên nếu bạn đang tìm hiểu thông tin du học liên quan tới Trường Đại học Musashino thì hãy sử dụng trang web này.Ngoài ra còn có cả thông tin của khoảng 1.300 trường đại học, cao học, trường đại học ngắn hạn, trường chuyên môn đang tiếp nhận du học sinh.

Tokyo / Tư lập
Trường Đại học Musashino

|

武蔵野大学

|

Musashino University
Hiện tại chưa cập nhập thông tin bằng ngôn ngữ bạn đã chọn. Hãy xem bằng ngôn ngữ khác.
Xem thông tin bằng tiếng Nhật
Xem thông tin bằng tiếng Anh
Data Science
【International Students Examination】

October 1st To start accepting Application of IntakeⅠ

We will start accepting Applications of Intake Ⅰ for 2023 International Students Examination on October 1st.

Department of Global Business offers lessons in English. You can learn about marketing, economics, finance, and other business topics, entirely in English.
Applicants don't need to submit EJU or JLPT as long as they meet English requirement.
Please refer to Application Guidelines for details.

● 2023 Application Guidelines for International Students【Faculty of Global Studies】
https://www.musashino-u.ac.jp/en/albums/abm.php?f=abm00022319.pdf&n=%28English%292023nternational_students_admission.pdf

------------------------------------------------------------------------------------------------------------------------------------
● Application Period (postmark deadline):October 1, 2022 (Sat) – October 12, 2022 (Wed)
● Examination Date:November 6, 2022 (Sun)
● Result Announcement (announced at 12:00 noon):November 11, 2022 (Fri)
● Admission Period (postmark deadline):November 12, 2022 (Sat) – November 25, 2022 (Fri)
------------------------------------------------------------------------------------------------------------------------------------

※Please note that Applications from overseas are only accepted for IntakeⅠ.
※IntakeⅠ for overseas applicants is conducted online.
※IntakeⅠ for domestic applicants is conducted on the Ariake Campus.

【Contact】
Musashino University Admissions Office
Tel: 03-5530-7300 (+81-3-5530-7300)
Email: nyushi@musashino-u.ac.jp
(Office hours: 8:45 am to 5:00 pm on weekdays and 8:45 am to 3:00 pm on Saturdays)

-Musashino University -
https://www.musashino-u.ac.jp/


Thông tin ngành học
Big Data × AI × ○○ = Unleashing Your Potential
At Musashino University we believe that data science isn't just about the processing of statistical data. It is an academic field that creates new values with creative and original ideas, gaining insight into the essence of things, discovering new knowledge and creating ideas through the sharing, searching and integration of large data utilizing AI (Artificial Intelligence) technology. There is a need for 'Big Data × AI' in a broad range of fields, including education, medicine, economics, environment and government. The Faculty of Data Science will be a place for students to unleash a world of infinite possibilities.
Faculty of Data Science– what makes us stand out!
■ One of the few universities that offer studies into AI
There are currently only a handful of universities in Japan that offer courses in AI. This number is even less in terms of Private Universities. Here at Musashino University we provide students with an environment in which they can study extensively in the field of artificial intelligence.

■ A wide range of talented individuals working with data science
In addition to the obvious fields of data characteristics, analysis and statistical methods, students will also learn about Python programming, IoT (Internet of Things), AI (Artificial Intelligence) and how to utilize them. In order to be able to successfully use what they have learnt out in the world, students are given several opportunities to take part in practical training outside the classroom.

■ Students choose one main and two sub courses from the 3 courses offered.
Data scientists are a relatively new profession. The Department has predicted the different kind of career paths graduates of the Department of Data Science might follow and created 3 specialist courses that will help students achieve this goal.

■ The Miraisouzou PJ (Future Creation Project) Course is a small-group seminar class offered from the 1st year. Students use a practical approach to learn how the skills and knowledge they have studied in class can be applied to real life problems.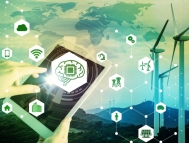 Big Data × AI (Artificial Intelligence) = Unlimited Potential
A scene of lecture at Department of Data Science
The Department of Data Science provides three course models for students to gain strength in the three areas in which data scientists are desired to possess skills–creativity, innovation, and engineering.

Danh sách các khoa
Data Science
Nurturing talented individuals who can use Big Data & AI creatively
Based on a foundation of AI technology and data science, the Department of Data Science strives to realize a frontier society and frontier technology. The Department will use education and research into systems and societies that realize 'knowledge creation' to nurture Data Scientists. Students will acquire the analytical skills to accurately read and understand data, the creativity to create and produce new values, and the savvy business skills required to initiate innovation. Graduates will become pioneers of the future, capable of making a more productive and sustainable society.

■Examples of future career prospects
Data Scientists, AI developers, data engineers, machine learning engineers, UX designers, etc.

■Ariake Campus
Danh sách các trường đã xem gần đây
---




Điều tốt đẹp nhất mà Du học Nhật Bản mang lại cho bạn là gì ?
---
Copyright(C) 1999-2022 The Asian Students Cultural Association & Benesse Corporation. All Right Reserved.