JPSS, for information about studying in Japan's universities and graduate schools. > Search Japanese Junior colleges in Tokyo. > Teikyo University Junior College > Contemporary Business
To Foreign Students Considering Studying in Teikyo University Junior College. JAPAN STUDY SUPPORT is a website jointly operated by The Asian Students Cultural Association and Benesse Corporation. It provides information about studying in Japan.
The website also provides detailed information about Teikyo University Junior College and its faculties of Human Cultures and Contemporary Business. Take full advantage of the site to learn everything you would like to know about Teikyo University Junior College.
In addition, information for about 1,300 universities, graduate schools, two-year colleges, and vocational schools that accept foreign students is also posted.

Tokyo / Private
帝京大学短期大学

|

Teikyo University Junior College

Faculty information
A curriculum for acquiring practical business knowledge and skills
A practical curriculum has been designed to provide students with the skills for working in the modern business world, with three streams of training: Modern Business, Business Practice, and Economics and Management.
Small-size classes provide an education focusing on developing students' information processing capabilities.
Students develop writing, presentation, communication, and business English skills in a small-size classroom format. By receiving close guidance, students can enhance their information processing capabilities.
Study that opens doors to many careers or transfer into Teikyo University
Following graduation, in addition to career opportunities, transfer programs are available for students to enroll in one of the faculties of Teikyo University (apart from the School of Medicine).
An open curriculum provides courses in a wide variety of academic fields.
One distinguishing feature of Teikyo University is the flexibility given to its students to study in fields of their interest outside of their faculty or department. Some of the classes offered in the Faculties of Economics, Law, Liberal Arts, Language Studies, and Education as well as the Junior College at the Hachioji Campus may be taken by any student as an elective course, and up to 15 credits acquired in this way can be applied to graduation requirements.
Department of Contemporary Business homepage (Japanese)
Students learn the roles of hospitality and service in businesses.
Learning about realizing sustainable societies in "Waste Disposal and Recycling"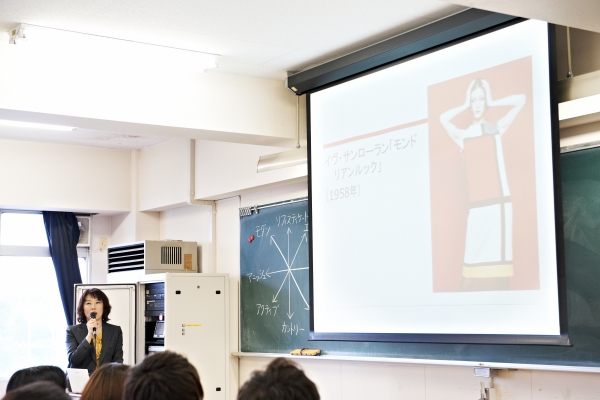 "Fashion Business Theory" cultivates the skills for objectively evaluating information.

Registered international students (by year)
2018
Recent viewing history of schools
---


---
Copyright(C) 1999-2018 The Asian Students Cultural Association & Benesse Corporation. All Right Reserved.