Trang thông tin về du học đại học,cao học tại Nhật JPSS > Tìm nơi du học từ Tokyo Đại học > Temple University, Japan Campus > Undergraduate Program
Dành cho các bạn đang có dự định du học trường Temple University, Japan Campus. JAPAN STUDY SUPPORT là trang thông tin về du học Nhật Bản dành cho du học sinh nước ngoài, được đồng vận hành bởi Hiệp hội Asia Gakusei Bunka và Công ty cổ phần Benesse Corporation. Trang này đăng các thông tin Ngành Undergraduate Program của Temple University, Japan Campus cũng như thông tin chi tiết về từng ngành học, nên nếu bạn đang tìm hiểu thông tin du học liên quan tới Temple University, Japan Campus thì hãy sử dụng trang web này.Ngoài ra còn có cả thông tin của khoảng 1.300 trường đại học, cao học, trường đại học ngắn hạn, trường chuyên môn đang tiếp nhận du học sinh.

Tokyo / Đại học nước ngoài tại Nhật
テンプル大学ジャパンキャンパス

|

Temple University, Japan Campus

Hiện tại chưa cập nhập thông tin bằng ngôn ngữ bạn đã chọn. Hãy xem bằng ngôn ngữ khác.
Xem thông tin bằng tiếng Nhật
Xem thông tin bằng tiếng Anh
Undergraduate Program

[Temple University in the Global Rankings 2021]
In 2021, Temple University has again been recognized for its academic excellence by a variety of world-renowned evaluation organizations. Recently, it was ranked in the top 350 universities in the worldwide 2021 university rankings by Times Higher Education.

Thông tin ngành học
True Temple education in Japan
TUJ maintains the high academic standards and requirements of Temple University in Philadelphia. A degree earned at TUJ is exactly the same as one from Temple University, so you can receive a prestigious American bachelor's degree while living in Japan.
TUJ operates on a trimester system that allows flexibility in enrollment scheduling.
Unique international environment
Students from around the world come to TUJ for its unique mix of academic rigor, central Tokyo location and Japanese cultural immersion. 57 countries and regions are represented in the student body.
TUJ is able to sponsor Japanese student visas for its international students.

Undergraduate Majors
With 10 majors, TUJ also offers more academic options than any other university with an English-based curriculum in Japan. An average class size of 19 means that TUJ instructors can provide a high level of personal attention and support to each student.

Small classes of around 19 students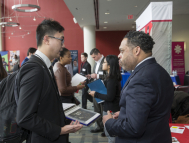 The Career Development Office provides group seminars and on-campus career fairs.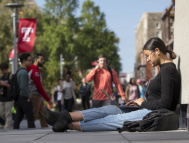 Temple University's main campus

Danh sách các khoa
International Business Studies
International Business Studies was developed in response to the contemporary global need for personnel with the knowledge and skills to work in the international arena. The curriculum encompasses a general knowledge of cultures, economies and societies, the business knowledge required to succeed in a variety of careers, and the language abilities to work across borders. The program aims to equip graduates with the skills for effective and efficient operations in a multilingual and multicultural business environment.
International Affairs
International Affairs is an interdisciplinary and multidisciplinary subject which covers political science, geography, economics and history. It explores international cooperation and conflict, poverty and development, the nature and causes of war, nationalism and social change, and other issues. Focusing especially upon Japan and its place in Asia and the world, it requires students to study regions besides East Asia and the United States. Students must undertake an internship and study an East Asian language.
Communication Studies
Embracing a variety of disciplines from Temple's highly ranked Klein College of Media and Communication, the Communication Studies major covers media studies and production, film and media arts, journalism, speech, and theater. To develop as professionals familiar with both the practice and theory of communications, students may undertake an optional internship.
Asian Studies
Asian Studies features an interdisciplinary approach to understanding the Asia-Pacific region's fast-growing economies, rapid social change, environmental challenges, and rich cultural traditions. Students may specialize in international relations, religion, art history, economics or history. Asian Studies majors must study an East Asian language.
Art
True to the curriculum of Temple's renowned Tyler School of Art and Architecture, the Art major focuses on visual art practice within a liberal arts context. Courses include design, drawing, painting, three-dimensional design, printmaking, digital photography, digital imaging, Internet imaging, moving images, motion graphics, media arts and art history. The faculty teaches studio art from the viewpoint of its connection to such disciplines as psychology, literature, philosophy, mathematics, biology and physics.
Japanese Language
TUJ's Japanese Language major is a unique program designed to offer a comprehensive Japanese language curriculum in a JSL (Japanese as a Second Language) setting. It aims to achieve advanced and well-balanced proficiency in Japanese so that students will be well-equipped with linguistic skills and fully prepared to engage with the wider scholarship of Japanese studies. It is most suitable as part of a double major to complement one of TUJ's well-established interdisciplinary studies such as Asian Studies, International Affairs, Communication Studies, International Business Studies, and so forth.
Economics
Interdisciplinary and multidisciplinary, Economics provides fundamental tools of analysis for all social science subjects, adding depth and complexity to the study of political science, geography and urban studies, history, and law. Courses address such issues as economic development, creation of wealth, fundamentals of economic policies, and financial theory and principles. The senior seminar pays special attention to Japan's place in the Asian and global economies.
Psychological Studies
Psychological Studies provides a broad understanding of psychology as the science of human behavior and of its underlying mental processes, while uniquely focusing on cross-cultural and Asian issues. Foundation courses such as developmental, clinical, social, cognitive, and organizational psychology develop students' skills in critical thinking, research methodology, and research writing, and broaden their knowledge and deepen their understanding of pertinent cross-cultural and Asian issues. Students must participate in either an internship or a research project, both of which culminate in a final paper.
Political Science
Political Science intersects with almost all the humanities. It analyzes and systematizes political systems, political theory, and international relations. Students sound out the dimensions of these three sectors in basic courses before they specialize. They are strongly recommended to study a foreign language.
General Studies
General Studies enables students, in consultation with the Academic Advising Center, to design an interdisciplinary major in the humanities (critical languages, English, philosophy and religion) or the social sciences (American studies, Asian studies, economics, history, political science and psychology). Students may create an area of study that embraces an intellectual theme, such as environmental and population control, human rights, war and peace, or moral and ethical responsibilities.
Computer Science 2+2 Program
The BA and BS programs in Computer Science (CS) are designed for students whose major interest is the general study of computer science rather than a particular application area. These programs provide students with a broad education in traditional computer science concepts including algorithms, software engineering, computer architecture, programming languages, data structures, operating systems, networks, artificial intelligence, and image processing. Students study the first 2 years at the Japan campus and then complete the final 2 years at Main Campus in Philadelphia.
Danh sách các trường đã xem gần đây
---




Lời nhắn nhủ dành cho các bạn đang lưỡng lự có nên du học Nhật Bản hay không.
---
Copyright(C) 1999-2022 The Asian Students Cultural Association & Benesse Corporation. All Right Reserved.