日本留學信息網站JPSS > 從神奈川縣的從大學來尋找留學之學校 > 横浜国立大学 > YOKOHAMA Creative-City Studies (YCCS)
準備前往横浜国立大学留學的各位: 由財團法人亞洲學生文化協會及倍楽生(倍樂生)股份有限公司共同營運的JAPAN STUDY SUPPORT是提供外國留學生日本留學資訊的網站。横浜国立大学YOKOHAMA Creative-City Studies (YCCS)學部、College of Economics學部、College of Business Administration學部、College of Engineering Science學部、College of Urban Sciences學部等等,各科系的詳細資訊都分別刊載在此網站。有需要横浜国立大学留學資訊的各位同學,請多多利用此網站查詢。另外,此網站上也有刊載約招收留學生的1300所大學、大學院、短大、專門學校等資訊。

神奈川縣 / 國立
横浜国立大学

|

Yokohama National University
YOKOHAMA Creative-City Studies (YCCS)
學系信息
Program Outline
Yokohama National University seeks adventurous, world-class students for the YOKOHAMA Creative-City Studies (YCCS) program. The program will offer innovative interdisciplinary courses for future leaders. The classes will be taught in English, but students will also learn the Japanese language intensively during their studies. Through the program, the students are expected to develop key skills for global leaders such as multilingual and cross-cultural communication, teamwork, leadership, project planning and organizing, as well as to acquire professional knowledge in their major subjects.

http://www.yccs.ynu.ac.jp/index.html
Three Majors of YCCS
following three interdisciplinary areas: 1) Urban Cultural Creation, 2) Urban Social Management, and 3) Urban Creative Technologies. Students take courses in all three areas and ultimately choose one of the three to be their major while the other two become their minors.

http://www.yccs.ynu.ac.jp/program/majors/index.html
Language
The YCCS students will be taught in English in the early stages of their studies. After two years of intensive study of the Japanese language, they will start taking courses offered in English and Japanese. Therefore, successful students will develop multilingual communication skills in English, Japanese and the student's mother language by making the best of courses offered by YCCS.
Student Assignment and Practice for Advertisement Art.
Class Discussion for Your Business Planning and Proposals with Professional Company Consultant.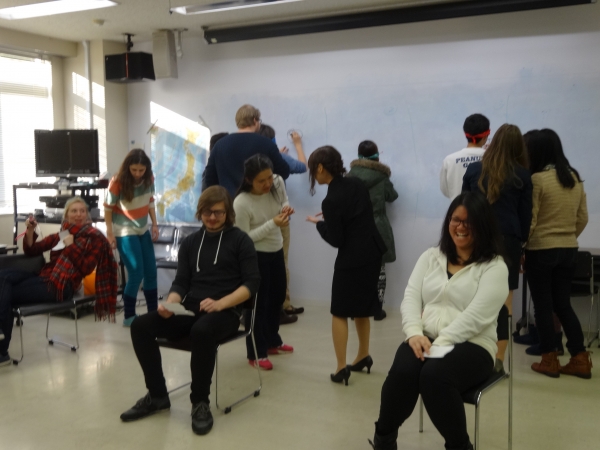 "Is your communication alright?" from the class of Practice Design for Team Management and Facilitation.

在籍留學生信息(年度)
2017
---
---
Copyright(C) 1999-2017 The Asian Students Cultural Association & Benesse Corporation. All Right Reserved.