日本留学信息网站JPSS > 从新泻县的从研究生院中查询 > 国際大学 > 国際関係学研究科
正在考虑去国際大学留学的各位:JAPAN STUDY SUPPORT 是财团法人亚洲学生文化协会和倍楽生(倍乐生)股份有限公司共同主办的面向外国留学生的日本留学信息网。 国際大学的国際関係学研究科、Graduate School of International Management等,不研究科的详细信息都分别登载在此信息网上。正在寻找国際大学的留学信息的各位同学,请利用此网查询。另外,在此网上登载着约1300条大学、大学院、短大、专门学校正在招收留学生的信息。

新泻县 / 私立
国際大学

|

International University of Japan
国際関係学研究科
The IUJ online application for 2020 admissions is now available through IUJ's website:
https://www.iuj.ac.jp/admis/

The 2020 Admissions Guidelines and the Scholarship Guidelines are also available at the same site.


☆New IUJ Brochure☆
https://online.flippingbook.com/view/928966/


Please come and study in a diverse international environment!


=====
Contact:

admgsir@iuj.ac.jp
for Admission of International Relations Program, International Development Program, Public Management and Policy Analysis Program, Japan-Global Development Program and PhD programs.

admgsim@iuj.ac.jp
for Admission of 2-year MBA Program, 1-year MBA Program and Japan-Global Development Program.

=====


研究科信息
The Graduate School of International Relations
One of the main features of the Graduate School of International Relations lies in its interdisciplinary and policy-oriented curriculum, covering fields such as politics, economics and management. The GSIR, which teaches students about the various experiences related to development in Japan and the Asia region, aims to cultivate specialists who can systematically analyze various international relations issues, including those stated above, from the viewpoint of different disciplines, while taking into consideration historical and cultural perspectives. The GSIR also aims to produce specialists with intellectual judgment and problem solving skills who have both a community-based global perspective and long-term vision of forecasting contemporary trends.
Graduate School of International Relations website: http://gsir.iuj.ac.jp/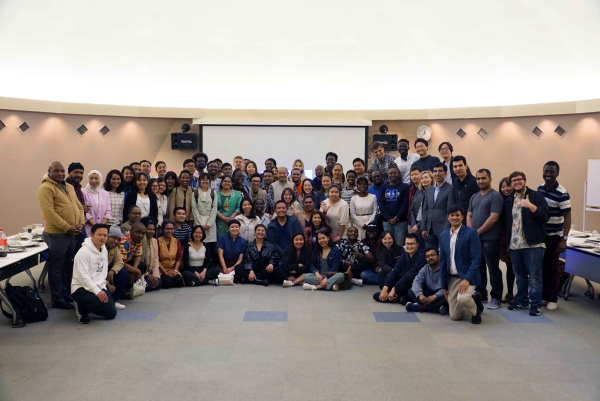 New students Welcome Day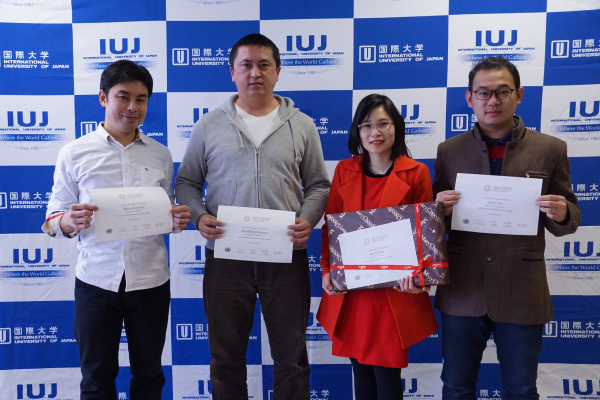 Around Campus
Graduation Ceremony

在籍留学生信息(年度)
2018

课程一览
International Development Program (IDP)
Learning economics from the basics and mastering scientific analytical methods and practical theory.
 MA in International Development
This program, which aims to foster international development professionals capable of working in a vast array of fields around the globe, equips students with the specialist knowledge, scientific analytical methods, and practical theory necessary to assist in creating an international society in which people live peacefully without poverty or income-gaps between rich and poor.

 MA in Economics
This program aims to foster professionals responsible for the planning and implementation of economic development policies aimed at achieving sustainable economic growth. In addition to a high-level of economic theory, the program also equips students with the necessary analytical tools used in economics, as well as how to implement these theories and practically apply them to economic development policies.

International Development Program website: http://gsir.iuj.ac.jp/idp/

International Relations Program (IRP)
Cultivating people with the knowledge, personality and vision to be leaders of the 21st Century.
 MA in International Relations
This program, which cultivates human resources capable of working as leaders of the international community, aims to strengthen students' analytical skills and comprehensive, interdisciplinary understanding of major events and trends in international politics, economics and society.


International Relations Program website: http://gsir.iuj.ac.jp/irp/
Public Management and Policy Analysis Program (PMPP)
Creating organization management specialists capable of evaluating policy implementation in the public sector.
 MA in Public Management
This program is designed to equip students with the necessary specialist knowledge, scientific methods and practical theory necessary to contribute to creating effective public management and good governance. It aims to cultivate specialists with the organization management and policy implementation evaluation skills needed to work in a broad range of public sectors, including international organizations, local and central government.

For more information about the Public Management and Policy Analysis Program (PMPP): http://gsir.iuj.ac.jp/pmpp/

Japan-Global Development Program (JGDP)
The logic and lessons from Japan's experience
This program is to provide students the opportunity to learn universal development and growth logic in the fields of politics, economy and management, using Japan's experiences in economic development and corporate growth as basic case materials. The JGDP was jointly developed by Japan International Cooperation Agency (JICA) and IUJ under the JICA-Development Study Program (DSP).

For more information about the Japan-Development Program: https://www.iuj.ac.jp/jgdp/


---




留学日本最好的一件事是什么?
---
Copyright(C) 1999-2020 The Asian Students Cultural Association & Benesse Corporation. All Right Reserved.