JPSS, Informasi universitas dan pasca sarjana di Jepang > Mencari tempat belajar sekolah dari Niigata Pasca sarjana > International University of Japan > Graduate School of International Relations
Bagi Anda yang ingin melanjutkan ke studi ke International University of Japan. JAPAN STUDY SUPPORT merupakan situs informasi studi di Jepang untuk para pelajar/mahasiswa(i) mancanegara yang dikelola bersama oleh The Asian Students Cultural Association (ABK) dan Benesse Corp. Kami menyediakan informasi rinci per jurusan riset, termasuk Graduate School of International RelationsatauGraduate School of International Management pada International University of Japan. Bagi yang ingin mencari informasi studi di International University of Japan, silakan memanfaatkannya. Selain itu, kami juga menyediakan informasi sekitar 1300 universitas, pascasarjana, universitas yunior, akademi kejuruan yang siap menerima mahasiswa(i) mancanegara.
Niigata / Sekolah swasta
国際大学

|

International University of Japan
Informasi ini tidak tersedia dalam bahasa yang anda pilih.Silakan pilih bahasa lain.
Informasi dalam bahasa Jepang
Informasi dalam bahasa Inggris
Graduate School of International Relations
JICA President Shinichi Kitaoka delivers first guest lecture for IUJ's new Japan Development Program.

On October 5th, Shinichi Kitaoka presented a special lecture on "Japan's modernization and Fukuzawa Yukichi" at the MLIC Hall. Kitaoka is the current president of JICA, and a former professor and president of IUJ. The lecture was part of the new Japan Development Program operated jointly by IUJ and JICA, but was open to any interested students.

The lecture gave an overview of Japan's modernization after the Meiji Restoration, from the perspective of political and diplomatic history. Kitaoka described the transition from the feudal systems of the Edo period (1603-1868) to the modern political institutions and industrial state of the Meiji era. He highlighted the influence of renowned Japanese scholar and statesman Fukuzawa Yukichi during this era of modernization. Kitaoka offered insight into both the positive and negative aspects of industrialization that served as the foundation of the future Japanese empire. The lecture led to a lively question and answer session.

President Kitaoka's meaningful presentation kicked off the Japan Development Program's guest lecture series while strengthening the bonds between JICA and IUJ.

Find photo for the lecture at:
https://www.iuj.ac.jp/20181005-3/


Contact:
Office of Admissions and Career Support
media@iuj.ac.jp






Informasi program jurusan penelitian
The Graduate School of International Relations
One of the main features of the Graduate School of International Relations lies in its interdisciplinary and policy-oriented curriculum, covering fields such as politics, economics and management. The GSIR, which teaches students about the various experiences related to development in Japan and the Asia region, aims to cultivate specialists who can systematically analyze various international relations issues, including those stated above, from the viewpoint of different disciplines, while taking into consideration historical and cultural perspectives. The GSIR also aims to produce specialists with intellectual judgment and problem solving skills who have both a community-based global perspective and long-term vision of forecasting contemporary trends.
Graduate School of International Relations website: http://gsir.iuj.ac.jp/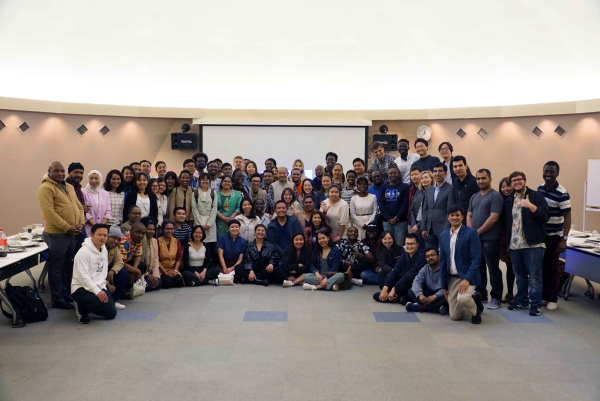 New students Welcome Day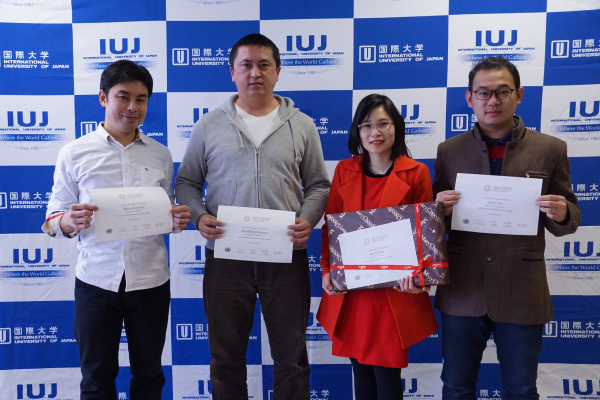 Around Campus
Graduation Ceremony

Informasi mahasiswa asing terdaftar (Tahun fiskal)
2017

Daftar bidang
International Development Program (IDP)
Learning economics from the basics and mastering scientific analytical methods and practical theory.
 MA in International Development
This program, which aims to foster international development professionals capable of working in a vast array of fields around the globe, equips students with the specialist knowledge, scientific analytical methods, and practical theory necessary to assist in creating an international society in which people live peacefully without poverty or income-gaps between rich and poor.

 MA in Economics
This program aims to foster professionals responsible for the planning and implementation of economic development policies aimed at achieving sustainable economic growth. In addition to a high-level of economic theory, the program also equips students with the necessary analytical tools used in economics, as well as how to implement these theories and practically apply them to economic development policies.

International Development Program website: http://gsir.iuj.ac.jp/idp/

International Relations Program (IRP)
Cultivating people with the knowledge, personality and vision to be leaders of the 21st Century.
 MA in International Relations
This program, which cultivates human resources capable of working as leaders of the international community, aims to strengthen students' analytical skills and comprehensive, interdisciplinary understanding of major events and trends in international politics, economics and society.

 MA in International Peace Studies
Students in this course will research the key global issues surrounding 'human security', including armed conflict and peace building, poverty and development, environmental destruction and sustainable development and gender discrimination etc.

International Relations Program website: http://gsir.iuj.ac.jp/irp/
Public Management and Policy Analysis Program (PMPP)
Creating organization management specialists capable of evaluating policy implementation in the public sector.
 MA in Public Management
This program is designed to equip students with the necessary specialist knowledge, scientific methods and practical theory necessary to contribute to creating effective public management and good governance. It aims to cultivate specialists with the organization management and policy implementation evaluation skills needed to work in a broad range of public sectors, including international organizations, local and central government.

Public Management and Policy Analysis Program (PMPP) website: http://gsir.iuj.ac.jp/pmpp/

Public Policy Program (PPP)
Producing human resources who can disseminate Japan to the international community
 Master of Public Policy
This program aims to produce human resources capable of disseminating Japan to the international community, the kind of people most demanded by Japanese society as it urgently tries to respond to the rapid progression of globalization. This one-year masters program targets people who have at least 2 years work experience in a government organization or local government agency or business.
Daftar sekolah yang terakhir diliat
---


---
Copyright(C) 1999-2018 The Asian Students Cultural Association & Benesse Corporation. All Right Reserved.