Trang thông tin về du học đại học,cao học tại Nhật JPSS > Tìm nơi du học từ Aichi Đại học > Chukyo University > Management
Dành cho các bạn đang có dự định du học trường Chukyo University. JAPAN STUDY SUPPORT là trang thông tin về du học Nhật Bản dành cho du học sinh nước ngoài, được đồng vận hành bởi Hiệp hội Asia Gakusei Bunka và Công ty cổ phần Benesse Corporation. Trang này đăng các thông tin Ngành ManagementhoặcNgành Global Studies (Global Liberal Studies)hoặcNgành PsychologyhoặcNgành Contemporary SociologyhoặcNgành LawhoặcNgành EconomicshoặcNgành Policy StudieshoặcNgành EngineeringhoặcNgành Health and Sport Science của Chukyo University cũng như thông tin chi tiết về từng ngành học, nên nếu bạn đang tìm hiểu thông tin du học liên quan tới Chukyo University thì hãy sử dụng trang web này.Ngoài ra còn có cả thông tin của khoảng 1.300 trường đại học, cao học, trường đại học ngắn hạn, trường chuyên môn đang tiếp nhận du học sinh.

Aichi / Tư lập
中京大学

|

Chukyo University
Hiện tại chưa cập nhập thông tin bằng ngôn ngữ bạn đã chọn. Hãy xem bằng ngôn ngữ khác.
Xem thông tin bằng tiếng Nhật
Xem thông tin bằng tiếng Anh
Thông tin ngành học
Developing world business leaders for companies with a global field of view
With a view to the future, in the first year, students gain a wide understanding of the basis of management theory through a systematic study of subjects in three interrelated fields: companies and business strategy; institutions and management; accounting and finance. At the same time, by taking part in an overseas study tour students discover their own potential and interests and prepare to develop these to a high level of specialisation. Furthermore, a curriculum featuring courses in leading-edge information analysis and practical language skills, as well as seminars and domestic internships, produces graduates well-equipped to function locally, nationally, and globally.
Developing business professionals
One feature of management study that sets it apart from other academic fields is that it is always focused on the practical. As society changes, so do management needs, requiring graduates who can recognize change as it happens and react quickly and appropriately by developing strategies and solutions. To that end, the Faculty of Management has put in place a learning system by which students select a specialisation and proceed by stages from basic to advanced levels of mastery. They also have the opportunity to test this knowledge in real situations, enabling them to develop truly practical skills.
Responding to worldwide business needs
In their first year in the Faculty of Management, all students can take part in an overseas business study tour. Through this experience, students can discover for themselves the overseas business environment, as well as realise their own potential as world business people. Their awareness of global business will deepen, their learning will be more efficient, and from this point, students can develop their practical international understanding by means of business English classes, language study tours, overseas internships, and study abroad exchange programs.
Global business communication
* Advanced Business English I~IV (Selection)
In the first year, 4 classes of 8 students per class will be selected on the basis of their results in a free TOEIC test (Test Of English for International Communication). Starting in the second semester, there are two classes a week for two years, taught by both Japanese and native speakers, with the aim of achieving a score of 700 — the level of everyday proficiency.
* Business English I~IV
Practical English is taught in small classes (15 students) by a native speaker in order to prepare students for today's globalised business world.
* Management studies in English (Intercultural Communication et cetera)
To prepare students for functioning in an English-speaking business environment, some management courses are taught in simple English by native speakers.

A wide range of courses reflecting social needs and student interests
According to interest, students can select courses from 3 subject areas: companies and business strategy; institutions and management; accounting and finance. Furthermore, they can take courses and earn credits from courses offered in the Faculty of Economics and the Faculty of Policy Planning as well as earning credits from overseas study, internships, and professional qualifications achieved while they are at Chukyo. In this way, graduates will enter society with a wide, practical range of skills and experiences.
Professional qualifications
Students are encouraged to utilize the Qualifications Center in acquiring qualifications such as Real Estate Broker and Financial Planning Specialist. A number of the qualifications are, if successfully attained, counted towards course credits.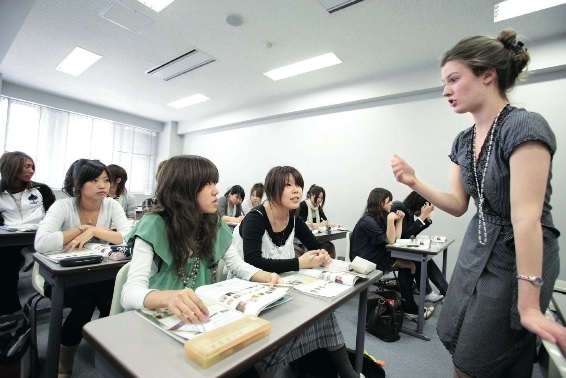 Global business communication
Overseas business study tour (1)
Overseas business study tour (2)

Thông tin Du học sinh của trường (theo niên khóa)
2020
Danh sách các trường đã xem gần đây
---


---
Copyright(C) 1999-2021 The Asian Students Cultural Association & Benesse Corporation. All Right Reserved.