Trang thông tin về du học đại học,cao học tại Nhật JPSS > Tìm nơi du học từ Saitama Đại học > Tokyo International University > English Track Program
Dành cho các bạn đang có dự định du học trường Tokyo International University. JAPAN STUDY SUPPORT là trang thông tin về du học Nhật Bản dành cho du học sinh nước ngoài, được đồng vận hành bởi Hiệp hội Asia Gakusei Bunka và Công ty cổ phần Benesse Corporation. Trang này đăng các thông tin Ngành English Track ProgramhoặcNgành Business and CommercehoặcNgành EconomicshoặcNgành International RelationshoặcNgành Human and Social ScienceshoặcNgành Language Communication của Tokyo International University cũng như thông tin chi tiết về từng ngành học, nên nếu bạn đang tìm hiểu thông tin du học liên quan tới Tokyo International University thì hãy sử dụng trang web này.Ngoài ra còn có cả thông tin của khoảng 1.300 trường đại học, cao học, trường đại học ngắn hạn, trường chuyên môn đang tiếp nhận du học sinh.

Saitama / Tư lập
東京国際大学

|

Tokyo International University
Hiện tại chưa cập nhập thông tin bằng ngôn ngữ bạn đã chọn. Hãy xem bằng ngôn ngữ khác.
Xem thông tin bằng tiếng Nhật
Xem thông tin bằng tiếng Anh
Xem thông tin bằng tiếng Thái
Thông tin ngành học
English Track Degree Program (BA, BS)
TIU E-Track is an English-based degree seeking program that offers three majors: "Business Economics", "Digital Business & Innovation", and "International Relations." In this program, students are able to earn all the credits in English while learning practical Japanese language, and get a Bachelor's degree in four years.
Two intakes per year, April and September
There are two intakes per year. Applicants can choose and apply for enrollment either in April or September.
Study Abroad Program
TIU provides a wide range of Study Abroad Programs, including the four-month American Studies Program(ASP) in cooperation with Willamette University in Oregon, one- or two-year Long Term Study Abroad Programs and ISEP Study Abroad Programs. We have the right kind of study abroad program for any student.
Learning Practical Japanese
Students will be required to take 8 credits of Japanese Language Courses for graduation. Fluency in Japanese is a must when seeking employment in Japan, and it is highly beneficial for employment at Japanese companies outside of Japan. Credits earned in Japanese language courses count towards elective courses.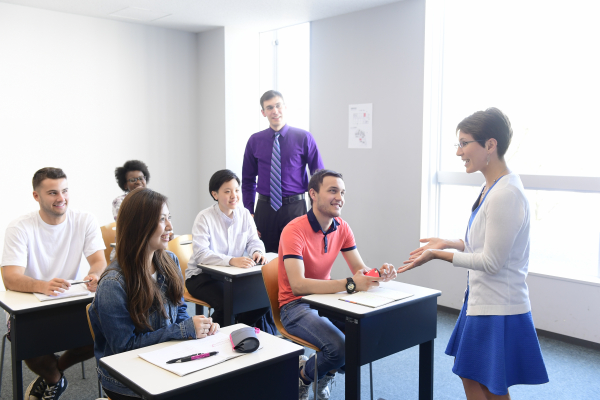 Danh sách các khóa đào tạo
Business Economics Major
A Well-Rounded Education in Economics and Business
The Business Economics Major focuses on developing skills in theoretical and empirical analysis of Economics as well as how to apply them to analyze practical aspects of business. These features provide students with fundamental knowledge and skills of economic analysis and strategic way of thinking critical to success in the real world.
http://www.tiu.ac.jp/etrack/academics/bem.html
Digital Business & Innovation Major
The Fusion of Creativity and Technology
The Digital and Business Innovation major is for students who wish to learn about the latest digital technologies and develop the skills needed for true innovation in the business world. It contains the key concepts of digital transformation, such as AI, big data and fintech and allows students to learn practical skills to create new products and services.
https://www.tiu.ac.jp/etrack/academics/dbi.html
International Relations Major
Empower your Global Perspective
The International Relations Major explores international cooperation and conflict, poverty and development, the nature and causes of war as well as other international issues. Students will develop the ability to grasp the causes of problems and explore their solutions, which are essential components for taking a leadership role in this global era.
http://www.tiu.ac.jp/etrack/academics/irm.html
Japan Studies Program (Non Degree)
Intensive Japanese and Japan-focused Courses in English
The Japan Studies Program (JSP) is a study abroad program for those currently enrolled at universities abroad and who would like to study at TIU for one or two semesters. The main purpose of the program is to acquire communicative competence in Japanese. The JSP also features four-credit elective courses which focus on themes like Japanese Society, History and Politics in English.
http://jsp.tiu.ac.jp/
Danh sách các trường đã xem gần đây
---


---
Copyright(C) 1999-2021 The Asian Students Cultural Association & Benesse Corporation. All Right Reserved.