JPSS, Informasi universitas dan pasca sarjana di Jepang > Mencari tempat belajar sekolah dari Chiba Universitas > International University of Health and Welfare > Medicine
Bagi Anda yang ingin melanjutkan studi ke International University of Health and Welfare. JAPAN STUDY SUPPORT merupakan situs informasi studi di Jepang untuk para pelajar/mahasiswa(i) mancanegara yang dikelola bersama oleh The Asian Students Cultural Association (ABK) dan Benesse Corp. Kami menyediakan informasi rinci per fakultas, termasuk Fakultas MedicineatauFakultas Health SciencesatauFakultas Health and WelfareatauFakultas PharmacyatauFakultas Health Sciences at FukuokaatauFakultas Nursing and Rehabilitation Science at OdawaraatauFakultas Nursing at NaritaatauFakultas Health Sciences at NaritaatauFakultas Psychology and Health Care Management at AkasakaatauFakultas Pharmacy at Fukuoka, International University of Health and Welfare. Bagi yang mencari informasi melanjutkan studi ke International University of Health and Welfare, silakan memanfaatkannya. Selain itu, kami juga menyediakan informasi sekitar 1300 universitas, pascasarjana, universitas yunior, akademi kejuruan yang siap menerima mahasiswa(i) mancanegara.
Informasi ini tidak tersedia dalam bahasa yang anda pilih.Silakan pilih bahasa lain.
Informasi dalam bahasa Jepang
Informasi dalam bahasa Inggris
Medicine

【School of Medicine】From 1 to 15 in Nov., we accept applications for "The Second Round of the Special Entrance Examination for International Students", "The Second Round of the Special Entrance Examination for Returnee Students & Students of International School"

The application deadline is Monday, 15th November 2021


For more information click here.
https://narita.iuhw.ac.jp/igakubu/en/admission/special.html

◇Inquiries◇
International University of Health and Welfare Admissions Office
E-mail: admission@iuhw.ac.jp
Please feel free to contact us via e-mail if you have any inquires.

Panduan fasilitas
Clinical Training Facility
In order to acquire medical professional skill, it is indispensable that students could have access to enhancing medical facilities and environment of clinical clerkship. IUHW has 5 affiliated hospitals, numerous medical and clinical research centers. All of which collaborate with the university to help students receive all the clinical training they require. In 2020, the International University of Health and Welfare Narita Hospital is scheduled to open as a world-class hub hospital.

Affiliated Hospitals
・IUHW Hospital (Nasushiobara City, Tochigi Prefecture)
・IUHW Shioya Hospital (Yaita City, Tochigi Prefecture)
・IUHW Ichikawa Hospital (Ichikawa City, Chiba Prefecture)
・IUHW Mita Hospital (Minato-ku, Tokyo)
・IUHW Atami Hospital (Atami City, Sizuoka Prefecture)

Main Clinical Research Center:
Sanno Hospital / Sanno Birth Center
Our 6th University Hospital, the IUHW Narita Hospital, to Open in Spring 2020, as an International Medical Hub.
・Equipped with the latest medical equipments and facilities, the IUHW Narita Hospital will not only cooperate with the local community as a provider of regional health care, but will also forge networks with foreign countries, centered around other Southeast Asian countries, in an effort to become a world-class hub hospital, providing medical care to patients both within Japan and abroad.
・The hospital's "International Telemedicine Center" and "International Research Center of Infectious Diseases" will collaborate with universities and medical institutions abroad. The hospital will also boast a radiation department and 20 operating theaters fitted with the latest medical equipment.
・A multilingual system will be installed to accommodate 10 languages and multiple cultures, including the provision of various cuisines and religious spaces.
・The hospital will include Japan's largest preventive medical checkup center, as well as a health and well being promotion center with pool and fitness studio.
・Two staff housing complexes are being built with a total of 370 units for hospital staff. There is also an in-house nursery providing child care services for approximately 30 babies and small children.
・The IUHW Narita Hospital aims to collaborate with the IUHW Mita Hospital and the Sanno Hospital, both are university's main clinical medicine research center and located in Minato-ku, Tokyo, to provide world-class medical services in Narita, taking into account that Tokyo Olympic and Paralympic Games in 2020.

● Total number of patient beds: 642
● Total land area: 159,605.65㎡
● Total building area: 123,770.68㎡ (Main hospital (8 stories) / medical checkup building (4 stories), education and research center, two staff housing buildings)
Narita Simulation Center ʻSCOPE' (Simulation Center for Outstanding Professional Education)
The world's largest simulation center (5,338㎡)
The SCOPE, which boasts a computerized simulator and networked filming, recording and viewing system, will be used for a variety of training. For example:
・Students respond to a patient simulator that has been programmed by an instructor to simulate certain emergency situations.
・Students assess the patient, gather information, decide on a course of action and then carry it out.
・The instructor makes changes to the simulator to match the course of action students take.
・If the gathered information, decisions and course of action are all correct, the patient simulator will recover. If they are inaccurate, instructor programs the patient simulator to deteriorate its condition.
Footage is taken the entire time, from the time students start their assessment of the patient simulator until they have decided on and carried out a course of action. Data is also collected from sensors on the patient simulator. Students use this data, footage, and get advice from instructors, to learn necessary responses to patients in emergency situations.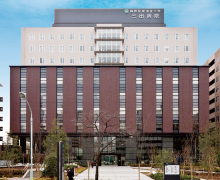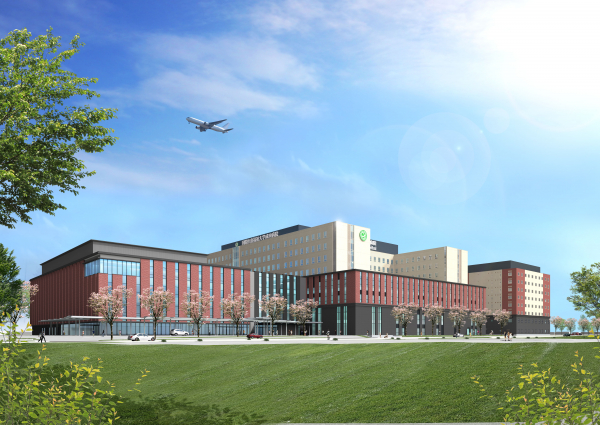 IUHW Narita Hospital (projected exterior image upon completion)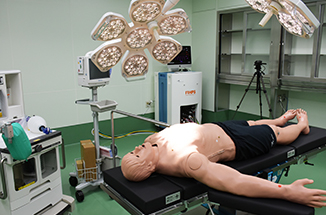 SCOPE(Simulation Center for Outstanding Professional Education)
Daftar sekolah yang terakhir diliat
---


---
Copyright(C) 1999-2021 The Asian Students Cultural Association & Benesse Corporation. All Right Reserved.