JPSS, Informasi universitas dan pasca sarjana di Jepang > Mencari tempat belajar sekolah dari Tokyo Universitas > Hosei University > Sustainability Studies
Bagi Anda yang ingin melanjutkan studi ke Hosei University. JAPAN STUDY SUPPORT merupakan situs informasi studi di Jepang untuk para pelajar/mahasiswa(i) mancanegara yang dikelola bersama oleh The Asian Students Cultural Association (ABK) dan Benesse Corp. Kami menyediakan informasi rinci per fakultas, termasuk Fakultas EconomicsatauFakultas Business AdministrationatauFakultas Sustainability StudiesatauFakultas Global and Interdisciplinary StudiesatauFakultas Japanese Language ProgramatauFakultas LawatauFakultas LettersatauFakultas Social SciencesatauFakultas Intercultural CommunicationatauFakultas Social Policy and AdministrationatauFakultas Lifelong Learning and Career StudiesatauFakultas Engineering and DesignatauFakultas Bioscience and Applied ChemistryatauFakultas Science and EngineeringatauFakultas Sports and Health StudiesatauFakultas Computer and Information Sciences, Hosei University. Bagi yang mencari informasi melanjutkan studi ke Hosei University, silakan memanfaatkannya. Selain itu, kami juga menyediakan informasi sekitar 1300 universitas, pascasarjana, universitas yunior, akademi kejuruan yang siap menerima mahasiswa(i) mancanegara.

Tokyo / Sekolah swasta
法政大学

|

Hosei University
Informasi ini tidak tersedia dalam bahasa yang anda pilih.Silakan pilih bahasa lain.
Informasi dalam bahasa Jepang
Informasi dalam bahasa Inggris
Informasi fakultas
Striving for the creation of a sustainable society where humanity and the environment co-exist
As one of the first humanities-based environmental faculties established at a university, The Faculty of Humanity and Environment approaches environmental issues from an interdisciplinary perspective. The human race is currently re-evaluating its pursuit of material wealth in response to demands for a new kind of society where people coexist in harmony with the environment. We feel that our mission in the Faculty of Humanity and Environment is to face the problems posed by these endeavors as we strive to realize the creation of a sustainable society.
A wide variety of perspectives and the ability to respond to the many issues we face will be required. In the Faculty of Humanity and Environment, we do not only impart knowledge, but cultivate the capacity to develop solutions for various problems. Such abilities will surely prove useful as our society moves forward. We also hope to train skilled individuals who can contribute to the realization of a sustainable society person by person, from environmental experts to average citizens.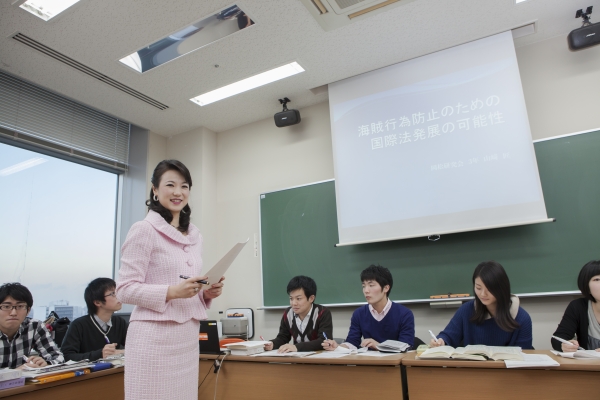 Informasi mahasiswa asing terdaftar (Tahun fiskal)
2021

Daftar jurusan
Department of Humanity and Environment
In the Department of Humanity and Environment, we comprehensively approach environmental issues from many interdisciplinary fields. The curriculum has five groups of classes available in "Law and Politics", "Economics and Management", "Society and Communities", "Humanities", and "Natural Sciences", which are combined with core environmental studies. These classes are used in our 5 courses: "Ecological Economics and Management", "Regional Environmental Coexistence", "International Environmental Cooperation", "Environmental Culture Development", and "Environmental Science". By taking the classes recommended for each course, you will be able to engage in an interdisciplinary and structured learning experience. Field studies and "Human Environment" seminars with an emphasis on gaining firsthand experiences further enhance the program.
Department of Humanity and environment(Sustainability Co-creation Programme /SCOPE)
The Faculty of Humanity and Environment will establish a new academic course called "SCOPE" from Fall 2016. The SCOPE has as its objective to develop "GLOCAL (global + local)" human resources with in-depth knowledge on environmental studies. The "GLOCAL" human resources are those who can command both global and local points of view respectively, and with which they lead to the creation of a sustainable society.
◆Unique Experience: Co-creation
The keyword of the SCOPE is "co-creation", which goes beyond "co-operation". With it, we aim to develop human resources capable to challenge difficult task voluntarily and proactively.

Daftar sekolah yang terakhir diliat
---




Tolong sebutkan daya tarik sekolah ke Jepang.
---
Copyright(C) 1999-2021 The Asian Students Cultural Association & Benesse Corporation. All Right Reserved.