JPSS, Informasi universitas dan pasca sarjana di Jepang > Mencari tempat belajar sekolah dari Niigata Pasca sarjana > International University of Japan > Graduate School of International Management
Bagi Anda yang ingin melanjutkan ke studi ke International University of Japan. JAPAN STUDY SUPPORT merupakan situs informasi studi di Jepang untuk para pelajar/mahasiswa(i) mancanegara yang dikelola bersama oleh The Asian Students Cultural Association (ABK) dan Benesse Corp. Kami menyediakan informasi rinci per jurusan riset, termasuk Graduate School of International RelationsatauGraduate School of International Management pada International University of Japan. Bagi yang ingin mencari informasi studi di International University of Japan, silakan memanfaatkannya. Selain itu, kami juga menyediakan informasi sekitar 1300 universitas, pascasarjana, universitas yunior, akademi kejuruan yang siap menerima mahasiswa(i) mancanegara.
Niigata / Sekolah swasta
国際大学

|

International University of Japan
Informasi ini tidak tersedia dalam bahasa yang anda pilih.Silakan pilih bahasa lain.
Informasi dalam bahasa Jepang
Informasi dalam bahasa Inggris
Graduate School of International Management
IUJ is holding an information session in Delhi, India on January 11 and 25.

If you are living in and around Delhi right now and looking to further your education in Japan, please come to see us to give you the insight what the school has to offer.


For more detail, please visit our website at
https://www.iuj.ac.jp/20190111/


Contact:
Office of Admissions and Career Support
contact@iuj.ac.jp
Informasi program jurusan penelitian
The Graduate School of International Management
The Graduate School of International Management (GSIM), which was launched in 1988 with cooperation from the Tuck School of Business at Dartmouth College in the United States, was the first full-blown U.S. style business school in Japan. With the aim of developing global business leaders for the future, our programs are built upon an English-based curriculum. IUJ Business School has established itself as a leading gradaute business school in Japan and Aisa.
GSIM website: http://gsim.iuj.ac.jp/
World-class Business School
The GSIM has received high acclaim from international orgnizations.

 IUJ has obtained accreditation from AACSB International, the world's leading authority on quality assurance of business schools.

 The only university from Japan ranked in "Top-100 B-schools of the world" put out by the Economist magazine for many years.

 The only business school from Japan listed in the 'Rising Star' rankings in the Netherlands-based FindyourMBA.com, coming in at 9th globally, and 2nd in Asia.
Entrance Ceremony
Around Campus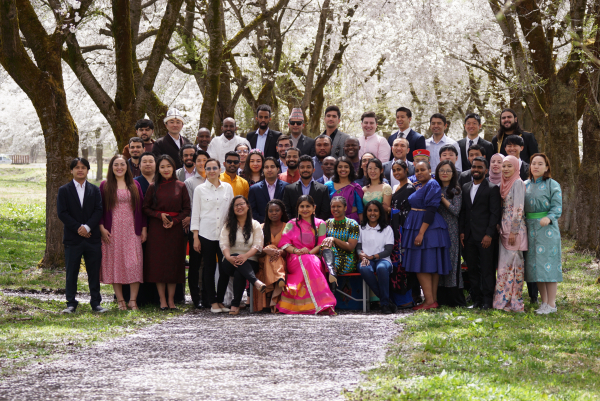 Graduation Ceremony

Informasi mahasiswa asing terdaftar (Tahun fiskal)
2018
MBA Program
Fostering leaders of multinational companies and organizations
 MBA
After acquiring fundamental knowledge in the areas of finance, marketing, accounting, management, IT and operations management, etc., students then select courses in line with their future career plan. This program nurtures leaders capable of solving management problems in multicultural environments.
http://gsim.iuj.ac.jp/welcome/mba.html

One-Year MBA Program
Intensive program to develop global business leaders
 MBA
This intensive program, which aims to develop the cohesive management skills necessary to become an integrative business leader, is designed to give students who already have experience and specialist knowledge, an overview of the global business environment during an intensive 12-month period. This program targets people who already have at least five years work experience.
http://gsim.iuj.ac.jp/welcome/imba.html
Japanese Development Program (2 year)
Learn the logic and lessons from Japan's experience
This is a two-year master's program to educate future top leaders from Japan, Asia and Africa (and perhaps Latin America) about Japan's experience in economic and societal development since the Meiji restoration, and its logical underpinnings.

Daftar sekolah yang terakhir diliat
---


---
Copyright(C) 1999-2019 The Asian Students Cultural Association & Benesse Corporation. All Right Reserved.