日本留學信息網站JPSS > 從兵庫縣的從研究生院來尋找留學之學校 > 関西学院大学 > 經營戰略研究科
準備前往関西学院大学留學的各位:由財團法人亞洲學生文化協會及倍楽生(倍樂生)股份有限公司共同營運的JAPAN STUDY SUPPORT是提供外國留學生日本留學資訊的網站。関西学院大学經營戰略研究科、Graduate school of Theology、Graduate school of Humanities、Graduate school of Sociology、Graduate School of Law、Graduate School of Economics、Graduate School of Business Administration、Graduate school of Science and Technology、Graduate School of Policy Studies、Graduate school of Language, Communication, and Culture、Law School、Graduate School of Human Welfare Studies、Graduate School of Education、Graduate School of International Studies等等,各研究科的詳細資訊都分別刊載在此網站。有需要関西学院大学留學資訊的各位同學,請多多利用此網站查詢。另外,此網站上也有刊載約招收留學生的1300所大學、大學院、短大、專門學校等資訊。

兵庫縣 / 私立
関西学院大学

|

Kwansei Gakuin University

研究科信息
Fostering management and accounting professionals who can lead the global economy in 21st century.
The many elements constituting society are becoming more and more complicated and sophisticated.
Rapid globalization occurring in economic activity is leading to drastic changes in the environment surrounding the management of corporations and regional bodies.
This means that it is insufficient to continue employing existing business models and management systems for managing corporations and local governments.
In addition to prompt and relevant responses to rapid changes in a variety of scenarios on a global scale, there are calls for pioneering strategies for actively managing corporations and municipalities.
At the Institute of Business and Accounting, Professional Graduate School, Kwansei Gakuin University, we are cultivating professionals with international level skills for the 21st century who are equipped with the necessary expertise and global perspective to manage corporations and municipalities.
Here at Kwansei Gakuin University, we aim to develop business and accounting leaders who can rebuild a Japanese economy that has reached it's turning point, and work to create a solid future with intelligence, internationality, humanity and sound ethics.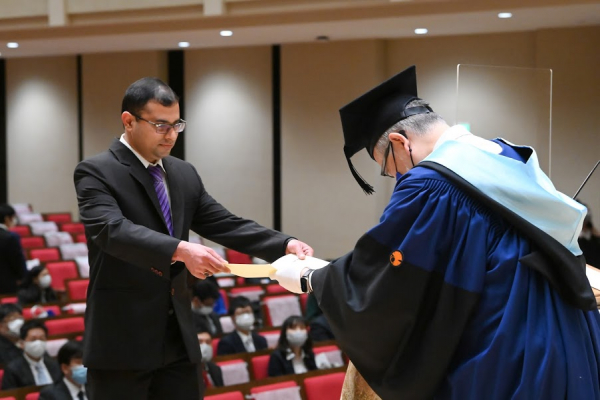 International Management Course
Welcome to Kwansei Gakuin University's IMC, the first English-based MBA program in Western Japan!
For more than 15 years, students from all over the world have come to join the International Management Course (IMC) at the Business School of Kwansei Gakuin University. Our MBA program is designed for both fresh undergraduates and those with working experiences. We aspire to create global business leaders, not only with advanced professional knowledge and skills but also with sound ethics. We offer 5 specialized study programs, including Management, Marketing, Finance, Family Business Management, and Global Public Management. At IMC, we encourage and support our students to define and generate the true values of an MBA. Together, we learn and examine our basic beliefs and fundamental attitudes toward the role of business in society. We believe that your growth can make a difference, and we challenge you to do so. Learn to Make a Difference at IMC!
最近的學校閱歷
---


---
Copyright(C) 1999-2021 The Asian Students Cultural Association & Benesse Corporation. All Right Reserved.