JPSS, Informasi universitas dan pasca sarjana di Jepang > Mencari tempat belajar sekolah dari Tokyo Universitas > Showa Women's University > Humanities and Culture
Bagi Anda yang ingin melanjutkan studi ke Showa Women's University. JAPAN STUDY SUPPORT merupakan situs informasi studi di Jepang untuk para pelajar/mahasiswa(i) mancanegara yang dikelola bersama oleh The Asian Students Cultural Association (ABK) dan Benesse Corp. Kami menyediakan informasi rinci per fakultas, termasuk Fakultas Humanities and CultureatauFakultas Health ScienceatauFakultas Humanities and Social SciencesatauFakultas Global BusinessatauFakultas International HumanitiesatauFakultas Environmental Science and Design, Showa Women's University. Bagi yang mencari informasi melanjutkan studi ke Showa Women's University, silakan memanfaatkannya. Selain itu, kami juga menyediakan informasi sekitar 1300 universitas, pascasarjana, universitas yunior, akademi kejuruan yang siap menerima mahasiswa(i) mancanegara.

Tokyo / Sekolah swasta
昭和女子大学

|

Showa Women's University
Informasi ini tidak tersedia dalam bahasa yang anda pilih.Silakan pilih bahasa lain.
Informasi dalam bahasa Jepang
Informasi dalam bahasa Inggris
Humanities and Culture
【Showa Women's University】
Infomation for international prospective students.
*New Topics is here!
http://cie.swu.ac.jp/prospective/

Our "Open Campus" will be held on the following dates!

Jun. 11: 10:00-15:00
Aug. 21: 10:00-15:00

Specifically, please check the site of "General Entrance Examination for International Students".
http://exam.swu.ac.jp/

Due to the spread of COVID-19 infection, the entrance examination requirements and contents of the "Open Campus" may be partially changed.
If we change it, we will notify you on the entrance examination information site of the university, so please be sure to check it.
http://exam.swu.ac.jp/

Dukungan untuk kehidupan mahasiswa
Support programs for students' daily lives
• Center for International Exchange
This center supports the daily lives of international students. Students can freely consult the center on matters such as their status of residence (visa), daily life matters, and obtain other information.

• Class Advisers
All students are assigned Class Advisers for their classes and seminars. The advisers in each class provide support for studies, student life, career development, and social activities.

• Japanese Language Study
In the Japanese Language course for international students, a wide range of classes cover basics such as writing in Japanese, reading newspaper articles, and using correct pronunciation, up through advanced studies for writing reports and using business-level Japanese. In Japanese Skills classes, Japanese language tutors provide support to international students with the goal of improving each students' Japanese language skills.

• Writing Support Center
The center offers advice and consultations for students writing reports and theses, as well as for resumes and cover sheets for their job-hunting activities.
Study Expenses Support Programs
International students at Showa Women's University can benefit from the following three fee reduction/exemption and scholarship schemes.

(1)All undergraduate and graduate students pay an enrollment fee of JPY 200,000. However, privately-funded international students whose visa status is "Student" shall be exempt from paying this enrollment fee.
For details, please refer to the following.
https://exam.swu.ac.jp/university/exam/o_student

(2)International students can receive a maximum reduction of 30% on the annual tuition fee.

(3)Scholarships of 20,000 yen or 30,000 yen per month are available for international students who meet or exceed a certain GPA standard.
The scholarship is 20,000 yen or 30,000 yen per month.
(Recipients of other government or private scholarships are not eligible.)
For details, please refer to the following.
http://cie.swu.ac.jp/prospective/support/
Course Audit for Credit Program
This program allows students who wish to enroll in the university's Graduate or Undergraduate programs to audit courses for credit. The period for this program is 6 months or 1 year. Students who require a period of preparation before taking the entrance examination are encouraged to use this program.

Check here for details
https://cie.swu.ac.jp/prospective/tokuteigaikokujin/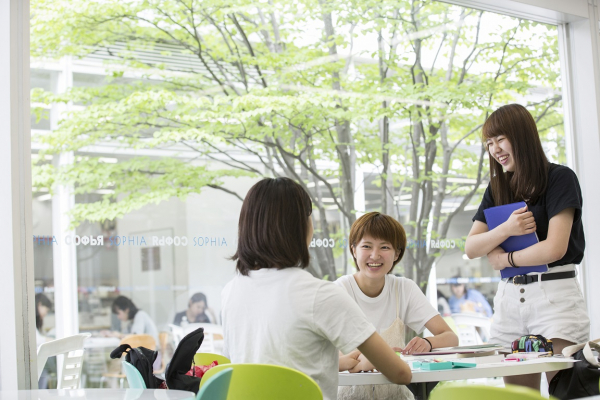 Daftar sekolah yang terakhir diliat




Tolong sebutkan daya tarik sekolah ke Jepang.
---
Copyright(C) 1999-2022 The Asian Students Cultural Association & Benesse Corporation. All Right Reserved.