JPSS, Informasi universitas dan pasca sarjana di Jepang > Mencari tempat belajar sekolah dari Hiroshima Universitas > Fukuyama City University > Urban Management
Bagi Anda yang ingin melanjutkan studi ke Fukuyama City University. JAPAN STUDY SUPPORT merupakan situs informasi studi di Jepang untuk para pelajar/mahasiswa(i) mancanegara yang dikelola bersama oleh The Asian Students Cultural Association (ABK) dan Benesse Corp. Kami menyediakan informasi rinci per fakultas, termasuk Fakultas Urban ManagementatauFakultas Education, Fukuyama City University. Bagi yang mencari informasi melanjutkan studi ke Fukuyama City University, silakan memanfaatkannya. Selain itu, kami juga menyediakan informasi sekitar 1300 universitas, pascasarjana, universitas yunior, akademi kejuruan yang siap menerima mahasiswa(i) mancanegara.

Hiroshima / Sekolah lokal pablik
福山市立大学

|

Fukuyama City University
Informasi ini tidak tersedia dalam bahasa yang anda pilih.Silakan pilih bahasa lain.
Informasi dalam bahasa Jepang
Informasi dalam bahasa Inggris
Informasi fakultas
What is the Faculty of Urban Management? - Multidisciplinary Learning in 3 Areas of Study -
The Faculty of Urban Management comprehensively brings together 3 areas of study: Urban Planning and Design, from an engineering perspective with a foundation in environmental studies, Urban Economics and Management, from an economics perspective that includes topics such as marketing, and Urban Coexistence and Development, from a sociological perspective. The program aims to produce human resources capable of contributing towards the creation of sustainable urban societies. The interdisciplinary approach of this faculty brings together a variety of themes which provide students with multifaceted perspectives and flexible thinking.
(1) Planning/Design Area
In this area, students pursue topics from an engineering perspective covering infrastructure, facilities, buildings, and living environments, as well as building design, urban development, and community development.

[Primary Study Topics]
Urban Transportation Policy, Urban Water Environment Systems, Architectural Planning, Urban Landscaping Theory, Living Environment Theory, Housing Policy Theory, Living Space Studies, Environmental Ergonomics, GIS Practice, Urban Design Practice, etc.
(2) Economics/Management Area
In this area, students pursue topics such as the governmental and social systems and economic models necessary for sustainable development from the perspective of economics and management theory.

[Primary Study Topics]
Public Administration, Local Finance Theory, Financial System Theory, Marketing Theory, Entrepreneurship Theory, Social Welfare Development Theory, Intercultural Management Theory, Environmental Management, Environmental Conservation Theory, Regional Industry Theory, etc.
(3) Coexistence/Development Area
In this area, students pursue topics from a sociological perspective such as citizen government of cities, multicultural societal coexistence, and utilizing local resources for community development.

[Primary Study Topics]
Citizen Autonomy Theory, Urban Information Theory, Environmental Geography, Intercultural Communication Theory, History of Regional Cultures, History of Regional Industries, International Cooperation Theory, International Development Theory, International Aid Policy, etc.
Qualifications and Licensing
In the Department of Urban Management of the Faculty of Urban Management , by enrolling in elective courses beyond the prescribed specialization subjects and required number of credits for graduation, students can qualify to take national exams to be certified as a Wood Building Architect or Second-Class Architect.
Study at the University of Alaska surrounded by nature in the United States! - Environmental Development Training -
Learning about "Cost" in the field - Corporate/Government Practical Seminar -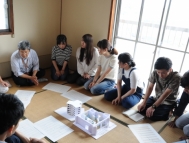 Initiatives for regional revitalization - Renovating an old home into a share house -

Informasi mahasiswa asing terdaftar (Tahun fiskal)
2017
Daftar sekolah yang terakhir diliat
---


---
Copyright(C) 1999-2020 The Asian Students Cultural Association & Benesse Corporation. All Right Reserved.