Trang thông tin về du học đại học,cao học tại Nhật JPSS > Tìm nơi du học từ Tokyo Đại học > J. F. Oberlin University > Business Management
Dành cho các bạn đang có dự định du học trường J. F. Oberlin University. JAPAN STUDY SUPPORT là trang thông tin về du học Nhật Bản dành cho du học sinh nước ngoài, được đồng vận hành bởi Hiệp hội Asia Gakusei Bunka và Công ty cổ phần Benesse Corporation. Trang này đăng các thông tin Ngành Arts and ScienceshoặcNgành Business ManagementhoặcNgành Global CommunicationhoặcNgành Performing and Visual ArtshoặcNgành Health and Welfare của J. F. Oberlin University cũng như thông tin chi tiết về từng ngành học, nên nếu bạn đang tìm hiểu thông tin du học liên quan tới J. F. Oberlin University thì hãy sử dụng trang web này.Ngoài ra còn có cả thông tin của khoảng 1.300 trường đại học, cao học, trường đại học ngắn hạn, trường chuyên môn đang tiếp nhận du học sinh.

Thông tin ngành học
The Department of Business Management offers programs of study in eight complementary fields.
One of the most notable aspects of the Department of Business Management is that business as a whole is taught in ways that cross over boundaries between studies of topics such as economics, management, and commercial science. Specialized, advanced classes are taken from the second year onward, and students can choose from a total of eight programs that are separated into general knowledge and skills as topics of business, and practical knowledge as topics of management.
Acquire skills in business English and Chinese to prepare for your endeavors in global society.
Business is increasingly becoming a worldwide activity, and many companies are going global by attracting foreign customers, moving production facilities to other countries, and establishing sales channels around the world. Our programs provide opportunities to strengthen your English or Chinese language abilities so that you can take leading roles in our globalizing society.
Step out of the campus and experience businesses firsthand. Learn from professionals about the business world as it is today.
Internships bridge the gap between studies and the professional world and are valuable opportunities to experience what it is like to work in a company inside or outside of Japan. Within Japan, internship programs are available for hands-on learning in travel companies, hotels, and in other parts of the leisure industry. Outside of Japan, programs such as "Overseas Business Studies" and the department's own "Global Outreach Program" provide opportunities to observe companies as well as experience working in them.
All students are provided with an iPad to help them polish their business skills.
By carrying this tool with you and using it daily, you gain familiarity with its functions and are able to actively use it for your studies. For example, in the required "Social Fundamentals " class of your first year, students are divided into groups that investigate and research various industries and companies. At the end of the course, students use their iPads to make presentations and hold active discussions as part of their learning.
More detailed information can be found on the university's official web site:
http ://www.obirin.ac.jp/en/undergraduate/bm.html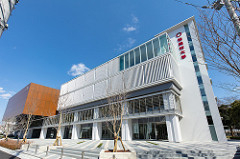 Scene of a classroom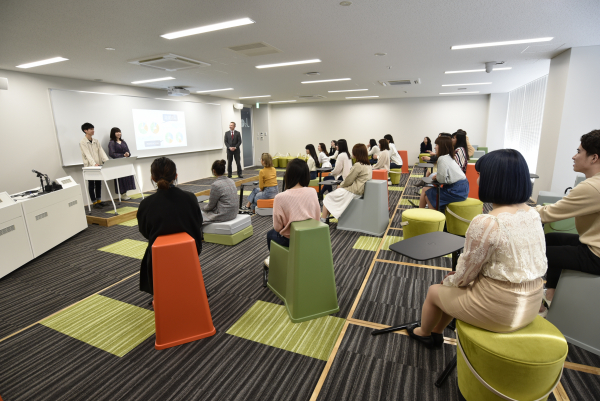 Scene of an internship at a company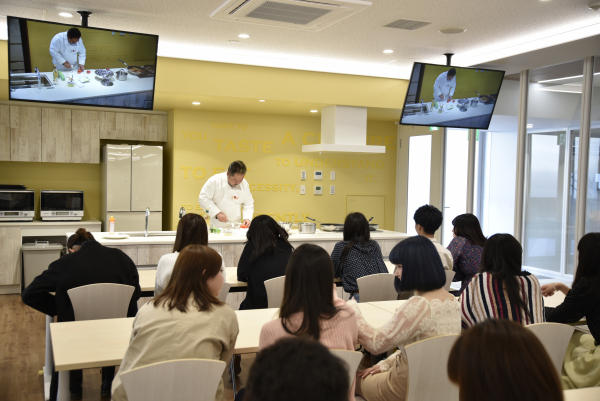 Scene of a lecture by a top business leader

Thông tin Du học sinh của trường (theo niên khóa)
2016

Danh sách các khóa đào tạo
Business Programs in the Department of Business Management
● Tourism, Hospitality, and Entertainment Program
Cultivate specialized knowledge and a sense of hospitality to become an expert at providing heartfelt service.
● International Business and Finance Program
Systematically learn about global business for responding to growing international competition in the business world.
● Distribution and Marketing Program
Learn the concepts behind distribution and marketing from the point of manufacture through to sales.
● ICT Business Program
Create new business opportunities and management strategies using computer and networking technologies.
Management Programs in the Department of Business Management
● Business Strategy and Administration Program
Learn business strategies for adapting to the times and the environment to become a future business leader.
● Accounting and Finance Program
Study to become a business professional that understands the movement and management of finances for supporting business activities.
● Economics and Business Law Program
Cultivate knowledge in the fields of economics and law and study to become an expert in the administration of companies.
● Information and Environment Program
Gain the ability to observe the business environments surrounding companies and consider information technology applications for them.
Department of Aviation Management
● Airline Business Program
Study to become a global worker equipped with the thinking skills and ability to excel in various fields of the airline industry.
● Airline Hospitality Program
Study to become an independent-thinking and active cabin attendant or ground crew.
● Flight Operations (Pilot Training) Program
Study to acquire the knowledge, skills, mental strength, and sense of duty necessary for becoming a pilot.
Danh sách các trường đã xem gần đây
---


---
Copyright(C) 1999-2017 The Asian Students Cultural Association & Benesse Corporation. All Right Reserved.