日本留學信息網站JPSS > 從東京都的從大學來尋找留學之學校 > 立教大学 > 理学院
準備前往立教大学留學的各位: 由財團法人亞洲學生文化協會及倍楽生(倍樂生)股份有限公司共同營運的JAPAN STUDY SUPPORT是提供外國留學生日本留學資訊的網站。立教大学文学院學部、経済学院學部、理学院學部、社会学院學部、法学院學部、観光学院學部、社区福祉学院學部、現代心理学院學部、経営学院學部、異文化交流学院學部、Global Liberal Arts Program (GLAP)學部等等,各科系的詳細資訊都分別刊載在此網站。有需要立教大学留學資訊的各位同學,請多多利用此網站查詢。另外,此網站上也有刊載約招收留學生的1300所大學、大學院、短大、專門學校等資訊。
理学院
【RIKKYO UNIVERSITY ON-LINE APPLICATION BEGINS!】
Rikkyo University will introduce the new on-line application system in the entrance examination for international students for the academic year 2018/19.

The on-line application period for the admission in the academic year 2018/19 (for the selection by paper screening) is from Thursday, November 2, to Friday, November 17. The interested applicants are advised to check on the link below for submitting their applications.
https://rikkyo.applyjapan.com/

The applicants are required to submit the additional documents by mail before the deadline of Wednesday, November 22, after they finish the on-line application. Please note that the on-line application itself does not complete the entire application procedure.

設施介紹指南
Ikebukuro Library
Ikebukuro Library, opened in fall 2012, is considered one of the largest university libraries in Japan with storage capacity of more than 2 million books and 1,520 seats.
Paul Rusch Athletic Center
Paul Rusch Athletics Center, opened in April 2013, is the general gymnasium which has five floors above ground and two floors in basement including a swimming pool, rooftop courts (tennis court, futsal court), arena, multipurpose space, running track, and training room.
Chapel
Since Rikkyo University emphasizes the importance of "the education based on Christian values," it operates the university chapels in both Ikebukuro and Niiza campuses. The chapels offer daily prayer services as well as special mass for anniversaries. Various social activities are also organized by the chapels, including concerts, seminars and summer camps.
Global Lounge
Global Lounge, the hub for international exchanges and study abroad program information, has been established at both the Ikebukuro and Niiza Campuses.
Coordinators offer a full lineup of consultation services designed to help students choose what is best for them from a variety of study abroad programs. Services include provision of basic study abroad information, consultations on study abroad destinations, and support for developing study abroad plans. Global Lounge also holds events to promote interaction among Japanese and international students.
Player Room
Rikkyo University inaugurated a prayer room on the university's Ikebukuro Campus in April 2016 to better serve the needs of the university's increasing number of international students. While this facility has been designed primarily for Muslim students from overseas, it is available for use by followers of all faiths.
Center for Japanese Language Education (CJLE)
CJLE offers Japanese language education customized for international students. It provides students with opportunities to learn about different aspects of Japanese culture and Japanese language. In addition,
CJLE has established the Japanese Language Support Desk to help students whose native language is not Japanese.
https://cjle.rikkyo.ac.jp/english/
Paul Rusch Athletic Center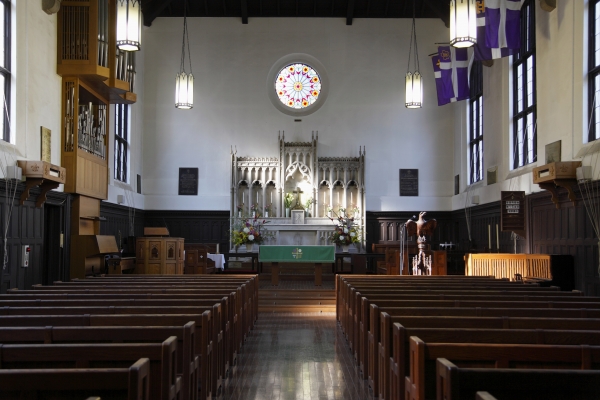 All Saints' Chapel in Ikebukuro campus
最近的學校閱歷
---


---
Copyright(C) 1999-2017 The Asian Students Cultural Association & Benesse Corporation. All Right Reserved.