日本留学信息网站JPSS > 从东京都的从研究生院中查询 > 国際基督教大学大学院(ICU) > アーツ・サイエンス研究科
正在考虑去国際基督教大学大学院(ICU)留学的各位:JAPAN STUDY SUPPORT 是财团法人亚洲学生文化协会和倍楽生(倍乐生)股份有限公司共同主办的面向外国留学生的日本留学信息网。 国際基督教大学大学院(ICU)的アーツ・サイエンス研究科等,不研究科的详细信息都分别登载在此信息网上。正在寻找国際基督教大学大学院(ICU)的留学信息的各位同学,请利用此网查询。另外,在此网上登载着约1300条大学、大学院、短大、专门学校正在招收留学生的信息。

东京都 / 私立
国際基督教大学大学院(ICU)

|

International Christian University (ICU)
アーツ・サイエンス研究科
Open Campus 2017

We will offer a series of events including lecture demonstrations and campus tour at the Open Campus.
Participants will also have an opportunity to interact with ICU students, faculty and staff to get more
ideas about what it is to be like a GS student at ICU.

PLACE: ICU MITAKA Campus
DATEs: July 15th, August 5th & 12th, 2017, March 17th, 2018--All on Saturday
TIME: 10:00-16:00

No registration is required. Please feel free to join us!
http://www.icu.ac.jp/en/admissions/september/events/index.html

---------------------------------------------------------------------------
[AY2017 April Admission Autumn Selection]
The Online Application System Input Period of AY2017April Admission Autumn Selection
will be from 10:00, August 15 (Tue.) to 17:00, August 28 (Mon.), 2017
For more details: http://www.icu.ac.jp/en/gs/admissions/index.html.


学生生活支助
Scholarship and Financial Aid
Scholarship applicable for international students
●ICU Torch Relay Graduate School Scholarship for New Students
Eligibility for this scholarship will be considered upon request in the admissions process. ICU will notify applicants if they are chosen for the scholarship when it offers them admission to the Graduate School.
●ICU Non-Japanese Student Scholarship (for foreign nationals)
●The Japanese Government (Monbukagakusho: MEXT) Scholarship by Top Global University Project

Link about scholarship: http://www.icu.ac.jp/en/gs/scholarship/index.html
Please contact ICU Student Affairs Group (scholarship@icu.ac.jp) for inquiries about other scholarships and eligibility.
Housing and dormitories for international students
ICU dormitories are a place where students respect human rights and diversity and learn about the sharing and assigning of responsibilities through dialogue while living together in a community. All dorms are located on campus, surrounded by nature, which brings a sense of the season. They are conveniently located near facilities such as the University Hall, dining hall and the library.
http://www.icu.ac.jp/en/campuslife/dormitories/index.html
Counseling
When students are troubled about things happening in their lives here at ICU, the Counseling Center is a place to talk with someone about those issues, think together about them, and receive support in finding a solution. It is possible to speak with someone regarding such issues as adapting to life at the university, personal relationships, self-understanding, the path your life is taking, and physical and mental health.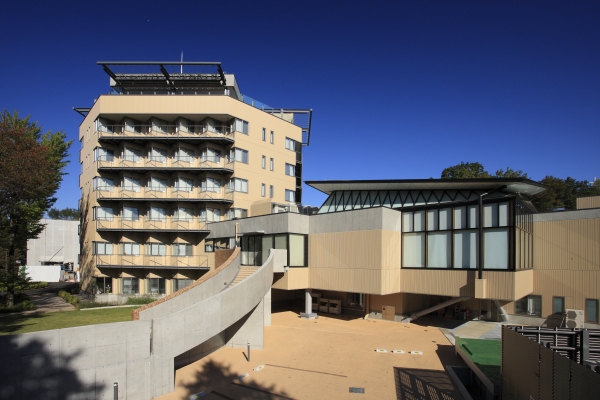 Complex of Dining Hall, conference rooms, short-term dormitories and the offices. (Completed in Aug. 2010)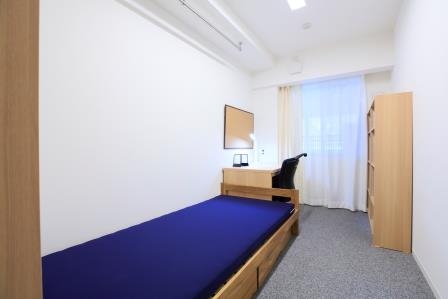 New student dormitory (Momi House) opened in April 2017. The higher floors have single rooms to accommodate graduate students and students with diverse needs.
---
Copyright(C) 1999-2018 The Asian Students Cultural Association & Benesse Corporation. All Right Reserved.