Trang thông tin về du học đại học,cao học tại Nhật JPSS > Tìm nơi du học từ Tokyo Đại học > J. F. Oberlin University > College of Global Communication
Dành cho các bạn đang có dự định du học trường J. F. Oberlin University. JAPAN STUDY SUPPORT là trang thông tin về du học Nhật Bản dành cho du học sinh nước ngoài, được đồng vận hành bởi Hiệp hội Asia Gakusei Bunka và Công ty cổ phần Benesse Corporation. Trang này đăng các thông tin Ngành College of Arts and ScienceshoặcNgành College of Performing and Visual ArtshoặcNgành College of Business ManagementhoặcNgành College of Global CommunicationhoặcNgành Institute for Japanese Language and CulturehoặcNgành College of Health and WelfarehoặcNgành Aviation ManagementhoặcNgành College of Education & Social Transformation của J. F. Oberlin University cũng như thông tin chi tiết về từng ngành học, nên nếu bạn đang tìm hiểu thông tin du học liên quan tới J. F. Oberlin University thì hãy sử dụng trang web này.Ngoài ra còn có cả thông tin của khoảng 1.300 trường đại học, cao học, trường đại học ngắn hạn, trường chuyên môn đang tiếp nhận du học sinh.
College of Global Communication

Hỗ trợ đời sống sinh hoạt sinh viên
J. F. Oberlin University's Tuition Waiver and Scholarship Programs
1)Scholarship for Academic Excellence (Scholarship)
This scholarship is available to students in the second through fourth year of the bachelor's program and is awarded to 21 students in each academic year who have demonstrated outstanding academic achievement. However, this scholarship cannot be combined with other on-campus scholarships of 100,000 yen or more per year.

2)Privately Financed International Student Scholarships (10-100% reduction for up to 4 years)
This is a scholarship selection program for international students. This scholarship is designed to provide financial support to international students who have excellent academic records but have difficulty entering higher education due to financial reasons. If you are selected for the scholarship, your tuition will be reduced or exempted when you apply for admission. There is a screening process every semester for continuation of the scholarship. However, the scholarship cannot be combined with the Monbukagakusho Scholarship for International Students and other scholarships from the university or other organizations of the same amount or more 3.

3)Scholarship for International Students
This scholarship is available for students whose status of residence is "College Student" and who are currently enrolled in the university. Up to 30,000 yen per a month (up to 360,000 yen per year) will be awarded.

Two International Dormitories
J. F. Oberlin University has dormitories where students can live safely and at ease. International students from around the world live together with Japanese students. The dormitory fee is 55,000 yen per month. There are 2 locations conveniently close to the campus: the International House, which is a 4-minute walk from the north exit of JR Fuchinobe station, and International House No. 2 , which is a 3-minute walk from the south exit. There is also a free shuttle bus that runs between the campus and Fuchinobe station, which makes commuting quick and easy.
Comprehensive Career Support
The success rate for international students pursuing employment is close to 100%. Individual career guidance is given to students from the fall semester of their third year. This support has been well-received, and in 2009 the Ministry of Education gave the career support program its highest level of evaluation.
Global Supporters: our international student support organization
The Global Supporters provide a "buddy program" to support international students and ease their worries about their daily life and academic studies. The organization also holds international exchange events and many other activities.
An international dormitory where you can live with Japanese students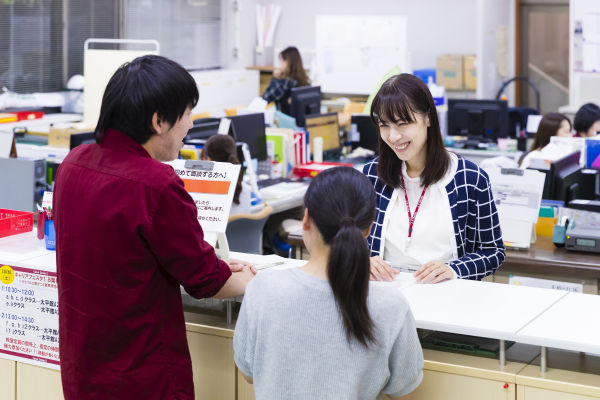 Career advisors support your job-hunting activities
Danh sách các trường đã xem gần đây


---
Copyright(C) 1999-2022 The Asian Students Cultural Association & Benesse Corporation. All Right Reserved.