Trang thông tin về du học đại học,cao học tại Nhật JPSS > Tìm nơi du học từ Saitama Đại học > Tokyo International University > English Track Program
Dành cho các bạn đang có dự định du học trường Tokyo International University. JAPAN STUDY SUPPORT là trang thông tin về du học Nhật Bản dành cho du học sinh nước ngoài, được đồng vận hành bởi Hiệp hội Asia Gakusei Bunka và Công ty cổ phần Benesse Corporation. Trang này đăng các thông tin Ngành English Track ProgramhoặcNgành Business and CommercehoặcNgành EconomicshoặcNgành International RelationshoặcNgành Human and Social ScienceshoặcNgành Language Communication của Tokyo International University cũng như thông tin chi tiết về từng ngành học, nên nếu bạn đang tìm hiểu thông tin du học liên quan tới Tokyo International University thì hãy sử dụng trang web này.Ngoài ra còn có cả thông tin của khoảng 1.300 trường đại học, cao học, trường đại học ngắn hạn, trường chuyên môn đang tiếp nhận du học sinh.

Saitama / Tư lập
東京国際大学

|

Tokyo International University
Hiện tại chưa cập nhập thông tin bằng ngôn ngữ bạn đã chọn. Hãy xem bằng ngôn ngữ khác.
Xem thông tin bằng tiếng Nhật
Xem thông tin bằng tiếng Anh
Xem thông tin bằng tiếng Thái
English Track Program
Fall 2020 Intake for Freshmen and Transfer Students English Track Program - 2020 Fall III Application Period

Feb.19th (Wed.) – Mar. 11th (Wed.) 2020 at 5:00 PM UTC+9

Results for both Freshman and Transfer applicants will be announced on Monday the 13th of April, 2020.

Available Degrees 4 years for Freshman Applicants
- (B.A.) Business Economics
- (B.S.) Digital Business & Innovation
- (B.A.) International Relations

Available Degrees for Second/Third Year Transfer Applicants
- (B.A.) Business Economics
- (B.A.) International Relations

The Application guidelines can be found here:
For Freshman: https://www.tiu.ac.jp/etrack/admissions/docs/application_guideline_2020.pdf
For Transfer: https://www.tiu.ac.jp/etrack/admissions/docs/application_guideline_for_transfer_2020.pdf

We will be looking forward to receiving your applications!


Hỗ trợ đời sống sinh hoạt sinh viên
Scholarship
All applicants for the English Track Program are eligible to apply for the TIU tuition reduction scholarship at the time of application. The range of reduction is from 30% to 100% of tuition. The notification of how much will be awarded is sent to successful applicants along with the admission results. The scholarship will remain valid until graduation under the condition that the recipient maintains a good academic performance and meet TIU behavioral expectations.
https://www.tiu.ac.jp/etrack/cost/reductions.html
Accommodation
TIU offers and secures accommodation for first-year international students who live outside of Japan before university enrollment. A dormitory room will also be assigned to international students currently residing in Japan and Japanese students currently residing abroad if there is vacancy. The dormitory admission period is one year. Apartment referral service is also available.
http://www.tiu.ac.jp/english/etrack/studentlife/accomodation.html
Career Support
The Career Service Office assists international students by providing seminars on employment strategies held in English and has opened a Career Support Desk. Students can also participate in internship programs which help them develop a better understanding of their future career goals.
Extra-Curricular Activities
TIU offers over 50 different club activities including Kyoka clubs(pro-level), culture clubs and shared-interests groups. International students are actively engaged in activities with Japanese students and it is the perfect opportunity for international exchange.
International Exchange Office
Located on-campus, a central hub for international students at TIU is the International Exchange Office where English-speaking staff offer a wide range of support. If students need help with anything to do with their lives, the International Exchange Office is always there to help.
Student Leadership Internship Program
The Student Leadership Internship Program is a student-led program with primary objective of supporting international students at TIU, promoting internationalization on campus, and encouraging English study. Peer assistants are also part of this program and they provide hands-on support for international students who are settling into their lives in Japan.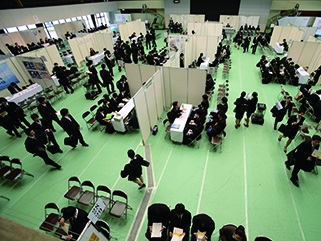 On-Campus Recruiting
Model United Nations Club - One of our varsity teams
Danh sách các trường đã xem gần đây


---
Copyright(C) 1999-2020 The Asian Students Cultural Association & Benesse Corporation. All Right Reserved.