ข้อมูลมหาวิทยาลัย,บัณฑิตวิทยาลัยในประเทศญี่ปุ่นต้องที่ JPSS > เลือกสถานศึกษาจาก นิอิกาตะมหาวิทยาลัย > Niigata University of Health and Welfare > Faculty of Rehabilitation
สำหรับผู้ที่กำลังพิจารณาเรื่องเข้าศึกษาต่อที่มหาวิทยาลัยNiigata University of Health and Welfare JAPAN STUDY SUPPORTเป็นเว็บไซต์ให้ข้อมูลการศึกษาต่อที่ประเทศญี่ปุ่นสำหรับนักศึกษาต่างชาติโดยการดำเนินงานร่วมกันของ The Asian Students Cultural Association และ Benesse Corporation มีการลงข้อมูลรายละเอียดของแต่ละคณะเช่นNiigata University of Health and Welfare คณะFaculty of RehabilitationหรือคณะFaculty of Medical TechnologyหรือคณะFaculty of Social WelfareหรือคณะFaculty of Health SciencesหรือคณะFaculty of Healthcare ManagementหรือคณะFaculty of Nursing ไว้ เป็นต้นไว้สำหรับผู้ที่ต้องการค้นหาข้อมูลการศึกษาต่อเกี่ยวกับNiigata University of Health and Welfare กรุณาใช้เว็บไซต์นี้เพื่อการค้นหาข้อมูลตามอัธยาศัย นอกจากนั้นยังมีข้อมูลของสถาบันการศึกษาระดับมหาวิทยาลัย,บัณฑิตวิทยาลัย,วิทยาลัยระดับอนุปริญญา,วิทยาลัยอาชีวศึกษากว่า 1,300 แห่งที่กำลังเปิดรับสมัครนักศึกษาต่างชาติด้วย

นิอิกาตะ / เอกชน
新潟医療福祉大学

|

Niigata University of Health and Welfare
ไม่มีข้อมูลสำหรับภาษาที่ท่านเลือก ขอให้เลือกภาษาอื่น
ดูข้อมูลสำหรับภาษาญี่ปุ่น
ดูข้อมูลสำหรับภาษาอังกฤษ
ข้อมูลคณะวิชาในมหาวิทยาลัย
Top class performance in national examinations
The Faculty of Rehabilitation is composed of four departments preparing their students to be eligible to take national examinations for certified Physical Therapists, Occupational Therapists, Speech-Language-Hearing Therapists, and Prosthetists.
Preparation for national examinations begins early in small group training. As a result, our examination pass rate in all departments is far higher than the national average in national certification examinations.

2017 Pass rate in national examinations / number of candidates who passed.
Department of Physical Therapy
National Examination for Physical Therapists: 98.8% pass rate / 84 candidates. (National average pass rate: 81.4%)
Department of Occupational Therapy
National Examination for Occupational Therapists: 94.4% pass rate / 37 candidates. (National average pass rate: 76.2%)
Department of Speech, Language, and Hearing Sciences
National Examination for Speech-Language-Hearing Therapists: 94.9% pass rate / 37 candidates. (National average pass rate: 79.3%)
Department of Prosthetics & Orthotics and Assistive Technology
National Examination for Prosthetists and Orthotists 88.6% pass rate / 31 candidates. (National average pass rate: 85.3%)
98.9% employment rate achieved for March, 2018 graduates!
The employment rate for graduates from our faculty reached 98.9% for our 2018 March graduates (for 188 job-seeking graduates).
We are helping our graduates in realizing their dreams to find employment in university hospitals, general hospitals, and other healthcare facilities.

Employment rate (for 2018 March graduates)
Department of Physical Therapy
100% (76 out of 76 job seekers)
Department of Occupational Therapy
100% (40 out of 40 job seekers)
Department of Speech, Language, and Hearing Sciences
95.0% (38 out of 40 job seekers)
Department of Prosthetics & Orthotics and Assistive Technology
100% (32 out of 32 job seekers)
Cultivating high-level analytic skills through the use of the world's most advanced practical and research facilities.
Each student's practical skills are increased through the highest standard campus environment, tailored to student numbers. Facilities include equipment for analyzing body motion with VICON 3D motional analysis equipment (physical therapy); magnetic stimulation apparatus with a noninvasive method of delivering electrical stimulation to the brain (occupational therapy); and a work space with equipment from one of the world's most advanced technological giants, German company Ottobock, official partner of the Paralympics (prosthetics).
Japan's biggest training institution for Physical Therapists! (Department of Physical Therapy)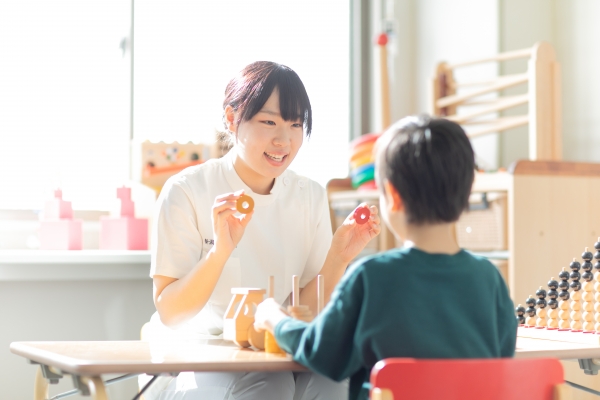 Supporting all clients, from children through to older people (Department of Speech, Language, and Hearing Sciences)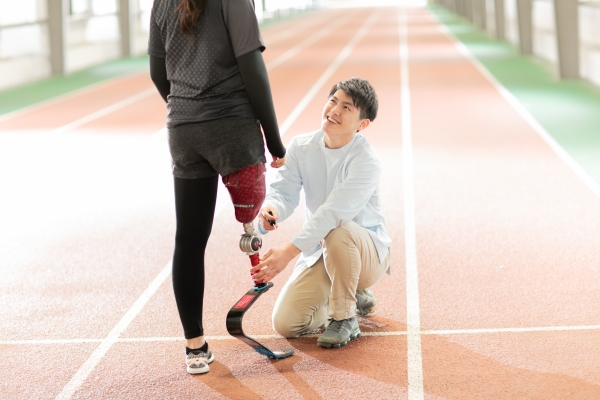 Conducting research activities on sports prostheses (Department of Prosthetics & Orthotics and Assistive Technology)

รายชื่อสาขาวิชา
Department of Physical Therapy
All disciplines, from physical disability to sports rehabilitation, are staffed with full-time faculty to train physical therapists who can assist in all situations.
Through a wide variety of specialized subjects, from physical disability and older-age disability to sports rehabilitation, we are cultivating physical therapists who will perform brilliantly on the job.
Students will gain specialized knowledge and skills in a wide array of fields including basic medicine, exercise equipment, sports rehabilitation, the nervous system, internal impairments, pediatrics, and care prevention. In the future, our graduates will become active in even more widespread fields related to physical therapy.
We have created a practical learning environment for sports rehabilitation, with support and research activities for athletes in our university-designated enhanced sports clubs, as well as cooperative hands-on practice in the sporting and medical world in collaboration with the Department of Health and Sports.
Department of Occupational Therapy
Students are trained to become occupational therapists who can work closely with clients to provide lifestyle support over a broad range of areas including support for people with physical disabilities, older aged people, children, and mental health care.
We are cultivating occupational therapists who will play an active role in all settings, including working with people with physical disabilities, older aged people, children, people with mental health disabilities, local communities, and in education. Students will study specialized subjects to learn about rehabilitation to allow people to go about their daily life through the use of activities such as pottery and play, as well as learning about areas which are recently gaining attention such as childhood development and mental health support.
As part of the development of our education emphasizing practical skills, we invite professional occupational therapists working in all areas in hospitals as well as actual patients on to campus for special lectures.
In addition, under the concept of nurturing specialists in hand and brain function, we conduct a broad variety of research activities, among the best in the nation, analyzing the relationship of diseases and disabilities with brain functions.
Department of Speech, Language, and Hearing Sciences
Nurturing speech therapists who can offer comprehensive support for clients with communication disorders including delayed language development, aphasia, and voice and pronunciation disorders.
We are cultivating speech therapists who can support people from all age brackets—from early childhood through to old age—with difficulties in speaking, hearing, and eating (swallowing).
In collaboration with the Speech and Language Development Center located on campus, we invite children with delayed language development on to campus to provide support, allowing for a more hands-on learning experience about supporting children.
In addition, a practical education is provided through field trips to hospital conferences (information exchange with patients and review meetings) and participation in volunteer activities for children with developmental delays.
Department of Prosthetics & Orthotics and Assistive Technology
Students work towards simultaneously acquiring multiple qualifications and gaining knowledge and technical skills related to welfare aids and assistive devices, in addition to studying to become prosthetists and orthotists.
Training prosthetists and orthotists who can fabricate and fit prostheses.
In addition to studying for eligibility to sit the national examination for certified prosthetists and orthotists, we provide subjects for students to learn about wheelchairs, assistive robots, and other medical equipment. For example, students can aim to acquire other medical related qualifications such as Assistive Products Planner, Assistive Products Consultant, Housing Environment Coordinator for Elderly and Disabled People, and Wheelchair Safety Mechanic.
The on-campus practical training facilities are world class in terms of the number of machines and the area of working space per student, as well as being an environment considerate of the health of our students.
We offer practical education including classes in which one amputee model is invited for every 2 to 3 students, and expanding research activities related to sports prosthetic devices.
รายชื่อสถาบันที่พบล่าสุด
---


---
Copyright(C) 1999-2020 The Asian Students Cultural Association & Benesse Corporation. All Right Reserved.