JPSS, Informasi universitas dan pasca sarjana di Jepang > Mencari tempat belajar sekolah dari Fukuoka Universitas > Kyushu University > International Undergraduate Program (Engineering)
Bagi Anda yang ingin melanjutkan studi ke Kyushu University. JAPAN STUDY SUPPORT merupakan situs informasi studi di Jepang untuk para pelajar/mahasiswa(i) mancanegara yang dikelola bersama oleh The Asian Students Cultural Association (ABK) dan Benesse Corp. Kami menyediakan informasi rinci per fakultas, termasuk Fakultas International Undergraduate Program (Engineering)atauFakultas International Undergraduate Program (Bioresource and Bioenvironment)atauFakultas Interdisciplinary Science and InnovationatauFakultas LettersatauFakultas EducationatauFakultas LawatauFakultas EconomicsatauFakultas SciencesatauFakultas MedicineatauFakultas DentistryatauFakultas Pharmaceutical SciencesatauFakultas EngineeringatauFakultas AgricultureatauFakultas Design, Kyushu University. Bagi yang mencari informasi melanjutkan studi ke Kyushu University, silakan memanfaatkannya. Selain itu, kami juga menyediakan informasi sekitar 1300 universitas, pascasarjana, universitas yunior, akademi kejuruan yang siap menerima mahasiswa(i) mancanegara.

Fukuoka / Sekolah negeri
九州大学

|

Kyushu University
Informasi ini tidak tersedia dalam bahasa yang anda pilih.Silakan pilih bahasa lain.
Informasi dalam bahasa Jepang
Informasi dalam bahasa Inggris
Informasi fakultas
International Undergraduate Program in Engineering
The School of Engineering aims to equip the students with the knowledge of basic sciences (including physics and chemistry), the theory and practice of engineering, and a capacity to appreciate and explain a broad range of issues. The School also strives to enable the students to cultivate the sense of responsibility and ethics, always bearing in mind the importance of the "sustainable development of human civilization." By the time they complete their undergraduate studies, the students will be ready to take on life's real challenges as outstanding engineers with a global perspective, and a sense of commitment to the improvement of industrial and scientific technologies. There are four majors to choose from, which you must specify at the time of application, viz., Applied Chemistry, Civil Engineering, Mechanical Engineering, and Aerospace Engineering.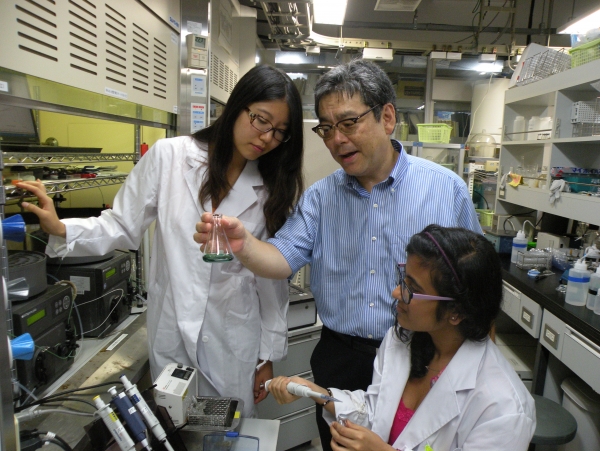 Lab (Applied Chemistry)
Lab (Aerospace Engineering)
Lab (Mechanical Engineering)
Applied Chemistry
In Applied Chemistry, students learn how to produce substances from their atomic and molecular levels, with the goal of making scientific contributions to the development and welfare of society. This program provides an advanced education in chemical technologies which can be applied to various fields, including IT, environmental sciences, nanotechnology and biotechnology, and cover a range of substances from organic and inorganic materials to biomolecules.
Civil Engineering
In Civil Engineering, students learn how to build, maintain, and control social infrastructure (water and sewage systems, roads, ports) and restore destroyed natural environment, all for the purpose of creating a safer society. Students will learn about the latest technology, in various fields of building design and construction, urban planning, and preservation of soil and water.
Mechanical Engineering
Civilization is built with machines. Mechanical engineering is the branch of engineering that involves the production and usage of mechanical power for the design, production, and operation of machines and tools. Students will study advanced engineering which is needed to create machines that enhance our world, such as ultra-super precision instruments that work on micro and nano scales, robots with artificial intelligence, and hydrogen energy and biotechnology devices.
Aerospace Engineering
Aerospace Engineering pursues the limitless abilities and dreams of people, by mobilizing the most advanced technologies from all basic engineering fields and using them to expand our horizons. In this program, students learn system engineering needed for the development of aerospace vehicles, in addition to engineering theories based on dynamics. They also study advanced engineering to determine and resolve the challenges generated by the expansion of operating aerospace vehicles.
Daftar sekolah yang terakhir diliat
---


---
Copyright(C) 1999-2019 The Asian Students Cultural Association & Benesse Corporation. All Right Reserved.