JPSS, Informasi universitas dan pasca sarjana di Jepang > Mencari tempat belajar sekolah dari Osaka Universitas > Ritsumeikan University > Global Studies Major (GS)
Bagi Anda yang ingin melanjutkan studi ke Ritsumeikan University. JAPAN STUDY SUPPORT merupakan situs informasi studi di Jepang untuk para pelajar/mahasiswa(i) mancanegara yang dikelola bersama oleh The Asian Students Cultural Association (ABK) dan Benesse Corp. Kami menyediakan informasi rinci per fakultas, termasuk Fakultas Community and Regional Policy Studies Major (CRPS)atauFakultas Global Studies Major (GS)atauFakultas The Information Systems Science and Engineering Course (ISSE)atauFakultas American University - Ritsumeikan University Joint Degree Program (JDP)atauFakultas Global Liberal ArtsatauFakultas LawatauFakultas EconomicsatauFakultas Business AdministrationatauFakultas Social SciencesatauFakultas LettersatauFakultas Science and EngineeringatauFakultas International RelationsatauFakultas Policy ScienceatauFakultas Information Science & EngineeringatauFakultas Life SciencesatauFakultas Image Arts and SciencesatauFakultas Pharmaceutical SciencesatauFakultas Sport and Health ScienceatauFakultas Comprehensive PsychologyatauFakultas Gastronomy Management , Ritsumeikan University. Bagi yang mencari informasi melanjutkan studi ke Ritsumeikan University, silakan memanfaatkannya. Selain itu, kami juga menyediakan informasi sekitar 1300 universitas, pascasarjana, universitas yunior, akademi kejuruan yang siap menerima mahasiswa(i) mancanegara.
Informasi ini tidak tersedia dalam bahasa yang anda pilih.Silakan pilih bahasa lain.
Informasi dalam bahasa Jepang
Informasi dalam bahasa Inggris

Dukungan untuk kehidupan mahasiswa
Scholarships for International Students
We provide international students with "Tuition Reduction Scheme(100%,50%,20%)" to support them financially. We also support international students to apply for public scholarships such as the ones of JASSO.
Last year, more than 90% of international students who applied for scholarships in the English-medium undergraduate programs received financial aid.

※Scholarship information
→http://en.ritsumei.ac.jp/e-ug/financial_info/scholarships.html/
International Student Services
Ritsumeikan University provides a wide variety of services to help international students transition smoothly into their life in Japan and get the most out of their university experience. Through the International Center and other on-campus resources, RU offers guidance with pre-arrival procedures, immigration paperwork, housing information, guarantor services, Japanese language classes, tutoring, general consultation, medical services, and of course support for daily student life. Think of the International Center as your first stop when you have any questions or concerns as they will be able to assist you directly or connect you with someone who can.

※International Student Services
→http://en.ritsumei.ac.jp/lifecareer/student-support/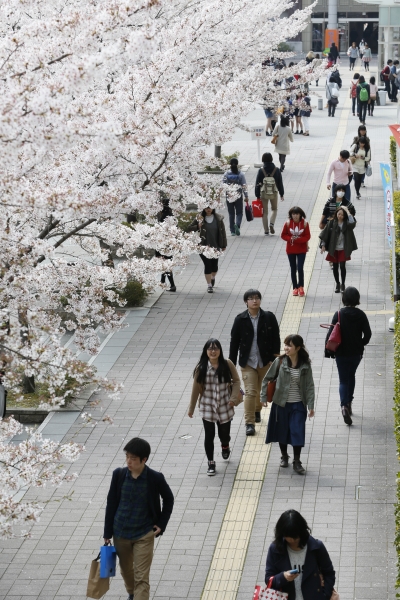 KINUGASA Campus in Spring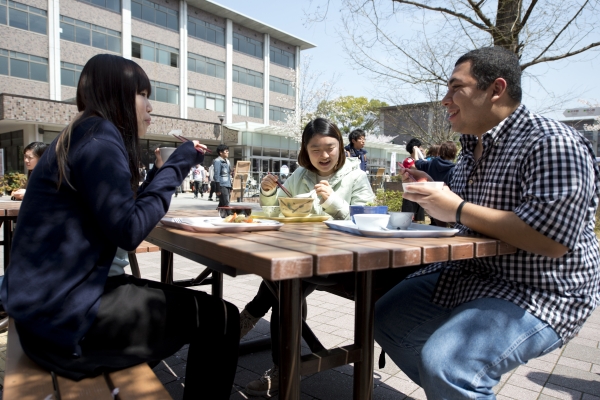 Lunch Time at a Popular Spot for GS students
International Student Ambassadors from GS
Daftar sekolah yang terakhir diliat


---
Copyright(C) 1999-2019 The Asian Students Cultural Association & Benesse Corporation. All Right Reserved.