JPSS, Informasi universitas dan pasca sarjana di Jepang > Mencari tempat belajar sekolah dari Tokyo Universitas > Meiji University > Jepang Internasional
Bagi Anda yang ingin melanjutkan studi ke Meiji University. JAPAN STUDY SUPPORT merupakan situs informasi studi di Jepang untuk para pelajar/mahasiswa(i) mancanegara yang dikelola bersama oleh The Asian Students Cultural Association (ABK) dan Benesse Corp. Kami menyediakan informasi rinci per fakultas, termasuk Fakultas Jepang InternasionalatauFakultas LawatauFakultas CommerceatauFakultas Political Science and EconomicsatauFakultas Arts and LettersatauFakultas Science and TechnologyatauFakultas AgricultureatauFakultas Business AdministrationatauFakultas Information and CommunicationatauFakultas Interdisciplinary Mathematical Sciences, Meiji University. Bagi yang mencari informasi melanjutkan studi ke Meiji University, silakan memanfaatkannya. Selain itu, kami juga menyediakan informasi sekitar 1300 universitas, pascasarjana, universitas yunior, akademi kejuruan yang siap menerima mahasiswa(i) mancanegara.

Tokyo / Sekolah swasta
明治大学

|

Meiji University
Informasi ini tidak tersedia dalam bahasa yang anda pilih.Silakan pilih bahasa lain.
Informasi dalam bahasa Jepang
Informasi dalam bahasa Inggris
Informasi fakultas
Educational concept
As part of Meiji University's efforts to further internationalization, we aim to train capable, empowered individuals that are "truly international" by providing a curriculum that combines Japanese studies and international research together with a leading-edge and global education system that includes two-way international student exchange along with international academic exchanges.

Course introduction
The School of Global Japanese studies provides learning alongside Japanese students that is based on intensive language study and many opportunities for international research. The program covers the culture and social systems of Japan that have brought attention from around the world.
An English track is offered where students can study in this program in English and earn credits.

As Japanese language studies are provided according to each student's level, from beginner to advanced, Japanese study can be continued while in the School of Global Japanese Studies. Students that have acquired proficiency in Japanese can also participate in lectures held in Japanese. The 4-year degree program consists of general studies in social humanities alongside research providing further learning enrichment in the following 8 fields, according to the student's interests: pop culture, visual arts, social systems and media, international relations and cultural exchange, international culture and philosophy, Japanese culture and philosophy, Japanese language, and English language.

In addition to the formal curriculum, activities like student clubs and field trips help create lifelong friendships and provide opportunities to broaden one's views of Japan's industries, society, and culture.

By graduation, students will have firmly acquired knowledge of Japan's globally-recognized traits as well as cross-cultural communication skills. They will have been prepared with the capability to pursue their careers on the global stage and serve as key actors between Japan and their home countries.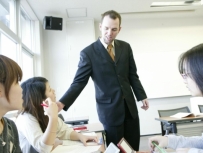 A lesson underway

Informasi mahasiswa asing terdaftar (Tahun fiskal)
2021
School of Global Japanese Studies
We develop students who seek to take part in the global community with understanding of Japan from a global perspective
School of Global Japanese Studies -English Track-
English-based Degree Programs in Japan
The School of Global Japanese Studies started its English Track program in 2011. Taught entirely in English, this program culmitates in a Bachelor of Global Japanese Studies degree in four years.

For details, please contact at English Track Admissions Team, School of Global Japanese Studies.
Email: inakanok@mics.meiji.ac.jp
TEL:+81-3-5343-8057
Daftar sekolah yang terakhir diliat
---


---
Copyright(C) 1999-2021 The Asian Students Cultural Association & Benesse Corporation. All Right Reserved.