JPSS, Informasi universitas dan pasca sarjana di Jepang > Mencari tempat belajar sekolah dari Tokyo Universitas > Chuo University > Global Management
Bagi Anda yang ingin melanjutkan studi ke Chuo University. JAPAN STUDY SUPPORT merupakan situs informasi studi di Jepang untuk para pelajar/mahasiswa(i) mancanegara yang dikelola bersama oleh The Asian Students Cultural Association (ABK) dan Benesse Corp. Kami menyediakan informasi rinci per fakultas, termasuk Fakultas CommerceatauFakultas Global ManagementatauFakultas LawatauFakultas EconomicsatauFakultas Science and EngineeringatauFakultas LettersatauFakultas Policy StudiesatauFakultas Global Informatics, Chuo University. Bagi yang mencari informasi melanjutkan studi ke Chuo University, silakan memanfaatkannya. Selain itu, kami juga menyediakan informasi sekitar 1300 universitas, pascasarjana, universitas yunior, akademi kejuruan yang siap menerima mahasiswa(i) mancanegara.

Tokyo / Sekolah swasta
中央大学

|

Chuo University
Global Management
The Faculty of Global Management was founded with the aim of fostering active global business leaders through education and research on management, economics theory, and other related fields. Under the slogan of "Be Ahead of the World," the Faculty is committed to establishing innovation in the development of global education at Chuo University, building upon the collective resources and wisdom that have been the foundation of 135 years of history and tradition at Chuo University.

On April 1, 2019, we welcomed our first cohort of talented and ambitious students from Japan and abroad. The newly enrolled students have the honor of assuming a place in the history of Chuo University, a position they share with all the faculty and staff of the Global Management Faculty, affectionately known as "GLOMAC."

Offering the option of Fall enrollment as well, this September GLOMAC expects to welcome significant numbers of international students from around the world. We look forward to and are proud to be building a new and dynamic Faculty together with these three hundred members of the inaugural GLOMAC class.

Hisashi KAWAI
Dean, Faculty of Global Management
Panduan fasilitas
Hakumon
The unique philosophy of the school, "Fostering the ability to Apply Knowledge to Practice," and its spirit and attitude toward learning, gave rise to the name White Gate. The color white has associations of justice, integrity, purity, and truth.
Global Lounge
The new Global Lounge will support students aiming to become globally minded persons. The lounge provides study abroad information as well as opportunities to get to know different cultures and as a place for on-campus international exchange. Students can receive support and advice from full-time English advisors at the lounge. Moreover, various events are held at this lounge, including cross-cultural events managed by students and cross-cultural understanding seminars.
Student Dining Facilities
Hilltop on the Tama Campus is a four-story building with numerous dining halls (cafeterias and restaurants) with a seating capacity of more than 3,000. There are also a beauty salon, a barber shop, a Co-op store, and a travel agent counter to serve the Chuo Community.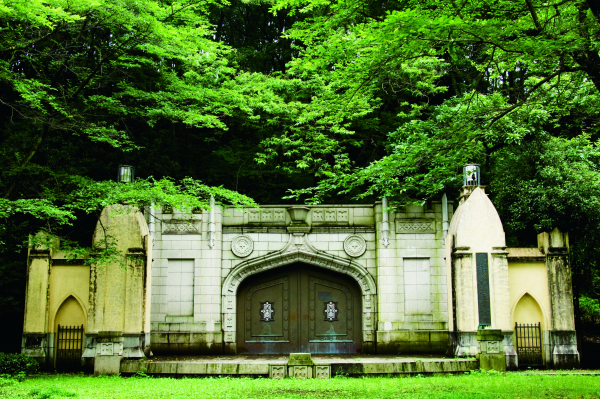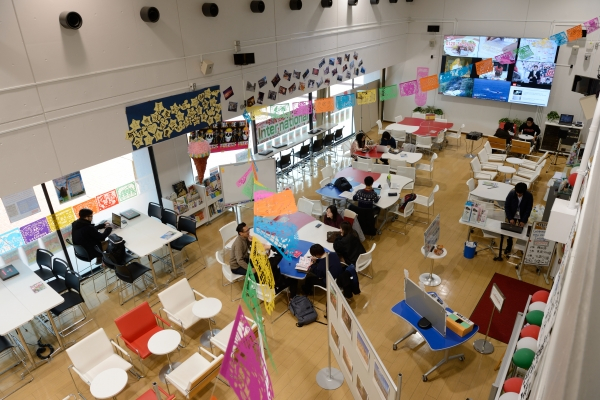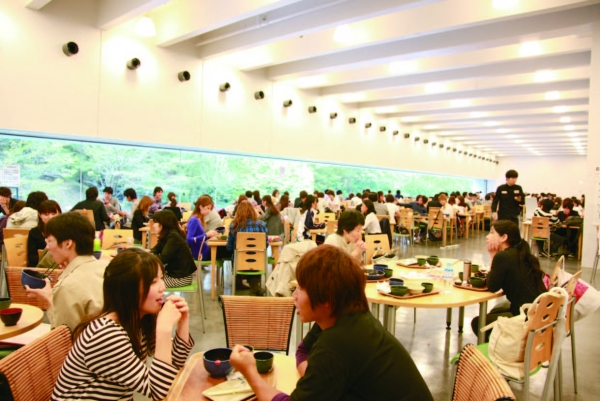 Student Dining Facilities
Daftar sekolah yang terakhir diliat
---



---
Copyright(C) 1999-2019 The Asian Students Cultural Association & Benesse Corporation. All Right Reserved.