JPSS, Informasi universitas dan pasca sarjana di Jepang > Mencari tempat belajar sekolah dari Tokyo Universitas > J. F. Oberlin University > College of Business Management
Bagi Anda yang ingin melanjutkan studi ke J. F. Oberlin University. JAPAN STUDY SUPPORT merupakan situs informasi studi di Jepang untuk para pelajar/mahasiswa(i) mancanegara yang dikelola bersama oleh The Asian Students Cultural Association (ABK) dan Benesse Corp. Kami menyediakan informasi rinci per fakultas, termasuk Fakultas College of Arts and SciencesatauFakultas College of Performing and Visual ArtsatauFakultas College of Business ManagementatauFakultas College of Global CommunicationatauFakultas Institute for Japanese Language and CultureatauFakultas College of Health and Welfare, J. F. Oberlin University. Bagi yang mencari informasi melanjutkan studi ke J. F. Oberlin University, silakan memanfaatkannya. Selain itu, kami juga menyediakan informasi sekitar 1300 universitas, pascasarjana, universitas yunior, akademi kejuruan yang siap menerima mahasiswa(i) mancanegara.
College of Business Management
Informasi fakultas
Shinjuku Campus Open April, 2019
The establishment of the new campus of the College of Business Management in Hyakunin-cho, in Tokyo's Shinjuku ward. The campus will be equipped with specialized facilities for practical training specifically for the industry, as well as space for planning and hosting events and exhibitions. Students will receive practical education in the Shinjuku business center through corporate collaboration, lectures by speakers who are active at the industry forefront, and long-term internships.
Campus access is via Shin-Okubo station on the JR Yamanote line. Located in close proximity to Shinjuku, this area is populated with many corporate offices and universities. Here, students can expect lively interactions and can study while experiencing the business atmosphere for themselves.
Launching a new curriculum incorporating practical learning with an emphasis on experiences.
The College of Business Management stand at the starting line of a new style of "learning" with its relocation to the Shinjuku Campus in April, 2019. A deeper learning is made possible through learning both inside the classroom and out in the business world, with a practical learning curriculum style that emphasizes real experiences and reiterates concepts across lectures, off-campus learning and seminars.

The Department of Business Management offers areas of study in eight fields within two programs. Students can study occupational categories in the Business Programs, and develop skills in the Management Programs. To support a variety of visions for the future, our curriculum allows students to build their own personalized "Degree Story". While systematically learning about the field, students are trained to become businesspeople with advanced practical business knowledge to solve issues facing the real world.
Acquire skills in business English and Chinese to prepare for your endeavors in global society.
Business is increasingly becoming a worldwide activity, and many companies are going global by attracting foreign customers, moving production facilities to other countries, and establishing sales channels around the world. Our programs provide opportunities to strengthen your English or Chinese language abilities so that you can take leading roles in our globalizing society.
Step out of the campus and experience businesses firsthand. Learn from professionals about the business world as it is today.
Internships bridge the gap between studies and the professional world and are valuable opportunities to experience what it is like to work in a company inside or outside of Japan. Within Japan, internship programs are available for hands-on learning in travel companies, hotels, and in other parts of the leisure industry. Outside of Japan, programs such as "Overseas Business Studies" and the department's own "Global Outreach Program" provide opportunities to observe companies as well as experience working in them.
More detailed information can be found on the university's official web site:
Shinjyuku campus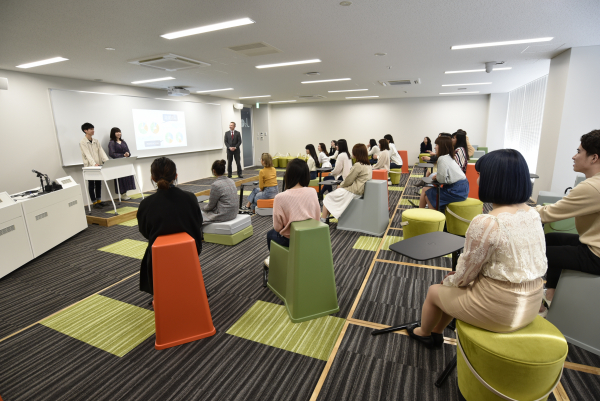 Scene of a lecture
Scene of a lecture by food resercher

Informasi mahasiswa asing terdaftar (Tahun fiskal)
2021

Daftar bidang
Business Programs in the Department of Business Management
● Tourism, Hospitality, and Entertainment
Cultivate specialized knowledge and a sense of hospitality to become an expert at providing heartfelt service.
● International Business and Finance
Systematically learn about global business for responding to growing international competition in the business world.
● Distribution and Marketing
Learn the concepts behind distribution and marketing from the point of manufacture through to sales.
● ICT Business
Create new business opportunities and management strategies using computer and networking technologies.
Management Programs in the Department of Business Management
● Business Strategy and Administration
Learn business strategies for adapting to the times and the environment to become a future business leader.
● Accounting and Finance
Study to become a business professional that understands the movement and management of finances for supporting business activities.
● Economics and Business Law
Cultivate knowledge in the fields of economics and law and study to become an expert in the administration of companies.
● Information and Environment
Gain the ability to observe the business environments surrounding companies and consider information technology applications for them.
Department of Aviation Management
● Airline Business Program
Study to become a global worker equipped with the thinking skills and ability to excel in various fields of the airline industry.
● Airline Hospitality Program
Study to become an independent-thinking and active cabin attendant or ground crew.
Daftar sekolah yang terakhir diliat
---




Pesan Anda bagi mereka yang masih ragu untuk sekolah ke Jepang
---
Copyright(C) 1999-2021 The Asian Students Cultural Association & Benesse Corporation. All Right Reserved.