JPSS, Informasi universitas dan pasca sarjana di Jepang > Mencari tempat belajar sekolah dari Tokyo Universitas > J. F. Oberlin University > College of Global Communication
Bagi Anda yang ingin melanjutkan studi ke J. F. Oberlin University. JAPAN STUDY SUPPORT merupakan situs informasi studi di Jepang untuk para pelajar/mahasiswa(i) mancanegara yang dikelola bersama oleh The Asian Students Cultural Association (ABK) dan Benesse Corp. Kami menyediakan informasi rinci per fakultas, termasuk Fakultas College of Arts and SciencesatauFakultas College of Business ManagementatauFakultas College of Global CommunicationatauFakultas College of Performing and Visual ArtsatauFakultas College of Health and Welfare, J. F. Oberlin University. Bagi yang mencari informasi melanjutkan studi ke J. F. Oberlin University, silakan memanfaatkannya. Selain itu, kami juga menyediakan informasi sekitar 1300 universitas, pascasarjana, universitas yunior, akademi kejuruan yang siap menerima mahasiswa(i) mancanegara.

Dukungan untuk kehidupan mahasiswa
J. F. Oberlin University's Tuition Waiver and Scholarship Programs
1. Special Scholarship Student Scholarship (For university students) - Financial Award -

This scholarship is for successful applicants from specified schools in China. The awarded amount corresponds to 50% of tuition for 4 years (Refer to each College's tuition for the amount. Screening for continued eligibility is held each semester.)

2. Academic Performance Scholarship (For university students) - Financial Award -

This scholarship is for students with excellent academic results in their 2nd, 3rd, or 4th year of study. The awarded amount is 50,000 yen per month (600,000 yen per year).

3. Privately-funded International Student Scholarship

Tuition is reduced by 50% each semester. International students are eligible to be selected for this scholarship.

In addition to the scholarships listed above, international students can also use programs offered by the government of Japan (Ministry of Education) for undergraduate and graduate students, by JASSO (Japan Student Services Organization) for undergraduate, graduate, and short-term students, or through various programs offered other public organizations.
Two International Dormitories
J. F. Oberlin University has dormitories where students can live safely and at ease. International students from around the world live together with Japanese students. The dormitory fee is 55,000 yen per month. There are 2 locations conveniently close to the campus: the International House, which is a 4-minute walk from the north exit of JR Fuchinobe station, and International House No. 2 , which is a 3-minute walk from the south exit. There is also a free shuttle bus that runs between the campus and Fuchinobe station, which makes commuting quick and easy.
Comprehensive Career Support
The success rate for international students pursuing employment is close to 100%. Individual career guidance is given to students from the fall semester of their third year. This support has been well-received, and in 2009 the Ministry of Education gave the career support program its highest level of evaluation.
Global Supporters: our international student support organization
The Global Supporters provide a "buddy program" to support international students and ease their worries about their daily life and academic studies. The organization also holds international exchange events and many other activities.
An international dormitory where you can live with Japanese students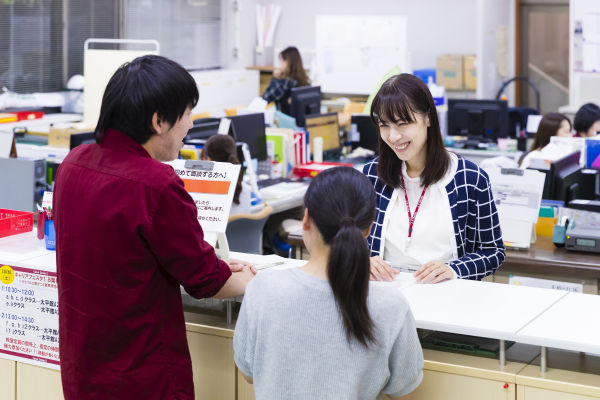 Career advisors support your job-hunting activities
Daftar sekolah yang terakhir diliat


---
Copyright(C) 1999-2019 The Asian Students Cultural Association & Benesse Corporation. All Right Reserved.