JPSS, Informasi universitas dan pasca sarjana di Jepang > Mencari tempat belajar sekolah dari Chiba Universitas > Edogawa University > Media and Communication
Bagi Anda yang ingin melanjutkan studi ke Edogawa University. JAPAN STUDY SUPPORT merupakan situs informasi studi di Jepang untuk para pelajar/mahasiswa(i) mancanegara yang dikelola bersama oleh The Asian Students Cultural Association (ABK) dan Benesse Corp. Kami menyediakan informasi rinci per fakultas, termasuk Fakultas Media and CommunicationatauFakultas Sociology, Edogawa University. Bagi yang mencari informasi melanjutkan studi ke Edogawa University, silakan memanfaatkannya. Selain itu, kami juga menyediakan informasi sekitar 1300 universitas, pascasarjana, universitas yunior, akademi kejuruan yang siap menerima mahasiswa(i) mancanegara.

Chiba / Sekolah swasta
江戸川大学

|

Edogawa University
Informasi fakultas
Learning to excel as a member of society
The curriculum of the College of Media and Communication is constructed to provide students with the skills they need to excel as members of society in the real world. 4-year programs of progressive study encompass fundamentals and liberal arts that focus on the 3 pillars of first-year studies and career development, specialized lessons particular to each college and department, and small-size class learning in a seminar format.
Practical lessons taught by faculty with real-world professional experience
Alongside the university's academic researchers, lectures are also given by faculty hailing from various industries. They oversee the practical curriculum featuring group work carried out in seminars and workshops. Through seminar and workshop subjects particular to each department that provide both theory and practice, students learn to value awareness of problems through on-site experiences and research on specific issues.
A broad, specialized education covering both social sciences and humanities
Research in the College of Media and Communication focuses on both media and contents. To achieve this, it offers a broad, specialized education covering both social sciences and humanities. The integrated curriculum covers social sciences such as media communications, mass media, journalism, advertising, and communications studies, as well as humanities such as language, literature, information media studies, and pedagogy. Students will gain an understanding of the characteristics of media, and learn how to process and send out such media within the context of their specialized studies. This will develop broad perspectives and cultivate students' abilities to put forth specific proposals of their own.
Every student is lent a notebook computer
Notebook computers are lent to all students upon enrollment for 4 years. Technical assistance and free inspection and repair services are available on campus for these notebook computers to provide students with full support.
Edogawa University also provides free Wi-Fi internet connectivity, both in classrooms and throughout the campus grounds.
Support for employment in Japanese companies
Job-hunting support is available for international students seeking employment in Japan. "Career design lectures" are held for credit as part of the regular curriculum in a program designed to shape students' abilities to form interpersonal and societal relationships, promote self-understanding and self-management, and develop problem-solving and career planning skills. The university's Career Center provides close one-on-one guidance and support matching the skills and suitability of each student in line with their future goals and dreams.
<Employers of Edogawa University international students>
㈱プレナス、㈱メディアミックス、㈱アルゴグラフィックス、㈱ブライセン、合同会社DMM.com、曙ブレーキ工業㈱、全日空商事デューティーフリー㈱、㈱ブライセン、名糖運輸㈱、蓼科情報㈱、㈱IDOM、㈱大戸屋ホールディングス、㈱メルローズ、㈱メビウス、㈱ファイバーゲート、㈱テクノプロ、㈱ケーピーコーポレーション、レック・テクノロジー・コンサルティング㈱、ライクスタッフィング㈱、キャピタルハウス㈱、㈱J&C、大成商事㈱、㈱ブーミング、麻生フォームクリート㈱、㈲関戸商事, etc.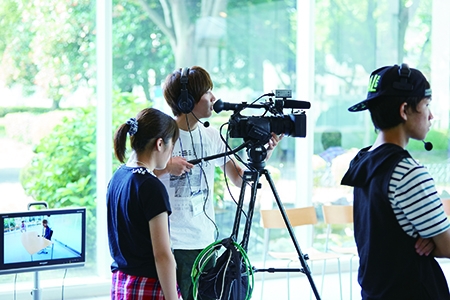 Department of Mass Communications
Department of Communication and Business

Informasi mahasiswa asing terdaftar (Tahun fiskal)
2021
Department of Mass Communications
Cultivating specialists who can excel out in the worlds of business and mass media
Study a wide variety of topics in a curriculum that focuses on media and communications. Select from 3 different courses based on your interests and career plans: Communication Business, Journalism, and Entertainment. Each course offers specialized learning and practical training.

- Communication Business Course
Students will deepen their understanding of various communication methods to learn the knowledge and skills necessary for growing businesses such as advertising, publishing, public relations, and event planning.

- Journalism Course
Journalism is a means of sharing aspects of the world with society through media. Students will learn about the role of journalism as well as issues surrounding it. Students will also gain the skills to practice journalism using text, images, and sound.

- Entertainment Course
Students will learn how to produce, manage, and operate diverse forms of entertainment content such as film, theater, television programs, comedy shows, comic books, and animation while also developing their creative skills.
Department of Communication and Business
Training specialists with the skills to excel in our international, information age.
Students learn the fundamentals of communication and expression in the world of information technology, acquire skills for our international, information age, and strive to become able to excel in the business world.
The curriculum offers 3 courses: Information Systems, Information Design, and International Communication.

- Information Systems Course
Information systems such as the internet have become platforms that enable communication among the people of the world, as well as essential business tools. In this course, students will learn programming, information security, and networking technologies as they polish practical skills such as systems development.

- Information Design Course
The internet has become part of our modern lives, both in our homes as well as the business world. However, the information communication technology (ICT) many people use is not just a tool for the exchange of information. Information technologies must also be easy and enjoyable to use. In this course, students will learn and gain practical skills in areas such as web design, graphic design, and computer graphics (CG).

- International Communication Course
As global business continues to grow, people around the world are interacting more and more, and there is a strong demand for people who can communicate across borders, languages, and cultures. This course will not only provide English reading, listening, writing, and speaking skills, but also provide students with a deeper understanding of different cultures. With this global perspective, students will be able to gain insights into international relations and business.
Daftar sekolah yang terakhir diliat
---


---
Copyright(C) 1999-2021 The Asian Students Cultural Association & Benesse Corporation. All Right Reserved.