JPSS, Informasi universitas dan pasca sarjana di Jepang > Mencari tempat belajar sekolah dari Saitama Universitas > Tokyo International University > English Track Program
Bagi Anda yang ingin melanjutkan studi ke Tokyo International University. JAPAN STUDY SUPPORT merupakan situs informasi studi di Jepang untuk para pelajar/mahasiswa(i) mancanegara yang dikelola bersama oleh The Asian Students Cultural Association (ABK) dan Benesse Corp. Kami menyediakan informasi rinci per fakultas, termasuk Fakultas English Track ProgramatauFakultas Business and CommerceatauFakultas EconomicsatauFakultas International RelationsatauFakultas Human and Social SciencesatauFakultas Language Communication, Tokyo International University. Bagi yang mencari informasi melanjutkan studi ke Tokyo International University, silakan memanfaatkannya. Selain itu, kami juga menyediakan informasi sekitar 1300 universitas, pascasarjana, universitas yunior, akademi kejuruan yang siap menerima mahasiswa(i) mancanegara.

Saitama / Sekolah swasta
東京国際大学

|

Tokyo International University

Dukungan untuk kehidupan mahasiswa
Scholarship
All applicants for the English Track Program are eligible to apply for the TIU tuition reduction scholarship at the time of application. The range of reduction is from 30% to 100% of tuition. The notification of how much will be awarded is sent to successful applicants along with the admission results. The scholarship will remain valid until graduation under the condition that the recipient maintains a good academic performance and meet TIU behavioral expectations.
https://www.tiu.ac.jp/etrack/cost/reductions.html
Accommodation
TIU offers and secures accommodation for first-year international students who live outside of Japan before university enrollment. A dormitory room will also be assigned to international students currently residing in Japan and Japanese students currently residing abroad if there is vacancy. The dormitory admission period is one year. Apartment referral service is also available.
https://www.tiu.ac.jp/etrack/life/facilities.html

Career Support
The Career Service Office assists international students by providing seminars on employment strategies held in English and has opened a Career Support Desk. Students can also participate in internship programs which help them develop a better understanding of their future career goals.
https://www.tiu.ac.jp/etrack/career/

Extra-Curricular Activities
TIU offers over 50 different club activities including Kyoka clubs(pro-level), culture clubs and shared-interests groups. International students are actively engaged in activities with Japanese students and it is the perfect opportunity for international exchange.
International Exchange Office
Located on-campus, a central hub for international students at TIU is the International Exchange Office where English-speaking staff offer a wide range of support. If students need help with anything to do with their lives, the International Exchange Office is always there to help.
Student Leadership Internship Program
The Student Leadership Internship Program is a student-led program with primary objective of supporting international students at TIU, promoting internationalization on campus, and encouraging English study. Peer assistants are also part of this program and they provide hands-on support for international students who are settling into their lives in Japan.
Meeting students coming from 67 different countries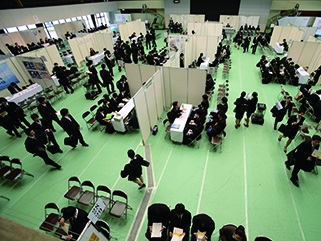 On-Campus Recruiting
Model United Nations Club - One of our renowned varsity teams
Daftar sekolah yang terakhir diliat


---
Copyright(C) 1999-2020 The Asian Students Cultural Association & Benesse Corporation. All Right Reserved.