JPSS, Informasi universitas dan pasca sarjana di Jepang > Mencari tempat belajar sekolah dari Hokkaido Universitas > Hokkaido Bunkyo University > Foreign Languages
Bagi Anda yang ingin melanjutkan studi ke Hokkaido Bunkyo University. JAPAN STUDY SUPPORT merupakan situs informasi studi di Jepang untuk para pelajar/mahasiswa(i) mancanegara yang dikelola bersama oleh The Asian Students Cultural Association (ABK) dan Benesse Corp. Kami menyediakan informasi rinci per fakultas, termasuk Fakultas Foreign LanguagesatauFakultas Human Science, Hokkaido Bunkyo University. Bagi yang mencari informasi melanjutkan studi ke Hokkaido Bunkyo University, silakan memanfaatkannya. Selain itu, kami juga menyediakan informasi sekitar 1300 universitas, pascasarjana, universitas yunior, akademi kejuruan yang siap menerima mahasiswa(i) mancanegara.

Hokkaido / Sekolah swasta
北海道文教大学

|

Hokkaido Bunkyo University
Informasi ini tidak tersedia dalam bahasa yang anda pilih.Silakan pilih bahasa lain.
Informasi dalam bahasa Jepang
Informasi dalam bahasa Inggris
Informasi fakultas
Hokkaido Bunkyo University is your first step towards becoming a global player, equipping you with English language that you can use!
Through the Global Career Design Program, students will learn how to use English smoothly and skillfully, and sharpen their international mindset through active participation in overseas programs. Students will also find out how to become active players in the global community, skillfully making use of their own areas of specialty.
Our Global Career Design Program consists of two courses, the American/British English Course and the Course for Tourism and Business, both of which offer subjects systematically tailored to provide the best learning for student's goals.
Students will become global players, equipped with a balanced knowledge of language, education, and their vocational field.
These two courses will open the door to your future so that you can thrive in a world in which English language ability is assumed, and the whole world is at your feet.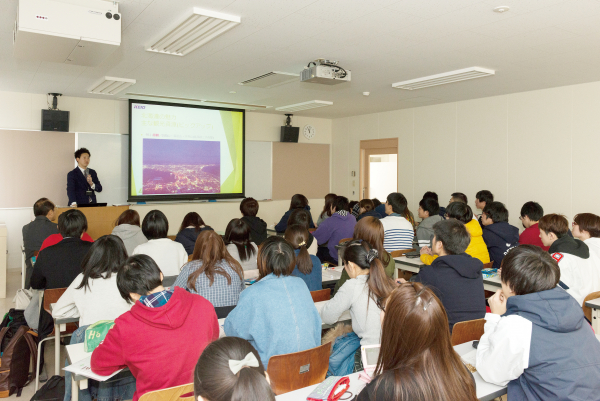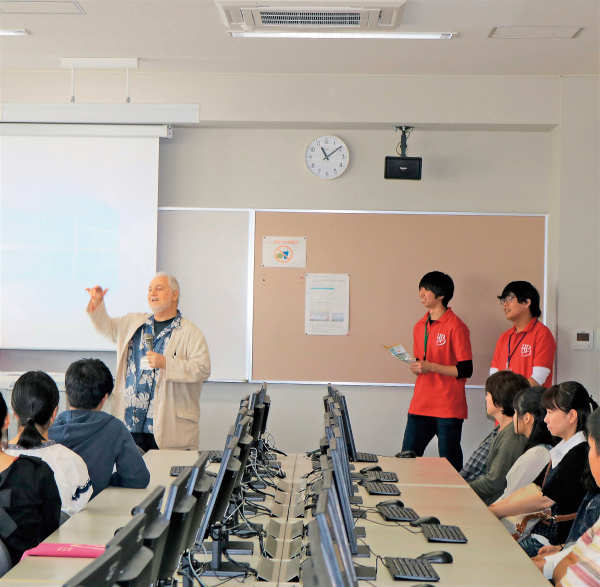 Informasi mahasiswa asing terdaftar (Tahun fiskal)
2019

Daftar jurusan
Department of International Language Studies
Two courses that enhance career options
The American/British English Course is recommended for students who wish to train in practical English ability and utilize English on a global stage.
Our goal is for students to obtain a TOEIC score of over 800 and pass Grade 1 of the EIKEN Test in Practical English Proficiency, and we have prepared quality subjects to meet this goal.
First year students are encouraged to participate in short term (about one-month) language study abroad programs during school vacation periods.
Students on recognized study abroad programs can use the university study abroad program support system.
This can be the first step towards mid- to long-term study abroad programs.
Our Tourism and Business Course is suitable for students who see themselves as players in the tourism industry and corporate development fields upon graduation.
The end goal of this course is for students to pass the National Examination for Certified General Travel Service Supervisors—the only national tourism-related qualification—and pass Grade 1 of the Tourism English Proficiency Certificate.
Many of the tourism-related subjects are offered in English.
As with the American/British English course, study abroad experiences are highly valued, and a system to support overseas study is offered.

Click here for more information. (Japanese language website)
http://www.do-bunkyodai.ac.jp/department/univ/foreign/international/

Potential Qualifications
Junior and Senior High School Teaching License (Type 1) (English/Japanese Language)
Financial Planner
Certified Domestic Travel Service Supervisor
Certified General Travel Services Supervisor
EIKEN (Test in Practical English Proficiency)
Tourism English Proficiency Test
Certified Business Tourism Coordinator

Career Prospects and Potential Work Facilities
Japanese Language Instructors
English Language Instructors
Guide-Interpreters
Hotel staff
Airport service staff
Tour planners
Overseas-based guides
Overseas sales
Public servants
Daftar sekolah yang terakhir diliat
---


---
Copyright(C) 1999-2020 The Asian Students Cultural Association & Benesse Corporation. All Right Reserved.