JPSS, for information about studying in Japan's universities and graduate schools. > Search Japanese Universities in Tokyo. > Rikkyo University > Sociology
To Foreign Students Considering Studying in Rikkyo University. JAPAN STUDY SUPPORT is a website jointly operated by The Asian Students Cultural Association and Benesse Corporation. It provides information about studying in Japan.
The website also provides detailed information about Rikkyo University and its faculties of Arts, Economics, Science, Sociology, Law and Politics, Tourism, Community and Human Services, Contemporary Psychology, Business, Intercultural Communication, and Global Liberal Arts Program (GLAP). Take full advantage of the site to learn everything you would like to know about Rikkyo University.
In addition, information for about 1,300 universities, graduate schools, two-year colleges, and vocational schools that accept foreign students is also posted.

Student life support
International Office
International Office provides a wide range of support for all the international students who are enrolled at Rikkyo University. The Office provides the students with information on daily life in Japan, assists them with visa-related procedures, acts as an institutional guarantor for the students' apartment lease and administers various scholarship programs especially for international students. In addition, the Office also organizes international activities, targeting both international and domestic students to make friends with each other, as well as introducing the events organized by outside organizations.
Career Center
Rikkyo University's Career Center assists the students' job search by providing numerous career advising activities. In particular, the Center cooperates with the International Office to hold the information session especially for international students, featuring the presentations by the students who successfully landed their job placements in Japan. It could be very useful for the international students to obtain the information on the job–search strategy in Japan by listening to those who already had gone through the search process.
Alumni Associations
Rikkyo University's alumni associations, most notably the Tokyo St. Paul's Lions Club and the Rikkyo Ladies Club (women's alumni association), offer many support activities for international students, thanks to the generous volunteer actions of the respective members. Both organizations hold the annual international activities, such as the Day-Trip Bus Tour and the Homemade Luncheon Party, and offer the scholarship programs for international students.
International students in Ikebukuro campus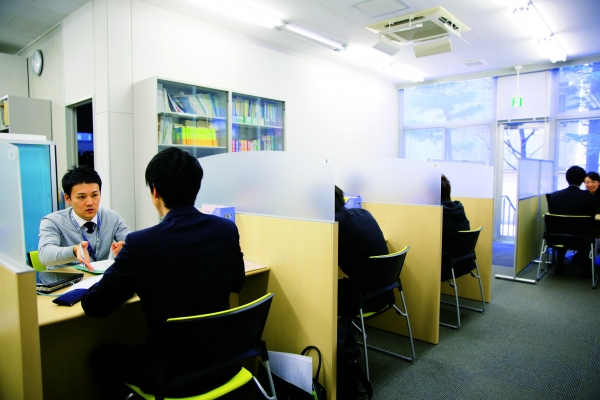 Career counseling Career Center
Presentation on the Japanese tea ceremony by the Rikkyo Ladies Club(womens'alumni association)
Recent viewing history of schools


---
Copyright(C) 1999-2020 The Asian Students Cultural Association & Benesse Corporation. All Right Reserved.