JPSS, for information about studying in Japan's universities and graduate schools. > Search Japanese Universities in Tokyo. > Rikkyo University > Sociology
To Foreign Students Considering Studying in Rikkyo University. JAPAN STUDY SUPPORT is a website jointly operated by The Asian Students Cultural Association and Benesse Corporation. It provides information about studying in Japan.
The website also provides detailed information about Rikkyo University and its faculties of Arts, Economics, Science, Sociology, Law and Politics, Tourism, Community and Human Services, Contemporary Psychology, Business, Intercultural Communication, and Global Liberal Arts Program (GLAP). Take full advantage of the site to learn everything you would like to know about Rikkyo University.
In addition, information for about 1,300 universities, graduate schools, two-year colleges, and vocational schools that accept foreign students is also posted.
Facility guide
Ikebukuro Library
Ikebukuro Library, opened in fall 2012, is considered one of the largest university libraries in Japan with storage capacity of more than 2 million books and 1,520 seats.
Paul Rusch Athletic Center
Paul Rusch Athletics Center, opened in April 2013, is the general gymnasium which has five floors above ground and two floors in basement including a swimming pool, rooftop courts (tennis court, futsal court), arena, multipurpose space, running track, and training room.
Chapel
Since Rikkyo University emphasizes the importance of "the education based on Christian values," it operates the university chapels in both Ikebukuro and Niiza campuses. The chapels offer daily prayer services as well as special mass for anniversaries. Various social activities are also organized by the chapels, including concerts, seminars and summer camps.
Global Lounge
Global Lounge, the hub for international exchanges and study abroad program information, has been established at both the Ikebukuro and Niiza Campuses.
Coordinators offer a full lineup of consultation services designed to help students choose what is best for them from a variety of study abroad programs. Services include provision of basic study abroad information, consultations on study abroad destinations, and support for developing study abroad plans. Global Lounge also holds events to promote interaction among Japanese and international students.
Prayer Room
Rikkyo University inaugurated a prayer room on the university's Ikebukuro Campus in April 2016 to better serve the needs of the university's increasing number of international students. While this facility has been designed primarily for Muslim students from overseas, it is available for use by followers of all faiths.
Center for Japanese Language Education (CJLE)
CJLE offers Japanese language education customized for international students. It provides students with opportunities to learn about different aspects of Japanese culture and Japanese language. In addition,
CJLE has established the Japanese Language Support Desk to help students whose native language is not Japanese.
https://cjle.rikkyo.ac.jp/english/
Paul Rusch Athletic Center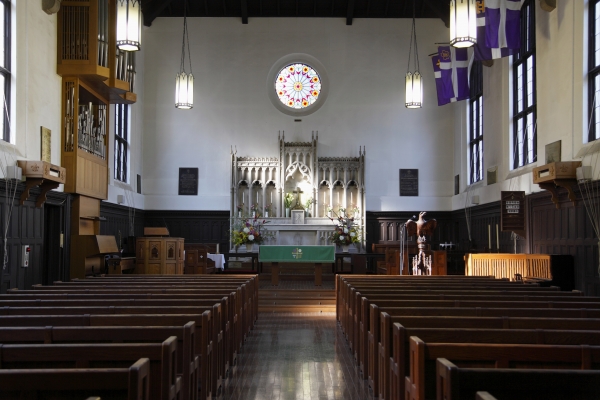 All Saints' Chapel in Ikebukuro campus
Recent viewing history of schools
---


---
Copyright(C) 1999-2019 The Asian Students Cultural Association & Benesse Corporation. All Right Reserved.