JPSS, for information about studying in Japan's universities and graduate schools. > Search Japanese Universities in Tokyo. > Soka University > Law
To Foreign Students Considering Studying in Soka University. JAPAN STUDY SUPPORT is a website jointly operated by The Asian Students Cultural Association and Benesse Corporation. It provides information about studying in Japan.
The website also provides detailed information about Soka University and its faculties of Economics, Business Administration, Law, Letters, Education, Science and Engineering, and International Liberal Arts. Take full advantage of the site to learn everything you would like to know about Soka University.
In addition, information for about 1,300 universities, graduate schools, two-year colleges, and vocational schools that accept foreign students is also posted.

Tokyo / Private
創価大学

|

Soka University

Faculty information
Introduction of Career Course System to Realize Dreams
The Faculty of Law offers four courses according to one's profession as a means of realizing individual dreams. Strong support is provided with a focus on workshops for students to develop their careers and acquire various law-related qualifications.
Double Degree (DD): Attaining Two Degrees from Soka University and University of Buckingham
Students can attain a double degree within a four-year period, acquiring an ability in areas such as law, political science and international relations as well as advanced English skills. In the future, an optimal curriculum will be provided tot students who aim to continue their studies at a graduate school overseas and take active roles on a global scale at international institutions.
Aiming to Foster Global Legal Professionals: Global Lawyers Program (GLP)
The Global Lawyers Program is a special program for students aspiring to be engaged in the legal community (judge, prosecutor, attorney, etc.) that aims to nurture the ability to take active legal roles globally. The extensive program seminars and meticulous individual guidance enhance humanistic, international, specialized and practical perspectives.
Long-Term Study Abroad Program Nurtures Global Perspective
Soka University has introduced a new long-term study abroad program. In this program, students study abroad for one year starting in their second year at the University of Hong Kong or the University of Buckingham and take classes related to law, politics or public administration in accordance with respective needs. It is possible to graduate within a period of four years.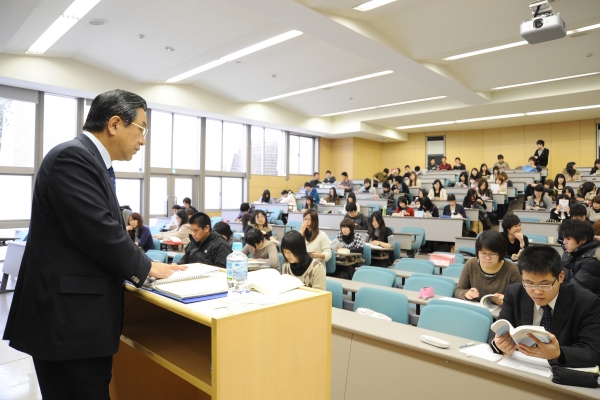 Recent viewing history of schools
---


---
Copyright(C) 1999-2017 The Asian Students Cultural Association & Benesse Corporation. All Right Reserved.