JPSS, for information about studying in Japan's universities and graduate schools. > Search Japanese Universities in Chiba. > Meikai University > Special Japanese Language Course
To Foreign Students Considering Studying in Meikai University. JAPAN STUDY SUPPORT is a website jointly operated by The Asian Students Cultural Association and Benesse Corporation. It provides information about studying in Japan.
The website also provides detailed information about Meikai University and its faculties of Special Japanese Language Course, Dentistry, Languages and Cultures, Economics, Real Estate Sciences, and Hospitality & Tourism Management. Take full advantage of the site to learn everything you would like to know about Meikai University.
In addition, information for about 1,300 universities, graduate schools, two-year colleges, and vocational schools that accept foreign students is also posted.

Chiba / Private
明海大学

|

Meikai University

Facility guide
Special Course Classrooms
At Meikai University's Urayasu Campus, you can find the Research Building, Lecture Building 1, a gymnasium (with a cafeteria on the first floor), the 30th Anniversary Building, Lecture Building 2, some grounds for exercise, and other facilities. There is also a special course classroom on the third floor of the Lecture Building 2. Other university facilities are also available for students' use.
Library
The library is located inside the 30th Anniversary Building and contains a collection of 24,000 books. As per regulations, the library is open from Monday thru Friday from 9:30 to 21:30 and on Saturdays from 9:30 to 20:00. Magazines can be borrowed for a day while books can be borrowed for two weeks. Inside, there is also a computer room and personal study rooms.
Computer Room / Information Processing Room
Besides the personal computers provided for studying, there is also a multimedia library inside the computer room. Students can use the personal computers together with the internet service for free. Also, the information processing room can be used the same way as the computer room after class hours.
Student Cafeteria
Inside the campus, there is a student cafeteria and a restaurant called New Marines.
The student cafeteria has a menu affordable for students. The New Marines restaurant is adjacent to the MEIKAI club and is open to the public.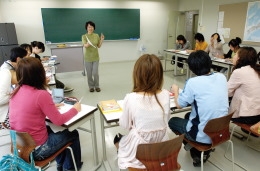 Recent viewing history of schools
---


---
Copyright(C) 1999-2018 The Asian Students Cultural Association & Benesse Corporation. All Right Reserved.