JPSS, for information about studying in Japan's universities and graduate schools. > Search Japanese Universities in Saitama. > Tokyo International University > TIU E-Track
To Foreign Students Considering Studying in Tokyo International University. JAPAN STUDY SUPPORT is a website jointly operated by The Asian Students Cultural Association and Benesse Corporation. It provides information about studying in Japan.
The website also provides detailed information about Tokyo International University and its faculties of TIU E-Track, Business and Commerce, Economics, International Relations, Human and Social Sciences, and Language Communication. Take full advantage of the site to learn everything you would like to know about Tokyo International University.
In addition, information for about 1,300 universities, graduate schools, two-year colleges, and vocational schools that accept foreign students is also posted.

Saitama / Private
東京国際大学

|

Tokyo International University
TIU E-Track
《Tokyo International University》E-Track Program – Spring & Fall 2018 Intake

Application Period: November 17 – December 1, 2017
For all applicants both residing in and outside Japan

Please read the Application Guideline carefully before you apply.
Application Guideline:
http://www.tiu.ac.jp/english/etrack/asset/docs/application_guideline_2018.pdf
Online application: https://tiu.applyjapan.com/
(Registration will be open from November 10 to December 1, 2017, 17:00 JST.)


If you have any questions regarding the application process or Tokyo International University, we would be more than happy to assist you anytime.

e-mail: etrack@tiu.ac.jp
TEL: +81-3-3362-9644

Student life support
Scholarship
All applicants for the English Track Program are eligible to apply for the TIU tuition reduction scholarship at the time of application. The range of reduction is from 30% to 100% of tuition. The notification of how much will be awarded is sent to successful applicants along with the admission results. The scholarship will remain valid until graduation under the condition that the recipient maintains a good academic performance and meet TIU behavioral expectations.
http://www.tiu.ac.jp/english/etrack/scholarship/
Accommodation
TIU offers and secures accommodation for first-year international students who live outside of Japan before university enrollment. A dormitory room will also be assigned to international students currently residing in Japan and Japanese students currently residing abroad if there is vacancy. The dormitory admission period is one year. Apartment referral service is also available.
http://www.tiu.ac.jp/english/etrack/studentlife/accomodation.html
Career Support
The Career Service Office assists international students by providing seminars on employment strategies held in English and has opened a Career Support Desk. Students can also participate in internship programs which help them develop a better understanding of their future career goals.
Extra-Curricular Activities
TIU offers over 50 different club activities including Kyoka clubs(pro-level), culture clubs and shared-interests groups. International students are actively engaged in activities with Japanese students and it is the perfect opportunity for international exchange.
International Exchange Office
Located on-campus, a central hub for international students at TIU is the International Exchange Office where English-speaking staff offer a wide range of support. If students need help with anything to do with their lives, the International Exchange Office is always there to help.
Student Leadership Internship Program
The Student Leadership Internship Program is a student-led program with primary objective of supporting international students at TIU, promoting internationalization on campus, and encouraging English study. Peer assistants are also part of this program and they provide hands-on support for international students who are settling into their lives in Japan.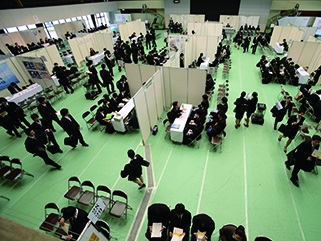 On-Campus Recruiting
Extra-Curricular Activities
Recent viewing history of schools




Please give brief words for students hesitating to study in Japan
---
Copyright(C) 1999-2017 The Asian Students Cultural Association & Benesse Corporation. All Right Reserved.