日本留學信息網站JPSS > 從東京都的從大學來尋找留學之學校 > 杏林大学 > Social Sciences
準備前往杏林大学留學的各位: 由財團法人亞洲學生文化協會及倍楽生(倍樂生)股份有限公司共同營運的Japan Study Support是提供外國留學生日本留學資訊的網站。杏林大学Social Sciences學部、Medicine學部、Health Sciences學部、Foreign Studies學部等等,各科系的詳細資訊都分別刊載在此網站。有需要杏林大学留學資訊的各位同學,請多多利用此網站查詢。另外,此網站上也有刊載約招收留學生的1300所大學、大學院、短大、專門學校等資訊。
您所選擇的語言目前尚未有資訊上傳,請選擇其他語言閱覽
使用日文查詢資訊
使用英文查詢資訊
使用中文(簡體字)瀏覽

設施介紹指南
Garden Hill (Cafeteria)
Beautiful Tama Hill can be seen from Garden Hill (the cafeteria), which is surrounded by greenery. The Chinese Salon and English Salon are situated at the far end of the second floor, which serves as a space for cultural exchange and communication with international students.
Chinese Salon and English Salon
A space is available where enrolled students are free to engage in open exchanges with native speakers of Chinese and English in a relaxed and pleasant atmosphere. International students whose native languages are Chinese and/or English participate as tutors. The space provides a great opportunity to experience and learn about different cultures.
http://www.kyorin-u.ac.jp/cn/html/kyorin/00003/201210312e/
The Active Learning Studio
Equipped with the state of the art devices, the Active Learning Classroom enables student to enhance their language proficiency and presentation skills effectively. Complete with an electronic whiteboard and a laptop per student, the room encourages students to actively participate in the discussions or presentations so that they can fully develop their practical negotiation skills.
Photo gallery of the Faculty of Foreign Studies
Campus relocation from Hachioji city to Mitaka city in 2016
A new campus "Inokashira Campus" is scheduled to open in the Shimorenjaku area of Mitaka city, which is only about 12 minutes by bus from both Mitaka and Kichijoji stations. Its location is closer to Kyorin University Hospital and the medical department, which will make cross-departmental interaction even more effective.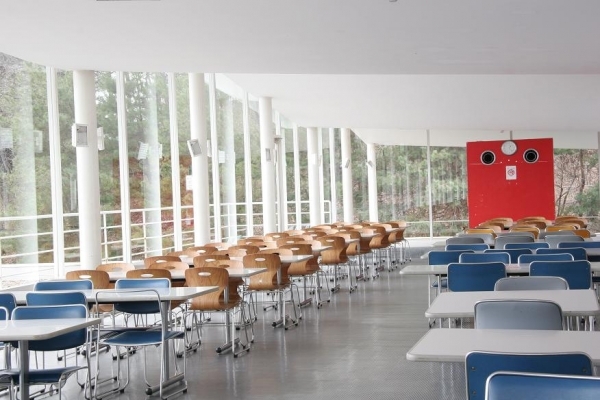 The sunlight-filled cafeteria (Garden Hill)
A lesson underway in the Active Learning Classroom
A relaxation space for students "SORA"
最近的學校閱歷
---


---
Copyright(C) 1999-2017 The Asian Students Cultural Association & Benesse Corporation. All Right Reserved.