日本留學信息網站JPSS > 從東京都的從研究生院來尋找留學之學校 > 国際基督教大学大学院(ICU) > アーツ・サイエンス研究科
準備前往国際基督教大学大学院(ICU)留學的各位:由財團法人亞洲學生文化協會及倍楽生(倍樂生)股份有限公司共同營運的Japan Study Support是提供外國留學生日本留學資訊的網站。国際基督教大学大学院(ICU)アーツ・サイエンス研究科等等,各研究科的詳細資訊都分別刊載在此網站。有需要国際基督教大学大学院(ICU)留學資訊的各位同學,請多多利用此網站查詢。另外,此網站上也有刊載約招收留學生的1300所大學、大學院、短大、專門學校等資訊。
アーツ・サイエンス研究科
【International Christian University】
Application period for 2017 Graduate School April Admission Spring Selection

ICU Graduate School's online application period for the selection for 2017 April Admission Spring Selection is from November 28 (Mon) to December 7 (Wed), 2016.
Please make sure to submit the designated documents by postal mail by its deadline as well.

Application Information Booklet and Application forms can be checked online:
http://www.icu.ac.jp/gs/admissions/index.html

學生生活支助
Scholarship and Financial Aid
●Scholarship for Graduate School Students
Eligibility for this scholarship will be considered upon request in the admissions process. ICU will notify applicants if they are chosen for the scholarship when it offers them admission to the Graduate School.
http://web.icu.ac.jp/sag/en/scholarships/scholarshipsbefore/
●ICU Non-Japanese Student Scholarship (for foreign nationals)
●SGU Japansese Government Scholarship (for foreign nationals/Details will be updated on our website accordingly.)

Link about scholarship: http://www.icu.ac.jp/en/gs/scholarship/index.html
Please contact ICU Student Affairs Group (scholarship@icu.ac.jp) for inquiries about other scholarships and eligibility.
Housing and dormitories for international students
About 600 students, or approximately a fifth of the student body, live in dormitories on campus. Students from different nationalities, year and cultural background live together. This global microcosm enables students to grow and cultivate respect for other cultures.
http://www.icu.ac.jp/en/campuslife/dormitories/index.html
Counseling
When students are troubled about things happening in their lives here at ICU, the Counseling Center is a place to talk with someone about those issues, think together about them, and receive support in finding a solution. It is possible to speak with someone regarding such issues as adapting to life at the university, personal relationships, self-understanding, the path your life is taking, and physical and mental health.
Complex of Dining Hall, conference rooms, short-term dormitories and the offices listed below. (Completed in Aug. 2010)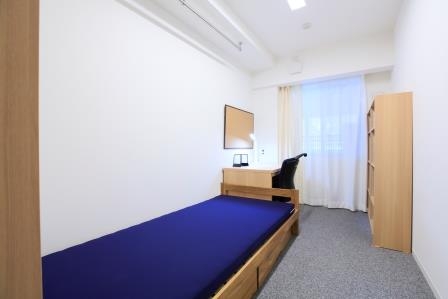 ICU has 10 student dormitories on campus including a new dormitory with housing completed in 2011. A new dormitory is planned to be built in 2017.
---
Copyright(C) 1999-2017 The Asian Students Cultural Association & Benesse Corporation. All Right Reserved.