일본 유학 정보 사이트JPSS > 아이치현의 대학원에서 유학지를 찾기 > 名古屋大学 > 工学研究科
名古屋大学 유학을 생각하고 계시는 분들께 JAPAN STUDY SUPPORT는 재단법인 아시아학생문화협회와 주식회사 베네세코퍼레이션이 공동운영하고 있는 외국인 유학생을 위한 일본유학정보 사이트입니다. 名古屋大学 工学研究科및Letters및Graduate school of Education and Human Development및Law및Economics및Science및Mathematics및Medicine및Bioagricultural Sciences및International Development및Information Science및Graduate school of Humanities및Environmental Studies및Pharmaceutical Sciences 등 연구과 별 상세 정보도 게재하고 있기 때문에, 名古屋大学 관한 유학정보를 찾고 계시는 분들은 꼭 이용해 보시기 바랍니다. 이 외에도 외국인 유학생을 모집을 하고 있는 1,300여 개의 대학・대학원・단기대학・전문학교의 정보도 게재하고 있습니다.

아이치현 / 국립
名古屋大学

|

Nagoya University
현재 선택하신 언어로는 정보를 제공하고 있지 않습니다. 다른 언어로 열람해 주시기 바랍니다.
일본어로 정보를 열람
영어로 정보를 열람

시설안내
Nagoya University Library
The University Library is composed of the Central Library, the Medical Library, and departmental libraries within the faculties, institutes, and other research centers. The Central Library provides open access to a huge range of books and journals, holds workshops, and exhibits special collections and archives to students for study and to the general public as a part of the social service program of the university.
http://www.nul.nagoya-u.ac.jp/index_e.html
Chemistry Gallery
The Chemistry Gallery was opened on the 9th of August 2004 on the second floor of the Noyori Materials Science Laboratory.The gallery space has an orientation towards the future, inspired by discovery and creation.Doctor Noyori, who was previously the Research Center for Materials Science Director and is currently the Research Center for Materials Science Supervisor, was awarded the Nobel Prize for Chemistry in 2001 for his work on chirally catalyzed hydrogenation reactions.In the gallery you can retrace the footprints of Doctor Noyori as his career develops, and catch a glimpse of the determination, philosophy and enthusiasm that drives his research.
http://www.rcms.nagoya-u.ac.jp/english/facilities/gallery.html

2008 Nobel Prize Exibition Hall in E&S Bldg.
This hall was established to commemorate the Nobel Prize won in 2008. Nobel Prize in Physics was awarded to Dr. Toshihide Masukawa and Dr. Makoto Kobayashi who are our graduates. Also, Nobel Prize in Chemistry was awarded to Dr. Shimomura who was an associate professor at Nagoya University.
Nagoya University Library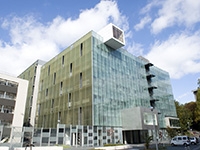 2008 Nobel Prize Exibition Hall in E&S Bldg.
최근 본 학교 일람
---


---
Copyright(C) 1999-2017 The Asian Students Cultural Association & Benesse Corporation. All Right Reserved.