JPSS, Informasi universitas dan pasca sarjana di Jepang > Mencari tempat belajar sekolah dari Tokyo Universitas > Universitas Teikyo > Foreign Language
Bagi Anda yang ingin melanjutkan studi ke Universitas Teikyo. JAPAN STUDY SUPPORT merupakan situs informasi studi di Jepang untuk para pelajar/mahasiswa(i) mancanegara yang dikelola bersama oleh The Asian Students Cultural Association (ABK) dan Benesse Corp. Kami menyediakan informasi rinci per fakultas, termasuk Fakultas Liberal ArtsatauFakultas EconomicsatauFakultas LawatauFakultas Fakultas sains dan teknologiatauFakultas Foreign LanguageatauFakultas EducationatauFakultas The Japanese Language CourseatauFakultas MedicineatauFakultas Pharma-ScienceatauFakultas Medical TechnologyatauFakultas Fukuoka Medical Technology, Universitas Teikyo. Bagi yang mencari informasi melanjutkan studi ke Universitas Teikyo, silakan memanfaatkannya. Selain itu, kami juga menyediakan informasi sekitar 1300 universitas, pascasarjana, universitas yunior, akademi kejuruan yang siap menerima mahasiswa(i) mancanegara.

Informasi fakultas
A practical education in language that trains students that can interact with others and work around the world
Foreign language education is not just the study of other languages. A broad understanding of the world's cultures behind those languages is also an essential component. In order to attain such knowledge and specialization, seminars are held for independent study from the second year onwards. Through practical, hands-on study, students will acquire the skills to communicate with others and work in a broad range of jobs around the world.
Students will specialize in a language and master it over 4 years of intense study.
Students select 1 language course at the time of taking the entrance examination from English, German, Chinese, French, Spanish, or Korean. This language of specialization is then systematically studied for 4 years.
*Students cannot select a course of the mother tongue.
An open curriculum provides a wide range of study opportunities that transcend the boundaries of faculties and departments.
One distinguishing feature of Teikyo University is the flexibility given to its students to study in fields of their interest outside of their faculty or department. Many of the classes offered in the Faculties of Economics, Law, Liberal Arts, Language Studies, and Education as well as the Junior College at the Hachioji Campus may be taken by any student as an elective course, and up to 34 credits acquired in this way can be applied to graduation requirements.
Faculty of Language Studies homepage
A global approach to English study through the culture of movies and music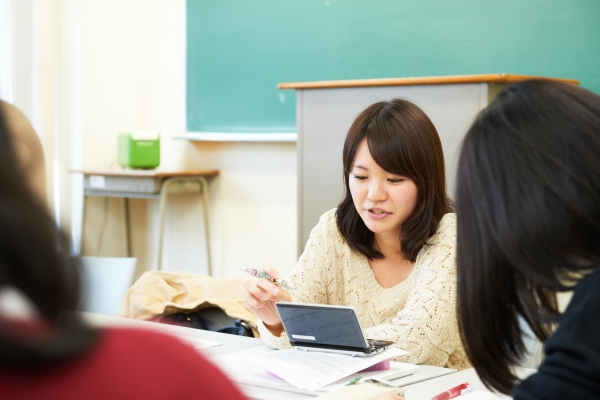 Students enhance their reading comprehension using newspapers in their language of study.

Informasi mahasiswa asing terdaftar (Tahun fiskal)
2014

Daftar jurusan
Department of Language Studies
Deepening knowledge and understanding of the cultures behind foreign languages
In the Department of Language Studies, the curriculum focuses on not only language skills, but multifaceted cultural research as well. Following the premise that language skills alone do not make someone a member of the international community, students will also deepen their knowledge and understanding behind their language of study.
Daftar sekolah yang terakhir diliat
---




For what kinds of purpose did you choose the school and the faculty of now?
---
Copyright(C) 1999-2017 The Asian Students Cultural Association & Benesse Corporation. All Right Reserved.