JPSS, Informasi universitas dan pasca sarjana di Jepang > Mencari tempat belajar sekolah dari Aichi Pasca sarjana > Nagoya University > Engineering
Bagi Anda yang ingin melanjutkan ke studi ke Nagoya University. JAPAN STUDY SUPPORT merupakan situs informasi studi di Jepang untuk para pelajar/mahasiswa(i) mancanegara yang dikelola bersama oleh The Asian Students Cultural Association (ABK) dan Benesse Corp. Kami menyediakan informasi rinci per jurusan riset, termasuk EngineeringatauHumanitiesatauGraduate school of Education and Human DevelopmentatauLawatauEconomicsatauScienceatauMathematicsatauMedicineatauBioagricultural SciencesatauInternational DevelopmentatauInformation ScienceatauGraduate school of HumanitiesatauEnvironmental StudiesatauPharmaceutical Sciences pada Nagoya University. Bagi yang ingin mencari informasi studi di Nagoya University, silakan memanfaatkannya. Selain itu, kami juga menyediakan informasi sekitar 1300 universitas, pascasarjana, universitas yunior, akademi kejuruan yang siap menerima mahasiswa(i) mancanegara.

Aichi / Sekolah negeri
名古屋大学

|

Nagoya University
Informasi ini tidak tersedia dalam bahasa yang anda pilih.Silakan pilih bahasa lain.
Informasi dalam bahasa Jepang
Informasi dalam bahasa Inggris

Panduan fasilitas
Nagoya University Library
The University Library is composed of the Central Library, the Medical Library, and departmental libraries within the faculties, institutes, and other research centers. The Central Library provides open access to a huge range of books and journals, holds workshops, and exhibits special collections and archives to students for study and to the general public as a part of the social service program of the university.
http://www.nul.nagoya-u.ac.jp/index_e.html
Chemistry Gallery
The Chemistry Gallery was opened on the 9th of August 2004 on the second floor of the Noyori Materials Science Laboratory.The gallery space has an orientation towards the future, inspired by discovery and creation.Doctor Noyori, who was previously the Research Center for Materials Science Director and is currently the Research Center for Materials Science Supervisor, was awarded the Nobel Prize for Chemistry in 2001 for his work on chirally catalyzed hydrogenation reactions.In the gallery you can retrace the footprints of Doctor Noyori as his career develops, and catch a glimpse of the determination, philosophy and enthusiasm that drives his research.
http://www.rcms.nagoya-u.ac.jp/english/facilities/gallery.html

2008 Nobel Prize Exibition Hall in E&S Bldg.
This hall was established to commemorate the Nobel Prize won in 2008. Nobel Prize in Physics was awarded to Dr. Toshihide Masukawa and Dr. Makoto Kobayashi who are our graduates. Also, Nobel Prize in Chemistry was awarded to Dr. Shimomura who was an associate professor at Nagoya University.
Nagoya University Library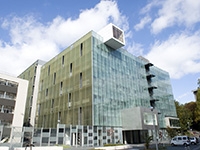 2008 Nobel Prize Exibition Hall in E&S Bldg.
Daftar sekolah yang terakhir diliat
---


---
Copyright(C) 1999-2017 The Asian Students Cultural Association & Benesse Corporation. All Right Reserved.