JPSS, for information about studying in Japan's universities and graduate schools. > Search Japanese Universities in Tokyo. > Digital Hollywood University > Digital Communications
To Foreign Students Considering Studying in Digital Hollywood University. JAPAN STUDY SUPPORT is a website jointly operated by The Asian Students Cultural Association and Benesse Corporation. It provides information about studying in Japan.
The website also provides detailed information about Digital Hollywood University and its faculty of Digital Communications. Take full advantage of the site to learn everything you would like to know about Digital Hollywood University.
In addition, information for about 1,300 universities, graduate schools, two-year colleges, and vocational schools that accept foreign students is also posted.
Tokyo / Private
デジタルハリウッド大学

|

Digital Hollywood University
Digital Communications

Digital Hollywood University is currently accepting applications for overseas examinations April 2018 Admission!

You can now take examinations in the following countries:

①China
Sept 22, 2017
Dec 22, 2017

②Indonesia
Oct 6, 2017
Oct 9, 2017
Dec 14, 2017


③Vietnam
Oct 6, 2017
Dec 22, 2017

Contact us at daigaku@dhw.ac.jp and get the application form!

       

Facility guide
DHU Campus Information
DHU has 2 campuses, Surugadai Campus and Hachioji campus. Most of the classes are held in Surugadai Campus. Hachioji Campus is used as production studio, where students carry out major production assignments such as indoor and outdoor filming and long-term CG, video, and web production projects. Hachioji campus is also used for research purpose and extension lectures.

[Facilities Information] http://www.dhw.ac.jp/en/about/facility/
[Campus Access] http://www.dhw.ac.jp/en/access/
Surugadai Campus
Ochanomizu is one of Japan's learning hubs, with numerous universities gathered in a small area. Akihabara is known world-wide as a nexus of pop culture. DHU's campus can be found in this remarkable neighborhood.
The campus building uses ultrahigh-strength concrete and employs the latest in seismically-isolated construction. The campus is designed as the optimal environment for educating the next generation of talent, featuring cutting-edge facilities and sophisticated interior spaces.
Hachioji Campus/ Production Studio
The Production Studio is surrounded by lush greenery and contains various facilities for students' use.
The facility, which is used for filming and student sports activities, includes a modern computer lab, project rooms, and overnight facilities for extended work on projects.
An open space in DHU cafetaria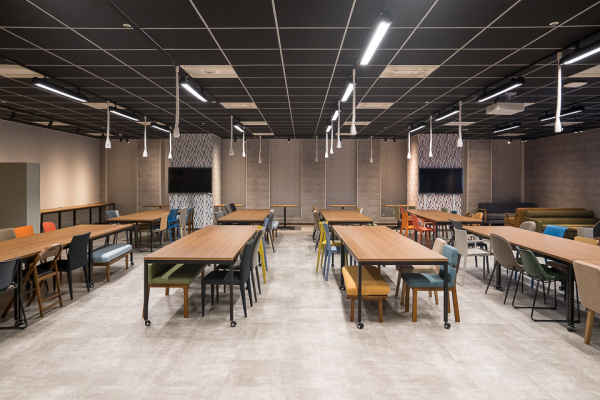 A green screen at the production studio
Recent viewing history of schools
---


---
Copyright(C) 1999-2017 The Asian Students Cultural Association & Benesse Corporation. All Right Reserved.