JPSS, for information about studying in Japan's universities and graduate schools. > Search Japanese Universities in Tokyo. > Musashino University > Human Sciences
To Foreign Students Considering Studying in Musashino University. JAPAN STUDY SUPPORT is a website jointly operated by The Asian Students Cultural Association and Benesse Corporation. It provides information about studying in Japan.
The website also provides detailed information about Musashino University and its faculties of Global Studies, Economics, Literature, Human Sciences, Law, and Engineering. Take full advantage of the site to learn everything you would like to know about Musashino University.
In addition, information for about 1,300 universities, graduate schools, two-year colleges, and vocational schools that accept foreign students is also posted.
Tokyo / Private
武蔵野大学

|

Musashino University

Faculty information
Fostering talented personnel with the ability to think both scientifically and logically who can utilize their comprehensive and multifaceted comprehension of human sciences to succeed out in the working world.
The Faculty of Human Sciences aims to nurture students capable of scientifically analyzing and resolving various historical and societal problems from multiple dimensions including psychology, life, society and social welfare. This faculty will equip students with the skills necessary to succeed out in the working world, including strong information dissemination skills, rich communication skills and the ability to analyze and find practical resolutions to problems.
What makes the Faculty of Human Sciences stand out?
 Aim to become a Clinical Psychologist or Speech Therapist
Musashino University's Master's Program in Human Studies (Clinical Psychology Course) in the Graduate School of Human and Social Sciences is recognized as a type 1 clinical psychologist graduate school, meaning students who complete this course are eligible to take the Clinical Psychologist examination. Students enrolled in our speech-language-hearing therapist major on the Speech Pathology Course can go on to find employment such as clinical, research or academic related work in the field of speech and/or hearing impairments.

 Studying the latest cases in social welfare
With a quarter of Japan's aging population over the age of 65, the Department of Social Welfare aims to nurture certified social workers who can use their practical expert knowledge and skills in various settings to help bring about the harmonious coexistence of people within their society.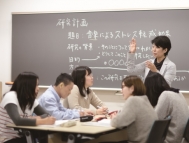 Professor Takako Konishi, dean of the Faculty of Human Sciences and head of the Graduate School Clinical Psychology Center.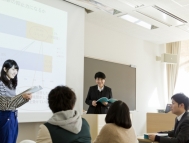 Incorporating classroom lectures and hands-on practical training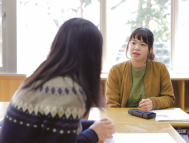 Nurturing social workers who can work in the international community

Registered international students (by year)
2015
Department of Human Sciences
Equipping students with the holistic interpersonal skills necessary to tackle and resolve a variety of problems head on.
The Department of Human Sciences equips students with three holistic skills, giving them the tools to work and succeed in a variety of different fields and arenas; rich "communication skills" – with which students can express themselves while also deepening their mutual understanding and ability to be both empathetic and harmonious, "deep insight and vision" – used to recognize goals and problems, and "leadership and drive" – necessary to actively and independently tackle and resolve these problems.

 Future Vision
Clinical psychologist, speech therapist, human resource management department, counselor etc.
Department of Social Welfare
Nurturing social workers who can work in the international community
The Department of Social Welfare aims to produce certified social workers with the expertise and skills necessary to succeed in a social welfare setting. Through practical learning into the social issues facing Japanese society, the Department nurtures individuals who can build a harmonious partnership with the region for the betterment of the international community.

 Future Vision
Social welfare worker, NPO, social welfare related company or organization etc.
Recent viewing history of schools
---




What is the best experience of you at studying in Japan?
---
Copyright(C) 1999-2017 The Asian Students Cultural Association & Benesse Corporation. All Right Reserved.